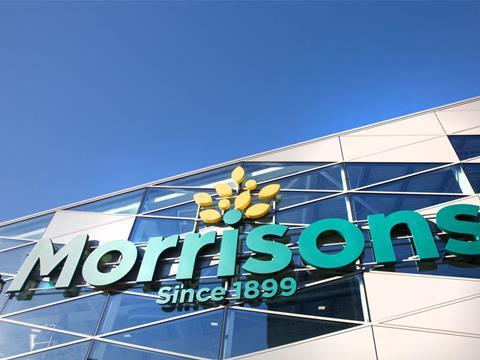 Morrisons (MRW) may be at risk of becoming the odd one out as the big four morphs into an effective duopoly, but the Bradford-based grocer continued its stellar recovery this week, suggesting it remains more than equipped to succeed on its own.

Its first quarter trading statement issued on Thursday was a pleasing beat to consensus expectations, with total (ex-fuel) like-for-like sales rising by 3.6% as both its retail and wholesale business shows solid growth. A like-for-like retail sales uplift of 1.8% was driven by a strong showing of volume sales as inflation remained largely flat, while its 1.8% like-for-like wholesale growth was underpinned by its business with McColl's.
Morrisons also said it started supplying McColl's stores with tobacco and some ambient products slightly earlier than initially planned and is on track to hit £700m of annualised sales by the end of the year and £1bn "in due course".

Broker Macquarie suggested its growing wholesale business could drive updates as "consensus starts to more properly reflect the wholesale opportunity". "We continue to see substantial opportunity for Morrisons in the wholesale market with its buying scale at five times its nearest competitor and vertical integration at 30% internally sourced COGS as a distinct competitive advantage in the market," Macquarie concluded.

Morrisons also reiterated that "we expect net debt to continue to fall during the current financial year".

House broker Shore Capital concluded: "Morrisons is now well through its remedial phase of recovery under the control of David Potts and sustainably delivering robust growth-on-growth. The group has a strong financial constitution and strong retail capability backed up by distinctive vertical integration… There is more self-improvement to come."The elephant in the supermarket is Sainsbury's potential deal with Asda, but Macquarie backed Morrisons to succeed even as a distance third placed player. "Any potential distraction at Asda and Sainsbury's will be a clear opportunity for Morrisons as well as any potential disposals could prove highly earnings accretive".

Bryan Roberts, global insight director at TCC Global, commented: "Investors will be nervous about the growing threat from consolidation in the grocery market following the recent slew of mega mergers… Looking ahead, a takeover bid from Amazon is not beyond the realms of possibility, as the e-commerce behemoth looks to grow its footprint in UK retail."

Morrisons shares jumped 3.1% on Thursday morning to 252.9p, hitting a year-long share price high in the process despite the looming threat of industry consolidation. The shares are up by more than 20% over the past six months.

Elsewhere, the market cautiously welcomed Nestlé's (NESN) blockbuster US$7.2bn (£5.3bn) deal to buy the retail licence for Starbucks coffees around the world. The deal will particularly give Nestlé a leg-up in the competitive US coffee market and aid its battle with highly acquisitive German rival JAB.

SocGen called the deal "a radical departure which we see as a pragmatic response to a fast-changing US coffee market" but cautioned "given that it comes at a cost and with no hard cost synergies, it needs to deliver on growth". Nestlé shares rose 1.6% to CHF77.56 on Monday following the announcement, and remained at CHF77.40 by Thursday lunchtime. The shares are 8.3% down over the past six months.