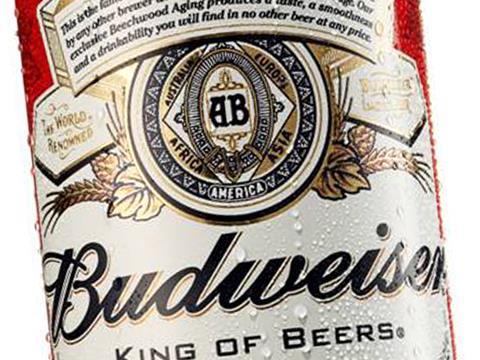 Top story
Anheuser-Busch InBev (ABI) has reported revenues growth of 2.4% in 2016, but sales growth slowed to just 0.2% in the fourth quarter.
Full-year revenue per hl grew by 4.5%, which was down to 3.9% in the fourth quarter and 3.1% on a constant geographic basis.
AB InBev said its revenue per hl improvement was driven by "premiumisation and revenue management initiatives, offset in part by the weak net revenues Brazil, as anticipated due to cycling a tough prior year comparable."
Total volumes declined by 2% in 2016, with own beer volumes down 1.4% and non-beer
volumes down 6.2%. In the fourth quarter total volumes slumped by 3.3%, with own beer volumes down 3% and non-beer volumes down 4.4%.
However, combined revenues of its three global brands, Budweiser, Stella Artois and Corona
grew by 6.5% in 2016 and by 2.8% in the fourth quarter.
EBITDA decreased marginally, down 0.1%, in 2016 to US$16.8bn, held back by a very weak
result in Brazil in the second half. Full-year EBITDA margin contracted by 92 bps to 36.8%. In the fourth quarter EBITDA fell by 3.6%, but excluding Brazil, EBITDA grew by 6.4% in the quarter.
Normalized profit attributable to equity holders of AB InBev was US$4.9bn compared to US$8.5bn in 2015 due to higher net finance costs and unfavorable currency translation.
The mega-merged with SABMiller has already generated US$282m of synergies, in addition to the US$547m already reported by SABMiller.
AB InBev has updated its cost synergy expectations from US$2.45bn to US$2.8bn over the next three to four years.
In terms of top-line outlook AB InBev expects to "accelerate revenue growth, driven by the solid growth of our global brands and strong commercial plans".
ABI shares are down 1.3% to €102.55 so far this morning.
Morning update
Total Produce (TOT) has announced its full-year results this morning, delivering "a very strong performance".
Total revenue, adjusted EBITA grew by 8.9% and 15.0% respectively, driven by acquisitions completed in the year and 4% like-for-like revenue growth from marginal volume growth and higher average prices.
The contribution of acquisitions completed in the past twelve months and good trading conditions in many key locations was partly offset by a €1.9m negative impact on translation of the results of foreign currency denominated operations to euro, including the weaker sterling, and weak trading conditions in the non-fresh produce businesses.
Chairman Carl McCann said: "We are pleased that Total Produce has continued to deliver very strong growth in 2016.
The Group has made a number of fresh produce acquisitions in 2016 in Europe and North America with a total expenditure of €60m, including €17m of contingent consideration. The Group acquired 65% of Progressive Produce, the Los Angeles based company with sales in excess of $200m along with further investments in a number of top quality produce companies."
Additionally it has proposed a 10% increase in final dividend to 2.2297 cent per share and is targeting 2017 adjusted earnings per share in the range of 12.0 to 13.0 cent per share.
On the markets this morning, the FTSE 100 has maintained yesterday's gains and stands at 7,383.5pts.
Total Produce is up 5.4% to 165p, Hotel Chocolat (HOTC), up 1.6% to 294.75p, AG Barr (BAG) up 1.5% to 543p and Cranswick (CWK) is up 1.25% to 2,362.4p.
Fallers include SSP Group (SSPG), down 1.2$% to 409.2p, McBride (MCB), down 1.4% to 189.3p and WH Smith (SMWH), down 1.1% to 1,693.3p.
Yesterday in the City
The FTSE 100 has leapt to another record closing high yesterday, jumping 1.6% to 7,382.9pts as Donald Trump's speech to Congress on Tuesday night helped boost global stocks.
Greggs (GRG) regained much of its lost ground from Tuesday's annual results, rising 3.1% to 1008p yesterday.
The news that AG Barr is to halve the sugar content in Irn Bru helped send its shares 2.7% higher yesterday to 535p.
Premier Foods was up 2.5% to 40.5p after activist investor Oasis took a seat on the Premier board and pledged to buy up more stock.
There were also stronger rises at McBride (MCB), up 5.1% to 192p, FeverTree Drinks (FEVR), up 3.6% to 1,457p, B&M European Value Retail (BME), up 3.9% to 309.8p.
Other climbers included Ocado (OCDO), up 1.6% to 253p, British American Tobacco (BAT), up 1.6% to 5,161p, Unilever (ULVR), up 1.2% to 3,864.5p, WH Smith (SMWH), up 1.2% to 1,712p and Imperial Brands (IMB), up 1.2% to 3,836.5p.
The day's few fallers included British Cycling partner Science in Sport (SIS), down 1.3% to 92.25p after the uncomfortable day in Parliament for the governing body. C&C Group (CCR), fell 0.9% to €3.88 and Conviviality (CVR), was down 0.6% to 279.5p.