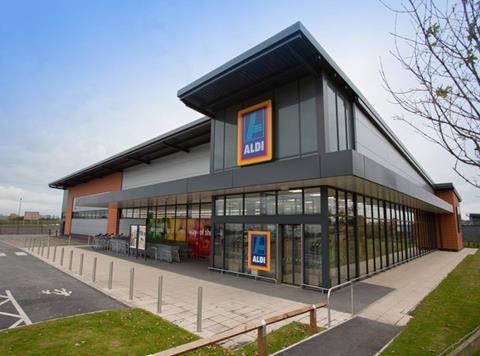 Top story
Aldi grew its UK and Ireland sales by £1bn last year to £8.7bn but investment in growth and price meant operating profits fell by 17%.
Aldi's growth accelerated from the 12% it achieved in 2015, rising 13.5% to £8.74bn in the 2016 calendar year.
Aldi said its sales and market share have more than doubled in less than four years and winning over 1 million customers from rival supermarkets meant more than half of UK households (15.4m customers) now shop at its stores.
The group did not split out the proportion of sales growth attributable to store expansion, only saying it achieved "positive like-for-like sales".
Aldi is now UK's fifth biggest supermarket with a 6.9% share of the market. Its best-performing categories were its "specially selected range of premium quality products" alongside fresh fruit and veg, fish and meat.
The group, which operates 726 UK stores, plans to open a further 70 new stores in 2018 as part of its plans to reach 1,000 by 2022.
However, the business' headline profitability was affected by the £450m-plus of capital expenditure in opening new stores and improving its distribution centres in the UK and Ireland, bringing total investment over the past five years to £2bn.
Operating profit declined by 17% to £211.3m as a result of the company's continued investment in prices and infrastructure.
Aldi said future capital expenditure plans remained entirely unaffected by the UK's decision to leave the EU and that it expects to invest £459m during 2017.
Commenting, Matthew Barnes added: "These results and our strong performance during 2017 mean we are confident and excited about our future plans. We continue to do what we have always promised – invest in our prices to ensure Aldi customers enjoy outstanding value, always.
""Our growth is accelerating, thanks to the hundreds of thousands of new customers switching their shop to Aldi. This is happening right across the UK and is all down to a simple, straightforward commitment – products comparable to the leading brands and supermarket premium ranges at the lowest prices in Britain.
"We're doing everything we can to insulate customers from those cost increases, making sure our prices are the lowest in the UK, every day of the year.
"At the same time, we've been improving the quality of our range and introducing the new products our customers have asked for. The result is a carefully selected range of exclusive own-label brands and award-winning products."
Morning update
It's all quiet on the markets this morning, with no City releases of note so far.
Later today the trial of three former Tesco (TSCO) executives over fraud charges related to the supermarkets 2014 accounting scandal is set to finally begin.
On Friday afternoon The Grocer broke the news that ready meals giant Bakkavor is planning to launch its £1.5bn UK listing over the coming weeks. See here for the full story.
The Grocer also published its annual OC&C/Grocer Top 150 report into the accounts of the UK's 150 largest food and drink suppliers. Click here for the full write-up.
On the markets, the FTSE 100 has opened down 0.3% at 7,286.5pts after falls overnight in Asia and concerns that, despite German Chancellor Angela Merkel winning a fourth term in elections over the weekend, she could struggle to build an effective coalition after a surge in support for parties of the far right.
Early risers so far today include Finsbury Food Group (FIF), up 2.5% to 105.1p, Science in Sport (SIS), up 2.1% to 72p, Hotel Chocolat (HOTC), up 1.9% to 259.4p and Premier Foods (PFD), up 1.9% to 40.75p.
Early fallers include McColl's Retail Group (MCLS), down 2.1% to 271.6p, Applegreen (APGN), down 1.1% to 528.5p, and Ocado (OCDO), down 0.9% to 279.7p.
This week in the City
It looks like a relatively quiet week ahead of Tesco's half year results next week.
Irn-Bru maker AG Barr (BAG) is scheduled to issues its half year results on Tuesday morning.
On Wednesday recently listed confectionery retail group Hotel Chocolat (HOTC) releases its full-year results, while also on Wednesday beauty and personal care group PZ Cussons (PZC) will issue a trading statement ahead of its AGM later that morning. Butchery group Crawshaw (CRAW) is also scheduled to release half-year results on Wednesday.
In wider economic news, second quarter UK GDP figures will be confirmed on Thursday by the ONS and the monthly GFK Consumer Confidence Index is out on Friday.