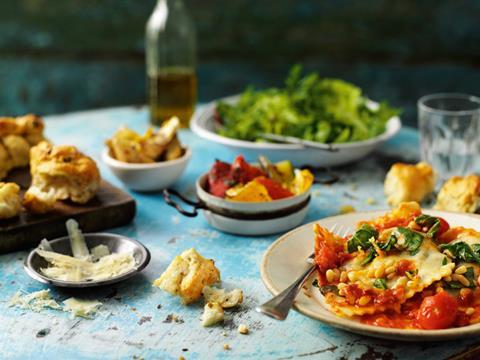 Top story
Ready meals supplier Bakkavor has announced a solid increase in full-year sales and net income in its maiden set of results since becoming a plc.
The fresh prepared food manufacturer revealed that like-for-like revenue was up by 5.4% at £1.8bn, up from the £1.71bn figure posted for 2016.
Overall, group revenue grew year on year by 4.6%on a full 52 week basis to the 30 December 2017.
Adjusted EBITDA was up by 4.2% at £152.6m in 2017, outstripping the £146.4m accumulated in the previous year, with an increased margin of 0.1 percentage point rising to 8.4%.
Adjusted profit before tax surged by 13.2% to £84.8m, to surpass the 2016 figures of £74.9m.
However, statutory profit before tax was £24.1m lower than a year ago at £39m. This was mainly attributed to its refinancing costs, and the major structural change of the public listing.
The company's net debt position improved as this was reduced by £100.3m in comparison to 2016, although its cash from operating activities was also lower at £93.4m, a fall of £18.7m.
Its operational and strategic highlights were considered to be capital investment growth, which started construction on four key projects in UK, US and China.
The successful listing on the London Stock Exchange was also highlighted as a major achievement for last year, which it believes will provide capital to drive forward strategic investments.
Bakkavor CEO Agust Gudmundsson said: "This has been an historic year for Bakkavor. We have transformed the Group, fully refinancing our lending facilities and listing on the London Stock Exchange, positioning us well for future growth.
"Our strong trading performance, in a highly inflationary environment, reflects both our market-leading expertise in great tasting food and the strong strategic partnerships with our customers."
"The second half of 2017 saw volume growth impacted as UK consumers reacted to significant inflationary pressure. As expected this trend has continued into 2018 and is likely to remain until inflation eases. Later in the year, we expect our volume growth to benefit from improved market conditions and new business."
Morning update
Last night The Grocer broke the news that Ranjit Singh Boparan is stepping down as CEO of 2 Sisters after 25 years. Singh will become president of Boparan Holdings Limited, the parent company of 2 Sisters. The company has begun a search for a new CEO. Read the full story here.
Shop prices have eased in February, according to the latest British Retail Consortium and Nielsen Shop Price Index, as deflation increased to 0.8% amid easing food price inflation.
This was a deepening of price deflation compared to January, which stood at -0.5%. Overall prices have now been in a deflationary spiral for a consecutive 58 months.
Non-food deflation was the most significant influence in the easing of price rises, decreasing by 2.2%, where in January it had declined by 1.9%.
Food inflation was reduced by 0.3 percentage points month-on-month, and now stands at 1.6%.
This was mainly due to the slowdown in fresh food inflation to 0.9%, the lowest inflation rate since last September, and a significant fall from the 1.7% that was recorded last month.
Click here for the full story.
GfK's Consumer Confidence Index dropped one point in February 2018 as worries over consumer spending continue to mount.
The overall index score dropped to -10. Three of the GfK's five measures decreased in February, one stayed at the same level and one increased.
Joe Staton, head of experience innovation UK at GfK, said: "Ongoing concerns about sluggish household income, rising prices paid by consumers in the shops, and the prospect of inflation-busting council tax and interest rate hikes has dented confidence after last month's surprising rally."
"The two-year trend of negative sentiment proves consumers feel pessimistic about the state of household finances and the wider UK economy. Despite positive news about upgraded growth forecasts, and the promise of higher wage increases this year, confidence will remain subdued until we feel the positive impact on our purses. Consumers have good reason to feel jittery and depressed."
On the markets this morning, Bakkavor has dropped 3.6% to 184p on this morning's debut annual results, amid worries that volume growth was not as strong as expected as rising costs were passed on.
So far the FTSE 100 has had a discouraging start to the day by falling by just under 0.5%, down to 7.248.56.
This is in line with many retailers also suffering share price falls since the markets opened, with Greggs (GRG) falling by 1.2% down to 1276p following its latest results being released yesterday.
The bakers are followed by the Booker Group (BOK), down by 0.9% to 221.40p, and Greencore (GNC) down by 0.9% to 181.2p.
Just Eat PLC (JE) has also started the morning disappointingly, with a drop in share price of 0.16% to 873.60p.
Ocado (OCDO) has been one of the few retailers on the up, rising by 0.6% to 546.4p on top of yesterday's gains.
Yesterday in the City
Greggs (GRG) slipped 1.5% to 1,292p yesterday despite posting a 7.4% rise in annual revenues and a small jump in underlying profitability as City concerns that rising costs could hit the chain's profitability weighed on the shares.
The FTSE 100 overall ended the day down 0.1% at 7,282.5pts.
A number of international consumer groups saw their shares hit, with Associated British Foods (ABF) down 2.4% after its annual results on Monday, Reckitt Benckiser (RB) down 2.3% to 5,841p and Unilever (ULVR), down 2.1% to 3,752p.
Other fallers included SSP Group (SSPG), down 2.5% to 618p, Britvic (BVIC), down 1.6% to 688.5p, and Hilton Food Group (HFG), down3.6% to 800p.
Devro, which announced its first half results yesterday morning and a rise in sales of 7%, fell 2.5% to 195p.
One of the day's few significant risers was Ocado (OCDO), which rose 3.1% to 543p after Peel Hunt reiterated its buy rating on the shares with a price target of 570p.
Other risers included Conviviality (CVR), up 4.5% to 300p, Nichols (NICL), up 3.7% to 1,555p and AG Barr (BAG), up 3.1% to 660p.