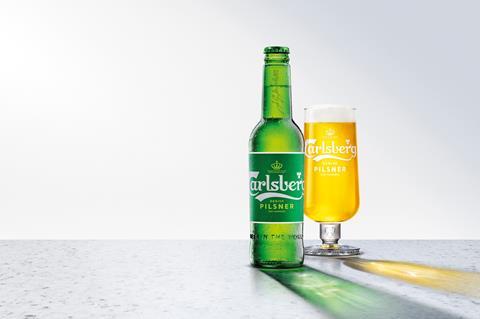 Top story
Carlsberg has posted an 12.6% drop in first half revenues and a double-digit fall in operating profits as the coronavirus pandemic hammered its second quarter sales.
The global brewer saw organic revenues in the first six months of the year fall 11.6% after a 14.6% decline in the second quarter.
On a reported basis, revenues fell 12.6% to DKK28.8bn.
Total organic volumes were down 7.7%, with Tuborg down 19% and Carlsberg 13%.
Beer volumes declined organically by 6.7%, impacted by COVID-19 in almost all markets. Nonbeer volumes declined organically by 12.9%. In addition to COVID-19, non-beer volumes were impacted by the lower sales of soft drinks at the German/Danish border.
Price mix was down 4%, with a negative impact in all three of its global regions.
The drop in on-trade sales meant organic operating profit fell back 8.9% and by 10.8% on a reported basis to DKK4.6bn. However, this meant operating margin improved by 30bp to 16% during the period.
Profits in Western Europe was most severely impacted by COVID-19, whereas Asia and Eastern Europe were able to mitigate most of their revenue shortfalls through cost reductions.
CEO Cees 't Hart said: "The COVID-19 pandemic is impacting lives worldwide. During these difficult times, our top priority remains the health and well-being of our employees, while at the same time taking the required actions to protect the health of our business.
"All our markets have to a greater or lesser extent been impacted by the COVID-19 pandemic, but the organisation and our people have shown tremendous resilience and flexibility, allowing us to stabilise the business, help society and support our customers. To mitigate the impact of weaker volumes and mix, we've reinforced our focus on costs, cash and liquidity.
"Recognising that we're faced with a new market reality, including changed consumer preferences and a reduced level of on-trade activity, we're taking measures to adapt our business accordingly."
The group has also reinstated full year guidance, indicating an organic profit decline of between 10-15% for the full year period.
It has also scrapped the second tranche of its share buyback programme "due to the continued uncertainty related to COVID-19, the pending Marston's transaction, the acquisition of brand rights and possible other inorganic opportunities".
Carlsberg shares are down 5.4% to DKK889.60 so far this morning.
Morning update
Sales at brewing and leisure group Adnams fell by almost 40% in the first half of the year back to £21m from £34.7m last year as the closure of pubs hit performance.
It said that as a pub operator and will a drinks business heavily orientated towards the on-trade, it shifted focus to online and off-trade sales, which previously represented only a fifth of its trade.
At the end of February beer volumes were running just under 3% behind the prior year, much March sales fell back 25% and April 34%.
However, it saw very strong growth in its take home sales where April volumes were ahead of 2019 by 57% to take first half take home sales up 25%.
Overall beer volumes were down by 25% as a result of the lockdown.
Its property division was already experiencing potentially serious cost pressures before Covid-19 arrived, rates bills and increases in the National Living Wage substantially ahead of inflation being particularly notable.
The Adnams property estate, managed, leased and tenanted, was all closed from 23 March until beyond the end of the half year, though some of the leased and tenanted pubs have offered a takeaway business. Most staff employed in the Adnams managed properties were placed on furlough following closure in March.
The impact of the virus meant Adnams posted an operating los of £3.5m compared to a loss of £783k in the comparable period in 2019 and a profit of £719k in the full year of 2019.
The group stated: "Our diversified strategy has enabled the business to pivot and adapt to the changing environment quickly. Through controlling costs, maximising opportunities, and delivering operational excellence at pace has ensured that we have continued to grow the parts of the business that could operate.
"Our focus on resilience, recovery and doing the right thing has continued to grow our social capital with our incredible team, customers and others - as we approach the Adnams' 150th anniversary in 2022 we can look forward to building back better."
On the markets this morning, the FTSE 100 has opened down 0.9% to 6,224.6pts.
Early risers include Premier Foods, up 1.4% to 87p, Just Eat Takeaway.com, up 1.2% to 9,102p and Glanbia, up 1.1% to €9.23.
Fallers so far include WH Smith, down 3.6% to 1,024p, Naked Wines, down 2.8% to 458.3p and PZ Cussons, down 2.1% to 199.8p.
Yesterday in the City
The FTSE 100 jumped 2% yesterday to 6,280.1pts despite the news that UK GDP dropped by more than 20% as a strong rebound in economic activity in June boosted market sentiment.
Just Eat Takeaway.com was one of the day's strongest risers, climbing 3.7% yesterday to 8,998p after posting strong first half growth as order numbers across its major markets spiked during coronavirus lockdown periods.
Other strong risers included Diageo, up 3.6% to 2,663.5p, Imperial Brands, up 2.9% to 1,318p, C&C Group, up 2.9% to 233p, Domino's Pizza Group, up 2.8% to 341.2p, and DS Smith, up 2.7% to 284.3p.
Grocery retailers enjoyed a share price bounce yesterday, with Ocado up 2.8% to 2,300p, Tesco up 2.8% to 230.9p, Sainsbury's up 2.4% to 194.6p and Morrisons up 2.2% to 196.3p.
The day's fallers included Glanbia, which dropped 5.4% to €9.13 after its performance nutrition sales suffered a double-digit drop in the first half due to the Covid-19 outbreak.
Other fallers included FeverTree, down 2.6% to 2,250p, Finsbury Food Group, down 1.9% to 57p, Nichols, down 1.6% to 1,255p and Greencore, down 1.3% to 132.2p.