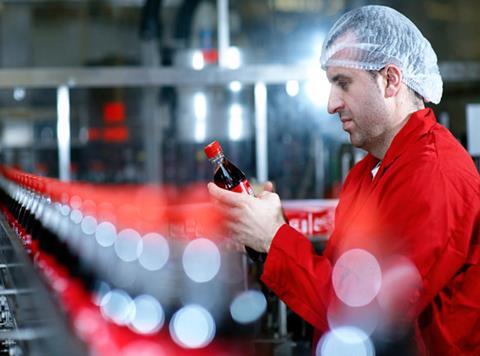 Top story
European Coke bottler Coca Cola HBC (CCH) saw revenues rise 5.2% at constant exchange rates in the first quarter, driven largely by prices increases amid modest volume growth.
Volumes were up 0.7% in the quarter, with volumes growing in the majority of countries excluding the impact of the late Easter which fell in the second quarter this year.
Volumes in established markets were down 2.2%, with volume growth in Greece and Ireland offset by lower growth in Switzerland and Italy – the latter following the de-listing of low-value water brands.
Developing markets volumes fell 3.6%, but emerging markets were up 4% with growth in Russia and Nigeria.
Revenue per case on a constant exchange basis was up 4.5% "reflecting our continued focus on revenue growth management through improved package and category mix as well as price increases".
Again emerging markets drove the increase, with price per case up 10.3% - driven by Nigeria – while developing markets saw prices rise 4.1% and a 0.2% decline in developed markets.
In developmed markets positive category and package mix was "more than offset by adverse channel mix and an increase in promotional activity".
CEO Dimitris Lois commented: "The business has delivered good revenue growth in the first quarter, strong momentum in price and mix and improvement in volume despite the late Easter impact.
"We are pleased with the underlying trends in the business. Our commercial initiatives continue to deliver good results, and add to our confidence going into the remainder of the year."
CCH is up 0.6% to 2,197p so far in morning trading.
Morning update
Dutch listed bottler Refresco (RFRG) has reported strong volume growth in the first quarter of 2017, with volumes up 26.4% to 1,674 million litres and rising by 2.3% on an organic basis.
Revenues rose from €448m to €524m in the quarter on the back of this volume growth.
Co-Packing volume increased to 37.1% of total volume.
Gross profit margin per litre was 14.1 euro cents, which was down from 14.6 cents in the first quarter of 2016.
Nevertheless, adjusted EBITDA increased 8.5% to €37m and adjusted earnings per share was up 2.7% to 7.5 euro cents.
CEO Hans Roelofs said: "We are pleased to report solid first quarter results. Volume increased this quarter on a reported as well as a like-for-like basis, significantly outperforming the market. Volume growth in Co-Packing was a combination of organic and acquisitive growth. Private Label developed favorably, largely due to strong Private Label volume in the UK where our investments in new customer offerings are paying off. Due to the seasonal nature of our business, volume and profit contributions in the first quarter are typically less significant to our full year results, even more so for the companies we recently acquired.
"In line with expectations, gross profit margin per litre came down compared to the same quarter last year due to the impact of acquisitions and the weaker British pound.
"We see ample opportunities to execute our buy & build strategy in Europe and the US. At the same time we will continue to look for opportunities to strengthen our market positions via investments in production capacity and innovation."
Henkel's (HEN) sales exceed €5bn euros for the first time in the first quarter, rising to €5.1bn after first quarter growth of 13.6% and organic growth 4%.
The consumer goods and beauty products company saw a double-digit increase in operating profit, rising 13.8% to €854m in the quarter, while EBIT margin improved by 10bp to 16.9%.
Growth in earnings per preferred share was 11% to €1.41.
Henkel CEO Hans Van Bylen said: "Henkel delivered a strong performance in the first quarter in a highly challenging market environment. The consumer goods markets were characterized by intensifying promotional and pricing pressure. We were able to significantly increase sales and earnings and to further grow adjusted return on sales. All three business units and all regions contributed to the successful development and the high quality of earnings."
Commenting on the fiscal year 2017, Van Bylen said: "We expect the overall volatile and uncertain market environment to persist throughout the year. Currency fluctuations are likely to continue and the prices for commodities are expected to increase. We also anticipate promotional and pricing pressure in the consumer goods markets to further increase. Nevertheless, we are committed to continue our successful development."
Henkel confirmed the outlook for the current fiscal year, forecasting organic sales growth of 2%-4% and adjusted EBIT margin to increase to more than 17% percent and adjusted earnings per preferred share to grow between 7%-9%.
Diageo (DGE) yesterday afternoon pledged to fight a £107m tax demand from HMRC relating to the new Diverted Profits Tax rules that came into effect in April 2015.
Diageo reported in its interim results on 26 January 2017 that Diageo had been discussing its transfer pricing position and related issues with HM Revenue & Customs.
Diageo announced yesterday that HMRC plans to demand it pays an additional tax and interest of approximately £107m for its 2015 and 2016 financial year under the new tax rules.
Diageo said it will fight the demand, explaining "Diageo does not believe that it falls within the scope of the new Diverted Profits Tax regime".
It will pay the full sum up front and then will work to "resolve this matter with HMRC".
Diageo said this issue does not change Diageo's expectation that the tax rate before exceptional items for the year ending 30 June 2017 will be approximately 21%.
On the markets this morning, the FTSE 100 has eased back 0.1% to 7,381.3pts.
Refresco is up 2.2% to €17.71, Henkel is down 0.6% to 109.4p and Diageo has edged up 0.1% to 2,281.5p.
UK risers so far include Glanbia (GLB), up 3% to €19.05 and Real Good Food (RGD), up 1.4% to 37p.
Fallers include Hilton Food Group (HFG), down 3.3% to 735p, Hotel Chocolat (HOTC), down 2.5% to 358.9p and Total Produce (TOT), down 1.9% to 164.3p.
Yesterday in the City
The FTSE 100 ended the day up 0.6% at 7,385.2pts yesterday, closing back in on 7,400pts after slumping to around 7,100pts in mid-April.
Greencore (GNC) shares surged 3.7% yesterday to 241.2p, while Associated British Foods (ABF) was up 2.4% to 2877p.
There were also strong risers at Tesco (TSCO), up 1.3% to 183.4p, B&M European Value Retail (BME), up 1.2% to 344.2p and Ocado (OCDO), up 1% to 267p.
Catering giant Compass Group (CPG) edged up 0.4% to 1,601p after increasing organic underlying revenues by 3.6% to £11.6bn in the first half as growth accelerated in the second quarter.
Other risers included Hotel Chocolat Group (HOTC), up 3.7% to 368p, Premier Foods (PFD) after securing the Mondlez cakes contract on Monday, up 1.7% to 44.8p and FeverTree (FEVR), up 1.7% to 1,695p.
Just Eat (JE) was down 0.4% to 562p after the CMA decided to launch an in-depth phase 2 investigation into its proposed £200m acquisition of rival takeaway app Hungryhouse.
Other fallers included C&C Group (CCR), down 3.6% to €3.73, Greene King (GKN), down 1.2% to 749p, Stock Spirits Group (STCK), down 1% to 166p and Majestic WINE (WINE), down 0.9% to 372p.