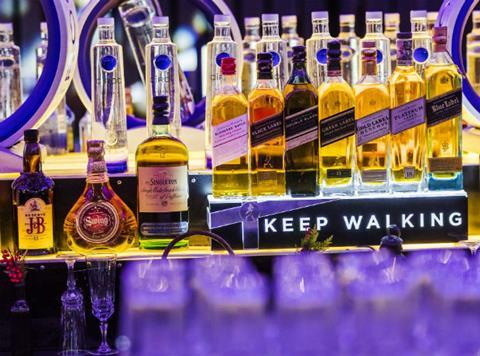 Top story
Diageo (DGE) has said it expects to post solid organic sales and profit growth, but has warned it is "not immune" from disruption associated with changes to global trade policies.
Ahead of its AGM this morning, CEO Ivan Menezes said its new financial year "has stared well" as the spirits giant "continues to build on the momentum and consistent progress we are making in the execution of our strategy".
Menezes said Diageo's focus on cost efficiencies has enabled it to selectively invest in marketing and growth initiatives to support organic sales while also expanding margins.
Based on the current environment, Diageo expects to post net sales growth in its financial year to 30 June 2020 of between 4%-6%, with organic operating profit growth roughly one percentage point ahead of organic net sales.
Due to a strong prior year comparable, for the first half it expects organic operating profit growth to be in-line with or slightly behind organic net sales growth.
However, with US and China trade relations remaining delicately poised and the UK currently negotiating its exit from the European Union, Menezes warned: "We would not be immune from significant changes to global trade policy and continue to monitor this closely."
Diageo shares are down 0.6% to 3,249p on the news.
Morning update
After the close of the markets last night Coca‑Cola HBC (CCH) announced the acquisition of Italian natural mineral water and sparkling drinks producer Acque Minerali.
The acquisition has been made in conjunction with The Coca-Cola Company and is for a total enterprise value of €88m.
The selling shareholders are the private equity fund IDeA Taste of Italy, managed by DeA Capital Alternative Funds SGR, the Invernizzi family, and Eataly Distribuzione.
As part of the Transaction, Piero Bagnasco, CEO of Lurisia, and Alessandro Invernizzi will remain on the board of directors of Acque Minerali.
Completion of the acquisition is subject to certain conditions and is expected by the end of 2019.
Founded in 1940 in Roccaforte Mondovì, Northwest Italy, Acque Minerali is a producer and distributor of premium, natural mineral water and adult sparkling beverages under the Lurisia brand.
The company has been a pioneer in offering water products in bell-shaped glass bottles. In the adult sparkling segment, Lurisia offers beverages inspired by authentic Italian recipes, with flavours including Chinotto, Gazzosa, Aranciata, Aranciata Rossa, Aranciata Amara, Limonata and Tonica.
Coca Cola HBC stated: "The acquisition of Lurisia complements the existing Coca-Cola HBC beverage portfolio in Italy and is a strong fit for the company's 24/7 total beverage partner strategy. It supports the company's drive to further premiumise its portfolio and offer consumers an authentic Italian brand with strong heritage and well-rooted Italian origins."
Elsewhere, Tate & Lyle (TATE) has agreed a £930m bulk annuity insurance 'buy-in' with Legal & General for its pension scheme to "provide certainty and security for the scheme's affected members."
The buy-in secures an insurance asset from Legal & General that fully matches the remaining pension liabilities of the scheme, with the result that the company no longer bears any investment, longevity, interest rate or inflation risk in respect of the scheme.
The agreement is not anticipated to impact profit before tax for the year ending 31 March 2020 but will eliminate non-cash net finance income on the UK scheme accounting surplus from the 2021 financial year.
De-recognition of the accounting surplus will result in a decrease in the group's net equity by around £180m.
CFO of Tate & Lyle Imran Nawaz commented: "This transaction represents a good outcome for our UK scheme members, the company and our shareholders. We have supported the Scheme over many decades and made significant cash contributions to remedy a deficit that has existed between the scheme's assets and liabilities. That funding, combined with excellent stewardship by the scheme's trustees, has meant that the Scheme can now be de-risked for the benefit of members and the company.
"Importantly, cash contributions into the Scheme will cease, saving around £20m of cash annually from the 2021 financial year1, allowing the company to focus our future investments on delivering profitable growth."
On the markets this morning, the FTSE 100 has opened flat at 7,313.9pts.
Early risers include Bakkavor, up 1.7% to 117p, FeverTree (FEVR), up 1.4% to 2,421p and Compass Group (CPG), up 0.6% to 2,014p.
Fallers so far today include Associated British Foods (ABF), down 1.4% to 2,281p, B&M European Value Retail (BME), down 1.1% to 370.4p and AG Barr (BAG), down 1% to 591p.
Yesterday in the City
The FTSE 100 ended the day edging down 0.1% to 7,314
Shares had been boosted in the morning by the news that UK inflation, as measures by the Consumer Prices Index, fell to 1.7% over August to fall to its lowest level since December 2016 and back below the Bank of England's 2% target. However, these gains dissipated through the rest of the day.
Science in Sport (SIS) shares were up 2.8% to 55p despite its first half loss widening to £3.1m as its acquisition of sports brand PhD from Boots helped sales soar from £9.9m to £24.9m.
Other risers yesterday included Finsbury Food Group (FIF), up a further 5.4% to 77.5p after its strong annual results on Monday, Devro (DVO), up 2.8% to 190.4p, PureCircle (PURE), up 2.5% to 251p, Britvic (BVIC), up 1.4% to 948.5p, PayPoint, up 1.4% to 916p and SSP Group (SSPG), up 1.4% to 677p.
Fallers included McBride (MCB), down 4% to 50.1p, Applegreen (APGN), down 3.7% to 462.5p, Premier Foods (PFD), down 2.8% to 32.6p, AG Barr (BAG), down 2.3% to 597p and Bakkavor (BAKK), down 1.5% to 115p.
Some UK retailers were caught up in the falls, led by Morrisons (MRW), which fell 1.2% to 200.1p, while its wholesale partner McColl's fell a further 1.3% to 47p and Marks & Spencer (MKS) was down 1.1% to 201.9p.