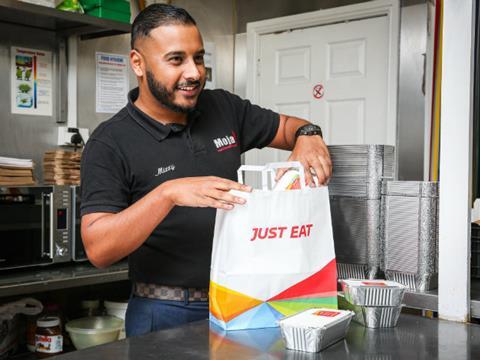 Top story
Just Eat (JE) has experienced an almost complete wipe out of its first half pre-tax profits as it increased investment ahead of a multi-billion pound merger with Dutch contemporary Takeaway.com.
The online takeaway delivery portal posted a 98% plunge in first half pre-tax profits from £48.1m to £800,000 on revenues up 30% from £358.4m to £464.5m in the six months to 30 June.
Core profits dropped 16% in the period, with earnings before interest, taxes, depreciation and amortisation of 72.4m.
Order growth recovered in the second quarter to 11.2%. May and June were stronger with 9.3% order growth, the company said.
Just Eat accelerated its delivery rollout to 5,200 UK and 5,700 Australian delivery restaurants at the end of June. It said its delivery service covered more than half the population in both countries.
It highlighted its new partnership with Greggs, grocery and pizza delivery trials with Asda and the launch of food hygiene ratings on its apps.
Just Eat reconfirmed its guidance for full year 2019 revenue in the range of £1bn to £1.1bn and underlying EBITDA in the range of £185m to £205m (both excluding Brazil and Mexico).
It said it expected the recent acquisitions of Flyt, Practi and City Pantry to impact underlying EBITDA by £10-12m in 2019 but, despite this, it was reconfirming its uEBITDA guidance range.
Peter Duffy, interim chief executive, said the company had been working "at pace" and made good progress in the first half to become "the preferred food delivery app" for customers, with a broader choice of restaurants, a better user experience and a more personalised and effective approach to communication.
"Performance in our UK business strengthened in Q2, our Canadian and European businesses are performing well and Australia has returned to top line growth with our delivery operations achieving gross profitability. These are strong foundations for Just Eat to build on, as the business continues to drive forward," he said.
On Monday Just Eat announced it had agreed key terms of a possible all-share combination of Just Eat and Takeaway.com to create Just Eat Takeaway.com, valued at around £9bn.
Morning update
Consumer confidence improved a little this month, the latest GfK Consumer Confidence Index shows.
The index increased to minus 11 in July with improvements in confidence across most measures.
Joe Staton, strategy director of GfK, said that although it was too soon to judge any impact of a post-Boris bounce, GfK could report a boost in attitudes to personal financial in the face of low interest rates and day-to-day inflation, a buoyant labour market and growth in real wages.
"This confidence is further reflected in a six-point jump in the Major Purchase Index. This mirrors the ongoing resilience in consumer spending, a key driver of economic growth and stable retail sales figures."
Consumers had generally been less affected by Brexit uncertainties than business since the referendum. "However, the coming months to the October 31st departure date will test the strength of this confidence," Staton said.
Glanbia (GLB) has posted half-year EBITA before exceptionals down 9.9% to €111.4m on revenue up 19% to €1.8bn.
Siobhán Talbot, group managing director, said the global nutrition group grew wholly owned revenues by 12% on a constant currency basis.
Adjusted earnings per share declined in the period by 10.8% on a constant currency basis.
Talbot reported the nutritional solutions, US cheese and joint-venture businesses had good results in the period and the recent acquisitions of SlimFast and Watson were performing "very well".
Talbot said Glanbia Performance Nutrition had a "disappointing" first half, reflecting several factors including, business seasonality, consumer channel shift in Europe and difficult global trade dynamics in key international markets.
"Overall while we have positive momentum across many parts of the group, this has increased our caution for the remainder of the year," said Talbot.
Glanbia now expected to deliver adjusted earnings per share on a reported basis for the full year of 88-92 cents assuming foreign exchange rates remained at current levels.
Devro (DVO) has posted half-year pre-tax profit up 25% from £10.9m to £13.6m on revenue down from £120.2m to £119.2m.
Rutger Helbing, chief executive, said the business continued to make good progress on its strategic priorities in the first half.
It delivered manufacturing efficiency improvements, in particular increased speeds at its US plant.
Its commercial and product development teams continued to establish the building blocks to accelerate future growth through the rollout of its new Fine Ultra product platform and developing new categories in China.
"For the full year, we continue to expect volume and revenue growth to be weighted towards the second half, supported by a number of commercial initiatives to accelerate growth and the continued rollout of our Fine Ultra product platform.
"We also now expect our total cost savings programme to exceed our previously stated target. At current FX rates operating profit will benefit from foreign exchange gains in the second half," said Helbing.
"Despite weaker market sentiment in some mature markets and ongoing pressures from input cost inflation, the board believes that Devro continues to be well placed to make good progress in 2019 and the full year outlook remains unchanged."
On the markets this morning, the FTSE 100 fell 0.1% to 7,637pts in early trading.
Early risers include Marks and Spencer Group (MKS), up 2.2% at 213.80p, Just Eat (JE), up 1.7% to 762.8p following this morning's interims, Associated British Foods (ABF) climbed 1% to 2,441p, Premier Foods (PFD), 0.9% to 36.4p and Devro (DVO), 0.6% following this morning's interims.
Fallers so far today include Glanbia (GLB), which plunged 13.8% to almost €12 after posting half-year figures, Hotel Chocolat Group (HOTC) lost most of yesterday's gains down 2.4% to 373.9p, Greencore Group (GNC) fell 1.7% to 213.3p and Greggs (GRG) slipped 1.4% to 2,204p.
Yesterday in the City
The FTSE 100 lost about a quarter of Monday's gains, closing down 0.5% at 7,647pts.
The Procter & Gamble Company (NYSE: PG) has posted a 4% increase in fourth-quarter net sales to $17.1bn – up 4% year on year.
Organic sales increased 7% excluding the effects of foreign exchange, acquisitions and divestitures – driven by a 3% increase in organic volume.
For fiscal year 2019, the company reported net sales of $67.7bn, an increase of 1%.
Excluding the impacts of foreign exchange, acquisitions and divestitures, organic sales increased 5% percent, driven by a 2% increase in organic volume.
The company generated $15.2bn of operating cash flow in fiscal 2019 with adjusted free cash flow productivity of 105%.
David Taylor, chairman, president and chief executive, said: "We built sales, market share and profit margin momentum throughout the year, ending with our strongest quarter of organic sales growth in well over a decade.
"Looking ahead, we will continue to focus on superiority, productivity, constructive disruption and improving P&G's organisation and culture to deliver sustainable, balanced top-line and bottom-line growth along with strong cash generation in a challenging competitive and macroeconomic environment."
P&G shares were up 3.9% on the news to $120.41.
FTSE 100 fallers included Greggs (GRG) which closed down 6.2% at 2,236p following yesterday morning's interims.
Imperial Brands (IMB) fell 2.2% to 2,093p, British American Tobacco (BATS), dropped 4.1% to 2,978p, Just Eat (JE) eased 3.9% to 750p ahead of this morning's interims and Greencore Group (GNC) fell 3.6% to 216.9p after its third-quarter update.
Stocks on the up included Hotel Chocolat Group (HOTC), up 2.8% at 383p, Stock Spirits Group (STCK), up 2% at 228.5p, McColl's Retail Group (MCLS), up 1.8% at 68.5p, and Finsbury Food Group (FIF), up 1.5% at 68.5p.