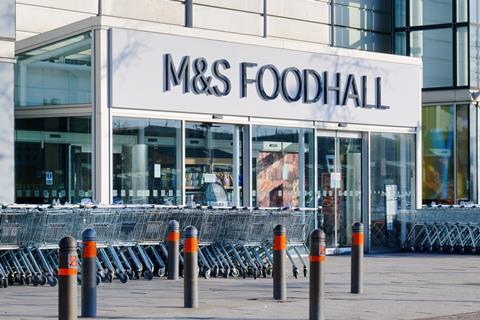 Top story
Profits have fallen at Marks & Spencer as the high street bellwether took a hit on margins as it invested in keeping its food and clothing prices competitive.
However, the group's turnaround strategy showed signs of working as revenues jumped 10% and clothing & home sales registered double-digit growth.
Underlying profits for the 52 weeks to 1 April came in at £482m, compared with £522.6m in the previous year, with profits in the food and clothing & home divisons declining, the online offering in partnership with Ocado making a loss and a £60m boost from business rates relief elevating the prior period.
Statutory profit before tax increased by £84m to £475.7m in the year as a £108m credit lifted the bottom line thanks to a revaluation of the amount owed for the underperforming Ocado Retail investment.
M&S avoided passing on the full cost of inflation to customers in the food business, resulting in margins shrinking and operating profits slipping 10.7% to £248m.
However, food sales jumped 8.7% to £7.2bn in the year, with like for likes up 5.4%, as the investment in value saw volumes outperform the wider market. The company also benefitted from a recovery at the hospitality and franchise side of the division, which took a hit during the pandemic.
Total group revenues increased 9.6% to £11.9bn as the turnaround continued at the clothing & home arm, with general merchandise sales in store up 14.9% and online up 4.8%.
CEO Stuart Machin said: "One year in, our strategy to reshape M&S for growth has driven sustained trading momentum, with both businesses continuing to grow sales and market share.
"Our food and clothing & home businesses invested in value to protect customers from the full force of inflation which, whilst impacting margin, was the right thing to do, as serving our customers well is the only route to delivering for our shareholders."
He added that food outperformed the market, with customer perception for quality and value the highest in six years, while the group also benfitted in the second half from the Gist logistics acquisition, as well as operational efficiencies.
A reset is also underway at Ocado Retail, the online joint venture, as profits were hit by higher fixed costs and underutilised capacity. Sales at the partnership fell 1.2% and M&S' share of losses totalled £29.5m.
M&S highlighted a group-wide cost reduction programme in the coming year, earmarked to save more than £150m to offset more than £50m in higher energy costs and increases in staff pay in excess of £100m.
The group added it had seen "a good start" to the new financial year, with food and GM sales growing, but it warned the economic outlook for consumer spending was uncertain, cost inflation remained high, and market conditions were expected to become more challenging.
"M&S is such a special business with so much potential, and I want to thank all of my colleagues for their contribution to these results," Machin said.
"Delivering performance and driving change is everyone's responsibility at M&S, and they have done a remarkable job. Despite facing significant headwinds, I am encouraged by the strong foundations established last year and excited about what we can achieve in the year ahead."
M&S also said it planned to reinstate a "modest" annual dividend payments to shareholders, starting with an interim dividend in November, thanks to the improved operating peformance and a stronger balance sheet. Dividends were suspended at the start of the pandemic.
Shares in M&S soared 8.1% to 176.9p - the stock's highest level since early 2022 - as investors welcomed news the dividend was to be restored.
Morning update
The soaring cost of food and drink has stopped inflation in the UK easing as much as expected, with food prices remaining at near 45-year highs.
The overall rate of UK inflation fell to 8.7% in the year to April thanks to the falling cost of gas, down from 10.1% in March, according to figures from the Office for National Statistics this morning. The head rate was above the 8.2% figure predicted by economists.
Grocery price inflation slowed marginally from 19.2% to 19.1% in the month as stubbornly higher food price replaced energy as the main driver of inflation.
Vegetable prices, including potatoes, were higher than a year ago, the ONS said. However, staples such as milk, butter, eggs, bread and cereal had all come down in price.
Alcohol and tobacco inflation also increased to 9.1% in April, up from 5.3% in March.
ONS chief economist Grant Fitzner said: "The rate of inflation fell notably as the large energy price rises seen last year were not repeated this April, but was offset partially by increases in the cost of second-hand cars and cigarettes.
"However, prices in general remain substantially higher than they were this time last year, with annual food price inflation near historic highs."
Food and Drink Federation CEO Karen Betts added it was "disappointing" to see food and drink price inflation remaining at "such high levels".
"But today's figures underscore the huge pressure the whole food and drink supply chain continues to be under, with input costs across the board – even where these have started to fall – still much greater than they were pre-pandemic," she said.
"Representatives from our sector met the Chancellor yesterday for a constructive discussion about how industry and government can work better together to tackle inflation, conscious of the very real pressure that food prices are putting on household budgets.
"We asked the Chancellor to work with us in taking the heat out of inflation in our sector."
Higher prices have helped the group behind Tennent's and Bulmers lift revenues 18.4% to €1.7bn in the year ended 28 February.
Adjusted EBITDA at C&C Group also rose 47% to €116.6m, with pre-tax profits almost doubling to €66.8m.
The rise in sales was driven by a 4.2% bump in volumes and price rises of 14.2%.
The results follow news released on Friday that CEO David Forde had stepped down amid a €25m charge for problems implementing an IT upgrade.
C&C said this morning that market share for Tennent's and Bulmers had improved year on year and Magners recorded its highest off-trade share of the cider category in three years, while the premium beer brand portfolio delivered on-trade volume growth of 44.1%.
The group also reinstated dividends thanks to the positive results.
New CEO Patrick McMahon said: "Set against a challenging backdrop in FY2023, C&C delivered an improved performance against all financial measures.
"Increased balance sheet strength and inherently strong free cashflow characteristics have enabled C&C to return capital to shareholders through the re-instatement of dividends."
Shares in the group fell 2.9% to 132.8p.
The FTSE 100 took a 1.4% hit to 7,653.24pts on the back of the disappointing inflation figures.
Early risers alongside M&S included Bakkavor, up 4.6% to 96.6p, Deliveroo, up 4.2% to 113.1p, Science in Sport, up 4.2% to 12.5p, and McBride, up 4% to 30.2p.
Alongside C&C, Just Eat Takeaway is down 2.1% to 1,367.4p, WH Smith fell 1.9% to 1,628p and SSP Group is down 1.7% to 267.8p.
Yesterday in the City
The FTSE 100 ended the day down 0.1% to 7,762.95pts.
Shares in Cranswick surged 5.7% to 3,324p after the meat processor posted double-digit annual growth, while Hilton Foods also received a 2.3% bump to 771p as it reported trading in line with expectations.
Catering group SSP also enjoyed a 3.1% jump to 272.5p as the Upper Crust owner reported it had exceeded 2019 revenues in the first half as travel recover continued.
Fallers yesterday included B&M European Value Retail, down 5% to 465.7p, and McBride, down 4.9% to 29p.