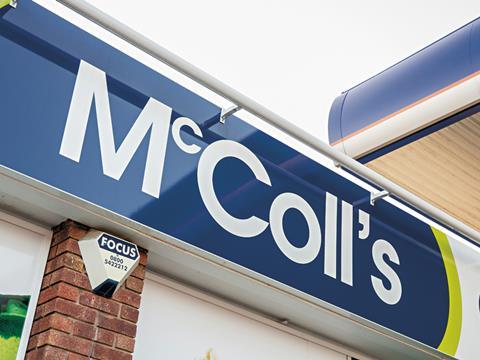 Top story
Convenience retailer McColl's has announced a 2.2% drop in third quarter like for like sales, blaming "highly unseasonable" weather for the revenue drop.
In the 13 weeks to 25 August, McColl's overall sales dropped 3.6% "reflecting the challenging retail trading environment and poorer weather across the summer".
The quarterly sales fall dragged back year to date like for like sales to a 0.1% decline, with total revenues down 1.2%.
The fall in overall sales reflects McColl's reduced store based.
Nevertheless, McColl's said it continues to make progress on its strategic efforts to stabablise the business and during the period has relaunched its soft drinks category, improved on-shelf availability and continued to invest in its estate with four new openings in the quarter.
CEO Jonathan Miller said: "As we outlined in our interim results, this has been a highly unseasonable summer for the retail sector and our sales performance reflects both this and the ongoing macro-economic uncertainty.
"The fundamentals of the convenience channel are strong and our focus remains on good retail execution whilst maintaining strong capital discipline. We continue to make operational progress and we anticipate results in line with expectations for the full year."
McColl's shares have fallen a further 1.5% to 47.7p this morning - close to setting another all-time share price low.
Morning update
French spirits group Pernod Ricard (RI) has posted "very strong" full year organic growth of 6% and announced a new share buyback scheme.
Sales for its 2018/19 financial year totalled €9,182m, representing organic growth of 6% and reported growth of 5.3%.
Sales were primarily driven by Asia, with China up 21% and India up 20% in the period.
Asia-Rest of World sales were up 12%, while Americas were up 2% and Europe up 1% as strong growth in Eastern Europe was offset by weaker performance in Western Europe.
Its strategic international brands: were up 7%, with strong strong growth in Jameson and acceleration on Martell and Scotch.
Fourth quarter sales were up 5% on an organic basis and by 7% on a reported basis.
Profit from recurring operations was €2.58bn, with organic growth of 8.7% and 9.5% on a reported basis. The PRO margin expanded by 74bps organically (and by 108bps on a reported basis mainly due to positive FX of €25m).
Pernod said headwinds related to the cost of goods were offset by the accelerated completion of its 'Operation excellence' roadmap one year ahead of schedule.
Additionally, Pernod Ricard is has announced it will implement a share buy-back programme for a maximum amount of €1bn. The programme is due to be implemented over its 2020 and 2021 financial years.
Alexandre Ricard, chairman and CEO, commented: "2019 was an excellent year, demonstrating clear business acceleration, while investing for longterm value creation. Our PRO growth, at +8.7%, is our highest since 2012"
"For 2019/20, we will continue implementing our "Transform & Accelerate" plan, with increasing support for our priority brands, markets, strategic investments and Sustainability & Responsibility 2030 Roadmap."
Yesterday Pernod announced it had agreed a deal to buy US spirits maker Castle Brands from $223m.
The $1.27 per share cash deal has been unanimously approved by the Castle Brands board and represents a 92% premium to Castle Brands' closing share price on August 27, 2019, and a 109% premium to the 30-day volume weighted average share price through such date.
Alexandre Ricard commented: "Through this acquisition we welcome this great brand portfolio, in particular, Jefferson's bourbon whiskey, to the Pernod Ricard family. Bourbon is a key category in the US which is our single most important market.
"This deal aligns well with our consumer-centric strategy to offer our consumers the broadest line-up of high-quality premium brands. As with our American whiskies Smooth Ambler, Rabbit Hole and TX, we would provide Jefferson's a strong route to market and secure its long-term development, while remaining true to its authentic and innovative character."
PZ Cussons (PZC) has agreed to sell its Greek food subsidiary Minerva and its Polish personal care brand Luksja to focus on higher margin personal care and beauty brands.
It has agreed a £41m deal to sell Minerva to Mirties Enterprises Company Limited, a company controlled by Luxembourg investment company Diorama Investments.
Completion will occur upon draw down of funds by the purchaser from its financing bank which is expected within the next few weeks.
The proceeds from the sale will be used to reduce existing debt in the business and drive focused investment in our core brands as part of the Group's new strategy to 'Focus, Scale and Accelerate'.
Minerva was the first company to sell branded packaged olive oil in Greece. Over a rich history spanning more than 115 years, Minerva has established itself as an iconic brand and holds leading positions in each of the olive oil, spreads, vinegar and cheese categories. Minerva's products are marketed under 10 well-known brands and the business has export activities across a number of countries.
PZ Cussons' results for the year ended 31 May 2019 included Minerva Sales and EBITDA of £44.1m and £3.3m respectively.
Additionally, PZ Cussons also exchanged contracts for the sale of Polish personal care brand, Luksja, together with all associated inventory, to Athens based personal care company, Sarantis Group.
PZ Cussons and Sarantis have also agreed to enter into a distribution agreement whereby Sarantis will distribute certain PZ Cussons' core brands (which include Carex, Original Source and Morning Fresh) in Poland and Central and Eastern Europe.
Completion of the transaction and commencement of the distribution agreement is subject to competition clearance being granted in relevant territories, including Poland. Following completion, PZ Cussons' on-the-ground operations in Poland will be wound down.
Alex Kanellis, CEO of PZ Cussons said: "The proposed sale of Minerva and Luksja forms part of PZ Cussons' new strategy to 'Focus, Scale and Accelerate', announced along with our final FY19 results on 23 July 2019. We are streamlining the group to focus investment on core Personal Care and Beauty brands to deliver higher margin earnings, in geographies that can scale, with the aim of returning the group to sustainable, profitable growth.
"The sale of Minerva provides additional proceeds to continue to drive our strategy forward. Deca is an excellent partner for Minerva's future growth prospects and I would like to thank the Minerva team for their hard work and dedication during their time with us and wish them every success in the future."
On the markets this morning, the FTSE 100 has jumped 0.7% to 7,162.6pts.
Early risers include Imperial Brands (IMB), up 1.7% to 2,096p, Ocado (OCDO), up 1.5% to 1,246p and British American Tobacco (BATS), up 1.1% to 2,860.5p.
Fallers so far today include Bakkavor, down 1.1% to 107p, AG Barr (BAG), down 0.8% to 598p and WH Smith (SMWH), down 0.8% to 1,949p.
Pernod Ricard shares are up 2.9% to €171.55 in Paris.
Yesterday in the City
The FTSE 100 bounced back 0.4% to 7,114.7pts on another extroadinary day of politics in the UK as Prime Minister Boris Johnson unveiled plans to suspend parliament to try to stop MPs further delaying Brexit.
Greggs (GRG) shares rose 4.5% to 2,054p after the stock was upgraded by analysts at UBS who believe in "significant" growth opportunity for the baker.
Other risers included Tesco (TSCO), up 2.4% to 218.8p, Reckitt Benckiser (RB), up 1.8% to 6,365p, Nichols (NICL), up 1.7% to 1,750p, Just Eat (JE), up 1.5% to 767p and Morrisons (MRW), up 1.1% to 184.2p.
Yesterday's fallers included McColl's (MCLS), which fell 6% back to 48.4p ahead of this morning's third quarter update.
Also on the way down were Premier Foods (PFD), down 4.1% to 33.8p, Total Produce (TOT), down 3.8% to 114.5p, Glanbia (GLB), down 2.5% to €9.78, B&M European Value Retail (BME), down 2.8% to 354.8p, Finsbury Food Group (FIF), down 2.3% to 64p and McBride (MCB), down 1.7% to 58.2p.