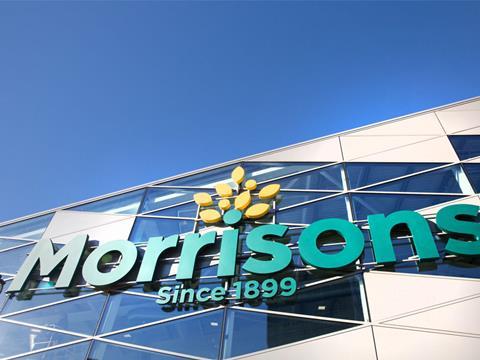 Top story
Morrisons (MRW) has heralded "a strong start to the year" during which it became more competitive while delivering like-for-like sales of 3.6%.
It said in its first-quarter trading statement that group like-for-like sales excluding fuels climbed 3.6% in the 13 weeks to 6 May.
This comprised a retail contribution of 1.8% and wholesales 1.8%. Group like for likes, including fuel, rose 1.9%. Total sales climbed 3.8%, or 2.1% including fuel.
The company said inflation was broadly flat and volume growth accelerated in a period during which it opened two new stores, in Abergavenny, Wales, and St Ives, near Cambridge.
Morrisons said it was now open for business as a wholesaler and had started supplying McColl's through a rolling programme of about 25 stores a week during the first quarter.
These stores received a full fresh, frozen and ambient offer from Morrisons, comprising both brands and the new Safeway range.
It was also supplying some McColl's stores with tobacco and some ambient products slightly earlier than initially planned.
Morrisons was on track for its targets of £700m of annualised sales by the end of the year and £1bn "in due course", the company said.
The statement said that as "food maker as well as shopkeeper", it was able to deal direct with farmers and growers: its new Wonky brand of "low-priced, good quality" fruit and vegetables minimised waste and used more of the whole crop.
It also recently launched Savers, its lowest-priced own-label range, initially comprising almost 300 ambient, chilled and frozen items. Its Nutmeg brand continued to be popular with customers, and the new womenswear range was now in almost 130 stores.
Morrisons said it expected net debt to continue to fall during the current financial year although the timing of payroll payments because of last year's 53rd week would impact first-half phasing. Its expectations remained unchanged and it was confident of another strong year to come.
David Potts, chief executive, said: "We are pleased to have made a strong start to the year, again becoming more competitive for customers while delivering growth on growth. We expect to continue to improve in the year ahead.
"During a busy period of exciting new ranges, new store openings, strong supermarket and wholesale growth, and the peaks and troughs of the seasons, our colleagues once again did an outstanding job for customers."
Morrisons shares are up 2.4% to 251.4p so far this morning.
Morning update
Tesco (TSCO) has this morning published its annual report and financial statements 2018 and given notice of its AGM which it will hold on 15 June.
John Allen, non-executive chairman, says in the report's introduction how the company has made "substantial progress" as it positions itself for new growth.
He writes that work is already well under way to unlock the "substantial synergies" of a combined Tesco and Booker Group.
"Bringing together knowledge and skills from across retail and wholesale is both allowing us to trial innovative new concepts and to move faster with existing strategies," he writes.
One example was rapidly growing the fresh food offer available to Booker's customers.
Dave Lewis, group chief executive, said he was pleased with progress made during the year for the business and he was excited by the opportunities ahead.
He said an important driver of earnings growth would come from the benefits of the Booker merger completed on 5 March.
The combination would enable the group to access new growth areas, and provide food wherever it was prepared or eaten – in home or out of home.
The report said that the enlarged group would:
· Delight consumers with better availability of quality food at attractive prices across retail and eating out locations, and serve better the faster growing 'out of home' food market
· Help independent retailers, caterers and small businesses by further improving choice, price and service, with enhanced digital and delivery service options
· Create a broader market opportunity for suppliers with strong growth prospects and a clear opportunity to develop better own brand and fresh range.
Coca-Cola HBC (CCH) has reported a "solid" performance for the start of the year delivering 4.5% FX-neutral revenue growth through a balance of volume growth and price/mix improvements, it said in its first-quarter 2018 trading update.
Volumes increased 2.3% in the quarter, with "very strong" growth in the "developing" segment and another quarter of expansion in the "established" segment. Innovation in sparkling drinks helped drive 2.8% growth in the category.
Zoran Bogdanovic, chief executive, said: "We are pleased to report a good start to the year in line with our expectations.
"Product innovation and our ongoing revenue growth management initiatives continue to deliver balanced growth through volume and price/mix improvements.
"With strong commercial plans in place and anticipated gradual economic recovery in Russia and Nigeria, we expect our revenue growth to accelerate as the year progresses."
Stobart Group (STOB) has bounced back into the black with full-year pre-tax profit of £100.6m compared with an 8m loss last time. Revenue almost doubled from £129.4m to £242m in the year to the end of February.
Warwick Brady, chief executive, said it had been a great experience since taking over at the last AGM and he had been working closely with the teams to develop and evolve the growth strategy for aviation and energy to create and deliver significant value for shareholders over the next five years, retain talented entrepreneurial people and manage the group's financial resources.
"I am pleased by the progress made in the energy division, which is now on track to achieve its growth targets, and we are focused on further improving efficiencies and margins.
"The innovation within rail & civils is impressive, and the team continue to both win external contracts and add significant value throughout the group's operating assets."
He also saw particular opportunities to develop the aviation division. "At Stobart Group, we have a lot of management experience in the aviation sector, a background in logistics and a "trusted to deliver" culture aimed at delivering first class customer service.
"Our strategy is based on unlocking the current London airport capacity constraints through our London Southend Airport by increasing passenger numbers and attracting more airlines as well as improving customer services by expanding our aviation services offering and, ultimately, building on our growing reputation. We also continue to enjoy strong performance from our regional airline, Stobart Air," Brady said.
Dairy Farm International Holdings (DFI) has announced that Dr George Koo has stepped down from the board to be replaced by Dr Delman Lee as a non-executive director.
On the markets this morning, the FTSE 100 climbed 0.2% in early trading to 7,674.5pts.
Early risers include Associated British Foods (ABF), up 1.6% at 2,785p, C&C Group (CCR), up 1% at €3.2, Dairy Crest Group (DCG), up 1.6% at 556.5p, Marks and Spencer Group (MKS), up 1% at 296p, and Wm Morrison Supermarkets (MRW), managed a 2% rise in reaction to this morning's trading statement.
For more ups than downs so far this morning but fallers so far today include AG Barr (BAG), off 2.1% at 687p, McBride (MCB), down 1.4% at 128.2p, British American Tobacco (BATS), down 0.5% at 3,888p and Devro (DVO) also off 0.5% at 218.4p.
Yesterday in the City
The FTSE 100 closed up 1.3% yesterday at 7,662,5pts
Pan-Asian retailer Dairy Farm International (DFI) issued an interim management statement for the first quarter in which it said sales were up on the same period last year as were underlying earnings, although it did not supply figures.
Health and beauty delivered a strong overall performance as did Maxim's and Yonghui which more than offset continuing weakness in the food division. IKEA's profits were flat.
North Asia continued to drive the group's performance, with particularly strong results in Hong Kong, while Southeast Asia remained challenging, it said.
The food division achieved positive sales growth for the period, but overall operating profits were lower than last year due to reduced margins across the supermarket and hypermarket businesses, particularly in Southeast Asia.
GlaxoSmithKline (GSK) has announced chief financial officer Simon Dingemans is to retire next May.
Emma Walmsley, GSK's chief executive, said: "Since joining GSK, Simon has played a very significant role in shaping the company. He has taken a consistent and sustained approach to support investment and improve operational efficiencies in all three of our global businesses.
"I am particularly grateful for his support and partnership since I took on the role of CEO and his counsel to me as we defined our new strategy. I want to take this opportunity to thank him for all he's done for GSK."
The British Retail Consortium-KPMG Retail Sales Monitor showed that during the three months to April, food sales increased 1.7% on a like-for-like basis and 3% on a total basis.
Non-food retail sales in the UK decreased 2.4% on a like-for-like basis and 1.6% on a total basis. Online sales of Non-Food products grew 6.7% in April, against a growth of 10.3% in April 2017.
Market fallers included Greggs (GRG) which closed down a massive 15.2% at 1,075p following its first-quarter results. Compass Group (CPG) fell 4.8% at 1,508p after the announcement of it first-half figures. McBride (MCB) slipped 3.1% to 130p and PureCircle (PURE) ended the day 2.5% lower at 384.5p.
Stocks on the up included Imperial Brands, up 6.2% to 2,780p, after it reported its interim results first thing. British American Tobacco (BATS), climbed 2.6% to 3,909p, B&M European Value Retail (BME), put on 1.9% at 387.8p and Finsbury Food Group (FIF) closed up 2% at 131p.