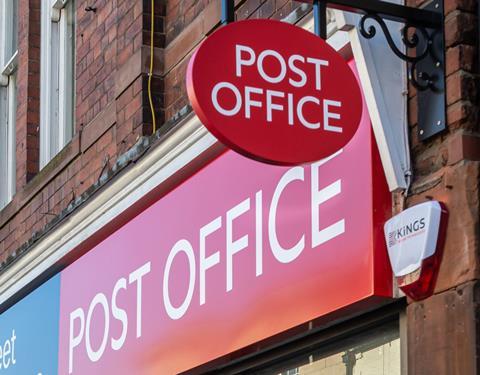 Top story
The boom in online Christmas shopping fuelled by the coronavirus crisis has seen the Post Office deliver a 17% rise in December sales.
Despite significant challenges for the high street during the pandemic, festive footfall at the Post Office was consistent with last year, as more than 51.3 million customer transactions were logged during the four weeks from 30 November to 27 December 2020.
The group's total network income jumped 17% to £66.3m in the period.
Mails and parcels services increased significantly in December, reflecting broader trends in e-commerce growth. Drop & Go, the Post Office's fast-track service for businesses and online sellers sending parcels, increased sales value by 87%.
The week beginning Monday 7 December was the business' busiest week of the year, with 15.1m customer transactions, two thirds of which were mails transactions.
Post Office chief executive Nick Read said: "After a very challenging year for much of the retail sector, I am pleased to see 17% growth in network income over the Christmas period thanks to the hard work of postmasters.
"The mails market, particularly for parcels, remains very strong driven by the growth in online retailing. Our physical presence has been vital across the UK, with customers enjoying the convenience, expert advice and safe hands that our postmasters offer, in addition to the invaluable support they have provided to local communities during the pandemic with 99% of the network remaining open."
Network availability was in line with the same period last year despite the pandemic, with 11,450 branches open.
Bill payment volumes were up 27% across Post Office and Payzone during the period thanks to the benefit of the British Gas contract from January 2020 despite mild weather contributing to lower demand for energy top-ups.
Cash and banking services remained "resilient" with small and independent businesses increasingly relying on their local Post Office to deposit their takings at a convenient time, the group added.
In the period from 30 November to 27 December, £1.56bn was deposited and £630m was withdrawn at Post Office branches, only 10% lower than the same period last year.
There was a 69% decrease in like-for-like sales for the Travel Money business compared to the same period of 2019 as the public were urged not to leave home as infection numbers soared.
Postmaster variable remuneration increased on average by an estimated 20% compared to the same period last year.
Morning update
Commercial landlord British Land has collected less than half the rent due from its retail tenants in December as tightening coronavirus restrictions forced many shops to close once more.
The group, which owns shopping centres such as Sheffield's Meadowhall, said, seven working days after the final quarter of 2020 ended, it had collected 46% of December retail rents.
Across the business, £86m of rent was due for payment in the December quarter, comprised of £42m in retail and £44m in offices. As of 7 January, 71% had been collected of the total amount.
In retail, rent collection levels for previous quarters continued to increase, with 72% of September rent now collected, 73% of June rent and 49% of March rent.
"We continue to engage with those customers who have strong businesses, but have been disproportionately impacted by Covid-19, to help them manage their rental obligations," the group said.
"We are agreeing solutions which are both equitable and mutually beneficial, generally involving moves to monthly rents, deferrals and partial settlement of outstanding rents for the period of closure in return for lease extensions, reduced incentives, commitments to additional space and the removal of lease breaks."
From 30 November until 26 December, footfall across British Land's portfolio was 76% of the level achieved last year.
Like-for-like retailer sales for stores that were open were 81% of the same period last year and there was "no notable difference" in performance between assets in different tiers.
Retail parks footfall stood at 87% of the same period last year, 32 percentage points ahead of the UK market benchmark. Retailer sales for stores that were open on British Land's retail parks were 85% of the same period last year.
On 24 December, 73% of the group's stores were operational, but that has since slumped following a wider lockdown.
As at 7 January, 620 of stores are able to trade in some way, representing 32% of the total.
After a strong start to the year, the FTSE 100 opened down 0.4% to 6,848.12pts this morning.
Early food and drink fallers included, Hotel Chocolat, Sainsbury's, Greggs and Fevertree, down 2.4% to 400.1p, 2% to 237.9p, 1.7% to 1,897.4p and 1.6% to 2,395p respectively.
Vimto owner Nichols was among the risers, climbing 2.1% to 1,240p, along with fellow soft drink producer AG Barr, up 1.7% to 518.6p. WH Smith was also up 1.7% to 1,637p, as well as Hilton Food Group, up 1.7% to 1,104p.
This week in the City
Another busy week of Christmas trading updates lies ahead starting tomorrow with the latest figures retail sales figures from the BRC-KPMG survey for December.
Tomorrow also brings updates from The Hut Group and Vimto maker Nichols.
Wednesday sees a trading update from Just Eat, while Thursday brings an insight into the Christmas performance of Tesco and Primark owner Associated British Foods.