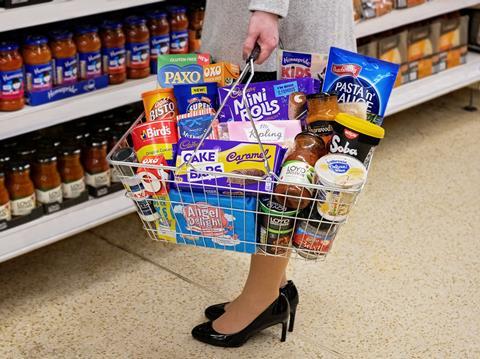 Top story
Premier Foods has posted a 22.5% surge in first quarter sales driven by consumers flocking to its brands during the coronavirus lockdown period.
Branded sales during the 13 weeks to 27 June shot up 27%, with UK sales up 23% and UK branded sales up 27.9% year on year.
Premier said it saw a spike in demand for its grocery portfolio throughout the quarter as households continued to experience few opportunities for eating occasions out of home.
Premier said it benefited from delivering consistently high availability of its product ranges through the supply chain, during this prolonged period of higher demand. As a result, it grew ahead of its categories in the quarter, with particularly strong market share gains seen in Flavourings & Seasonings; Quick Meals, Snacks & Soups and Cakes.
Premier also delivered online growth of 115% in the quarter, gaining 270 basis points of market share in this channel.
Household penetration of its brands has also grown significantly over the past 12 weeks, due to increased demand during lockdown, with the household penetration of its grocery brands increasing by 620 basis points in the quarter to nearly 75% compared with the prior year.
However, while sales grew in double-digit percentage terms in each of the three months within the quarter, Premier cautioned that the sales growth rate at the end of Q1 was lower than observed at the beginning of the period.
Grocery reported sales of £162.1m in the quarter, with branded sales up 39.2% on the prior year. All of its major grocery brands delivered double-digit sales increases compared to the same quarter a year ago, with particularly notable performances from Ambrosia, Oxo, Sharwood's and Nissin noodles products.
Sweet Treats sales increased by a more modest 0.7% compared with the same quarter a year ago, with branded sales up 0.5%. Cake volumes were lower than the prior year in the earlier part of Q1, but delivery of strong commercial plans resulted in a return to growth in the latter part of the quarter.
International sales grew by 13% in the quarter at constant currency, partly due to a softer comparative in the prior year as Brexit demand stocks unwound in Ireland. Australia cake sales were lower as demand fell during lockdown restrictions, partly offset by a strong Sharwood's performance in all geographies.
Premier said its second quarter sales "started strongly". However it anticipates this trend will normalise through the quarter as consumers gradually return to eating out of home.
Its recently upgraded expectations for FY20/21 are unchanged, which includes anticipated further net debt reduction this year.
During the first quarter it repaid £80m of floating rate bonds, which will reduce annual interest payments by at least £4m. It is exploring further opportunities to reduce financing costs as it continues to reduce net debt.
CEO Alex Whitehouse commented: "As expected, we continued to see strong demand for our grocery brands in Q1, with consumers eating the vast majority of their meals at home. We have grown faster than our categories during this period, both in standard retail and online channels. This reflects not only the strength of our market-leading brands but also the excellent performance of our colleagues across the supply chain to ensure product availability while working in close collaboration with our customers to meet this elevated demand.
"We continue to deploy our branded growth model strategy; our innovation has performed particularly well in Q1 and the first of our six brands on air this year benefited from an extended period of TV advertising in the quarter. We have also observed significant increases in household penetration of our brands in the quarter, as Britain has got cooking again and consumers expand their repertoire of dishes prepared at home.
"The health and wellbeing of all our colleagues has been, and remains, of paramount importance to us. The additional measures we put in place to safeguard our teams from early March are unchanged and our manufacturing and distribution sites have all remained fully operational."
Premier shares are up another 1.7% this morning to 87.5p.
Morning update
Shop prices fell by 1.3% in July compared with a decrease of 1.6% in June, according to the monthly BRC Nielsen Shop Price Index.
Food inflation was steady at 1.5% in July, the third consecutive month when prices increase at the same rate.
This is in line with the 12- and six-month average price increases, both of which stand at 1.5%.
Fresh food inflation accelerated to 0.9% in July, up from 0.5% in June, while ambient food inflation slowed to 2.3% in July, down from 2.9% in June.
Non-food prices fell by 2.9 % in July compared with a decline of 3.4% in June.
The overall price fall of 1.3% during the month is below the 12-month average price decrease of 0.9%, but above the six-month average price decrease of 1.4%.
BRC chief executive Helen Dickinson commented: "Despite firms facing increasing costs, shop prices continued to fall in July, albeit at a reduced pace compared to the previous month. This was driven by a slower decline in non-food prices: sectors which saw a release of pent-up demand, such as electricals and furniture, saw fewer promotions. On the other hand, sectors where consumer spending remains weak are under significant pressure – for instance prices for health & beauty products barely moved.
"Falling prices at tills is good news for shoppers, and will hopefully tempt more people on to our high streets and retail destinations. This remains a difficult time for the industry as a whole and government could help to mitigate this by supporting retailers and landlords over rent costs and taking action to boost consumer demand. Without this, we may see many more store closures and subsequent job losses."
Mike Watkins, head of retailer and business insight at Nielsen, added: "There was no further upwards pressure on shop prices in food during July and deflation continues across the non-food channels.
"Now that all of retail has reopened for business, keeping prices stable will be important as it's going to be difficult for retailers to second-guess the strength of consumer spend with social distancing measures continuing, and consumer confidence still low."
Devro, the manufacturer of collagen products for the food industry, said this morning that its first-half growth was hampered by the coronavirus outbreak.
For the six months ended June 2020, edible collagen casings volumes increased 1.4% with good underlying growth offset by Covid-19 headwinds arising in the second quarter.
Volumes in emerging markets grew 19% driven by Latin America, Russia and South East Asia.
However, volumes in mature markets were down 6%, due to European distributor destocking and Covid-19 headwinds in May and June, a reversal from the first quarter trend. The UK & Ireland and Australia were all impacted by lower demand in the foodservice industry.
The North American market suffered from temporary supply chain interruptions in Q2 but, despite that, continued to show good growth in the first half.
Devro estimated that volumes in the first half have been negatively impacted by Covid-19 by 1.5%.
Reported revenue decreased 0.2% to £119m. While edible collagen casings increased 0.9%, revenue from other products fell 1.1%.
Underlying operating profit of £18.5m was 4% higher than the prior year and the underlying operating profit margin was up 60 basis points to 15.5%, benefiting from continued cost savings and lower depreciation.
CEO Rutger Helbing commented: "Our first-half performance demonstrates the robust nature of our business and the progress made on our strategic priorities. We generated strong growth in emerging markets by leveraging our product and service strengths through our structured approach, underpinned by our three-year commercial plans. The business continues to deliver cost savings and operational improvements which have offset the impact of additional Covid-19 related costs; and the closure of the Bellshill site is on track.
"Whilst trading conditions remain uncertain due to Covid-19, the Board expects, based on underlying growth momentum and supported by cost savings actions, and FX at current rates, to make progress during 2020.
"We are also pleased to declare both an interim dividend, as well as the postponed 2019 final, reflecting our financial position and robust trading performance."
Devro also announced that its CFO Jackie Callaway is leaving the group to become chief financial officer of Coats Group.
A process to determine a successor is now underway in line with board succession planning, and Callaway will work with the CEO and the board to ensure an orderly transition.
Helbing said: "I would like to add my thanks to Jackie for her hard work and commitment. She has also played a critical role in the company's development over the last few years which positions us well for future growth, and we wish her all the very best. We will continue to work closely with Jackie in the months ahead to ensure a smooth transition to the new CFO."
Callaway said: "The business is in good shape with a strong balance sheet which will serve the company well in the coming months and years. Although my departure is still some way off, I would like to take this opportunity to thank my colleagues across the company and wish Devro every success for the future."
On the markets this morning, the FTSE 100 has opened up 0.3% to 6,148.5pts.
Early risers include Devro, up 3.7% to 148.5p, Nichols, up 3.4% to 1,370p and Reckitt Benckiser, up 2.1% to 7,966p.
Fallers include McBride, down 3.3% to 58p, Greggs, down 2.3% to 1,338p and McColl's, down 1.8% to 35.4p.
Yesterday in the City
The FTSE 100 ended the day up 0.4% to 6,129.2pts
Greggs fell back 6.2% to 1,369p after slumping to a £65.2m loss in the first half after business came to a standstill with the closure of all its shops during the coronavirus lockdown.
Other fallers included SSP Group, down 2.3% to 216.6p, Applegreen, down 1.5% to 330p, Sainsbury's, down 1.5% to 33.5p and Tesco, down 0.9% to 218p.
Greencore jumped 11.2% to 124.1p despite a 36% drop in third quarter revenues, and sequential sales improved.
B&M European Value Retail was up 3.6% to 458.4p after guiding that first-half profits would be higher than current market expectations.
Other risers included McColl's, up 6% to 36.1p, Marks & Spencer, up 3.8% to 100.2p and Devro, up 3.8% to 143.2p.
Reckitt Benckiser ended the day up 1% at 7,800 as strong early gains subsided through the day after it posted a surge in first-half sales yesterday.