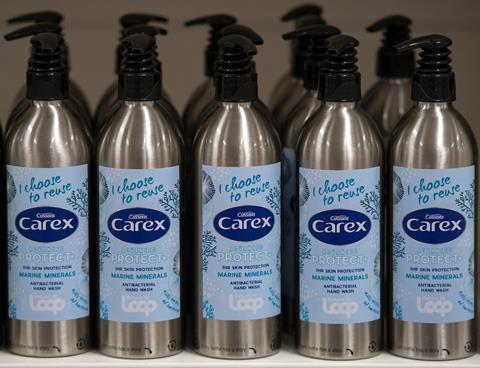 Top story
Personal care group PZ Cussons has swung into the red as it put a turnaround plan into action, with CEO Jonathan Myers hailing the initial progress but recognising there was "much more to do".
Revenues in the year ended 31 May increased 2.7% to £603.3m thanks to growth in its core hygiene, baby and beauty categories.
Carex has been a star performer for the company in the UK as consumers focused more on hand hygiene throughout the coronavirus pandemic, with the market-leading sanitiser brand doubling sales in the past two years.
However, growth was offset by declines for its yoghurt business, which PZ Cussons sold off during the year, as well as for Imperial Leather.
Adjusted operating profits from continuing operations rose 7.7% to £71m in the year, while pre-tax profits from continuing operation soared 245% to £63.2m.
But the group plunged into the red when taking its sold-off businesses into account, with losses after tax of £16.6m, compared with a £19.7m profit in the prior year.
PZ Cussons sold its food business in Nigeria to focus on the core brands, making a pre-tax loss of £41m on the disposal.
Myer said the results for 2020/21 represented the first year of a new strategy and the journey to turn around the business.
"With the return to top and bottom line growth on an adjusted basis and tangible progress on key elements of the strategy, we are pleased with the initial progress made while recognising that we have much more to do," he added.
"The revenue momentum was broad-based, with all but one of our 'Must Win Brands' and all of our regions in growth. We were able to demonstrate improved levels of profitability and significantly step up investments in marketing activity and commercial capabilities as we set out to be a business that builds stronger brands and serves more consumers. This was set against a backdrop of the Covid-19 pandemic, which saw unprecedented levels of demand for hygiene products."
In a separate trading update for the first quarter of the new financial year, PZ Cussons revealed demand for its hygiene brands had dropped off.
Revenues in the three months to 28 August, fell 9% as the hygiene category was held back by the "unusually" low levels of promotional discounting on Carex in the prior year.
Carex experienced a double-digit decline in the UK in the quarter - but revenues of the brand were still up more than 40% versus two years ago.
The group also said it expected to deliver profits in line with its current range of expecations despite the significant inflationary pressure.
Myers added: "The medium-term outlook remains in line with our expectations and we have confidence that our brand and market portfolio will emerge strongly once we cycle through the unprecedented demand for hygiene products at the start of the pandemic.
"We continue to navigate the well-publicised inflationary pressures on commodities and freight. We have a co-ordinated effort underway to reduce product, manufacturing and logistics costs that the consumer does not value while also accelerating our 'Revenue Growth Management' plans to drive price/mix."
Shares in the group plunged 6.4% to 215.8p this morning.
Morning update
Grocery tech firm Eagle Eye has bounced back into the black after a year of strong revenue growth and new customer wins.
The group, which works with supermarkets and retailers to create real-time coupons and loyalty points for customers, increased sales by 12% to £22.8m in the year ended 30 June.
New customer wins in the year included Australian retailer Woolworths, Staples in the US and its first client in the foodservice sector, Vermaat in the Netherlands.
The group also worked with Pret a Manger on a new coffee subscription service as the struggling sandwich chain transformed its business to cope with the pandemic.
Adjusted EBITDA at Eagel Eye rose 29% to £4.2m for the year, with the group posting pre-tax profits of £100k, compared with a £300k loss in the prior 12 months.
CEO Tim Mason said the pandemic had accelerated the digital engagement strategies of retailers around the world.
"We have seen personalised marketing coming to the fore which plays to our strengths," he added.
"Our proven capabilities in enterprise retail, food and beverage and new sectors won in the year combined with our increased international presence positions us well to capture a growing proportion of this expanding market. We will continue to invest in our people and offering, in line with revenue growth, to ensure that we remain at the forefront of this growing industry."
Mason said that following record new client wins during the 2020/21 year, Eagle Eye had entered the new financial year with "a considerably expanded" underlying business and positive trajectory.
"We have entered the new financial year with a record pipeline and look to the future with confidence."
Shares in the business rose 1.4% to 550p this morning.
The FTSE 100 gathered momentum this morning to break past 7,000pts once more. The index is currently up 0.7% so far to 7,032.39pts.
Early food and drink risers included Naked Wines, up 2.1% to 768p, McColl's Retail Group, up 1.9% to 19p, and Britvic, up 1.2% to 927.5p.
Alongside PZ Cussons, other fallers included Kerry Group, down 3.7% to €121.80, McBride, down 2% to 78.4p and Just Eat Takeaway, down 0.8% to 5,896p.
Yesterday in the City
Markets rebounded yesterday following Monday's sell-off, with the FTSE 100 getting close to the 7,000pts mark once again. London's leading index rose 1.1% to 6,980.98pts.
Shares in catering giant Compass slumped 2.3% to 1,451.5p despite early gains as the group revealed in a fourth-quarter trading update that the return of schools and football matches had boosted its performance.
Real Good Food saw a massive sell off after the cake decoration business revealed plans to delist its shares from London's AIM market to make cost savings. The stock plunged 20% to 2.7p as a result.
Elsewhere, fallers included Nichols, Deliveroo and Finsbury Food Group.
Kerry Grop, Brtivic and Bakkavor were among yesterday's risers.