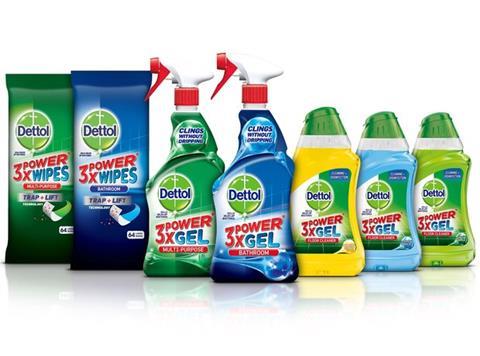 Top story
Reckitt Benckiser has reported strong third quarter revenues as demand for its disinfectant brands remain high and the relaxation of lockdown restrictions around the world helped Durex rise again.
Total sales in the three months to the end of September jumped 6.9% to £3.5bn, with like-for-like growth of 13.3%.
Reckitt revised its expectations for the year on the back of the performance in the third quarter and now forecasts like-for-like sales growth to be in low double digits rather than high single-digit territory.
The hygience division of the group reported like-for-like sales growth of 19.5% to £1.5bn in the period, driven by double-digit rises in most markets for Lysol, Finish and Air Wick.
Ongoing strong demand for Dettol helped the health division grow sales by 12.6% on a like-for-like basis to £1.2bn. Durex, which had been affected by bans on social mixing as the world went into lockdown earlier in the year, also saw improved trends. Reckitt said the growth of Durex had been "particularly pronounced" in markets where the rate of pandemic infection had materially improved.
However, growth in the division was offset by lower demand for over-the-counter (OTC) medicine after consumers stocked up earlier in the year. Reckitt also predicted a weaker cold and flu season would harm OTC sales as increased hygience measures, heightened awareness from the public and social distancing lessened the effect of other viruses.
Online sales continued to gather momentum during the quarter driven by driven by each of the three main channels - online-only platforms, omni-channel retailers and direct to consumer. Ecommerce sales in the period increased more than 45% to make up an estimated to be 12% of group net revenue.
Reckitt's revenues in the year to date are up 9.4% to £10.4bn.
CEO Laxman Narasimhan said: "Our plan to rejuvenate sustainable growth at RB is gaining momentum, and thanks to the exceptional efforts of the RB team, we are beginning to see the positive impact that the transformation is having on the business. The strong momentum in the first half has continued in Q3 and we are on track to deliver low double-digit like-for-like net revenue growth for the full year.
"Our performance has been led by an increase in hygiene and health volumes, led by our market-leading disinfectant brands - Dettol, Lysol, Sagrotan and Napisan. Growth has been underpinned by better customer service levels and an improved supply chain performance, together with strong momentum in ecommerce."
Narasimhan added that Reckitt's portfolio of hygiene, health and nutrition brands meant the group was uniquely placed to help tackle the challenges the world is facing.
"Our plan to invest over £2bn over three years is on track, supported by our expanded productivity programme which has delivered savings of £300m so far this year," the CEO said. "We are also reinvesting our outperformance to capitalise on the strong demand for our products, particularly with Dettol and Lysol and through ecommerce and professional channels.
"In meeting the significant challenges of Covid-19, we have shown that we are becoming a stronger and more agile business. We are well on the way towards completing the first phase of our strategic plan, to 'stabilise and perform', as part of our journey to deliver mid-single digit revenue growth in the medium term and mid-20s margins by the mid 2020s. Our improved execution and the investments in capability and growth, will enable us to achieve our revenue growth target a year earlier than expected, and with greater certainty."
Shares in the group jumped 2% to 7,350p as markets opened this morning.
Morning update
Britvic has reached an agreement with PepsiCo for a new and exclusive 20-year franchise bottling agreement for the production, distribution, marketing and sales of its carbonated soft drink brands, including Pepsi, 7UP and Mountain Dew, in Great Britain.
The new agreement extends the relationship, which started in 1987, to 31 December 2040 and includes the Rockstar energy brand, for which Britvic will take responsibility from 1 November this year.
Britvic also announced its intent for all plastic bottles in GB to be made from 100% recycled plastic (rPET) by the end of 2022 - three years earlier than originally planned and ahead of the previous target of 50%. This will cover the entire GB portfolio of Britvic-owned and PepsiCo brands. The group said the move demonstrated both companies' commitment to sustainability and to a healthier planet.
Britvic CEO Simon Litherland said: "I am delighted that we have formally extended our relationship with PepsiCo in Great Britain for a further 20 years. The powerful combination of the Britvic-owned and PepsiCo portfolio offers customers and consumers a broad range of great-tasting, trusted brands for any occasion. We are excited to add Rockstar to our offering and look forward to working together to grow the brand.
"The announcement of our intent to move to 100% recycled PET in GB by 2022 is a significant moment for Britvic and our partnership with PepsiCo, demonstrating our joint commitment to protecting the planet today and for future generations. Both Britvic and PepsiCo have sustainability at the heart of their business strategies, and we will continue to work together to deliver on our shared ambition to protect the environment and offer healthier choices in the years ahead."
PepsiCo Europe CEO Silviu Popovici added: "We are very pleased to announce this new and enhanced exclusive bottling appointment with Britvic in Great Britain, as well as further strengthening our portfolio with the exciting addition of Rockstar. This decision was based on our history of sustained strong performance in the market, backed by Britvic's ongoing commitment to significantly invest behind our brands.
"More importantly, our shared values have led to sustainability forming an integral part of this new agreement, which includes our latest mutual commitment to ensure that all of our bottles are made from 100% recycled PET by the end of 2022. This is in support of PepsiCo & Britvic's vision of creating a circular economy on plastic and building a world where plastics need never become waste. We very much look forward to the next chapter of our strengthened relationship with Britvic."
In a separate trading update, Britvic also raised its profit forecasts for the year following better than expected trading across the peak summer period.
Trading has benefited from the limited re-opening of the UK hospitality sector since early July and continued strong trading in the at-home channel across its markets. The year-end adjusted net debt balance is expected to be approximately £40m to £50m lower than last year, reflecting "disciplined" cash management.
However, the group said the economic outlook for 2021 remained uncertain, with the re-introduction of further lockdown restrictions and the impact of social distancing measures on capacity in the hospitality sector set to continue to have an impact on Britvic's performance.
"Britvic is confident in its long-term prospects and anticipates rebuilding investment in 2021 behind its long-term growth drivers, including innovation and marketing, as well as its commitment to sustainability through its strategic priority of 'Healthier People, Healthier Planet'," the group added.
"Britvic is well-positioned to lead the long-term recovery of the category with a portfolio of market-leading, trusted brands, a track record of operational agility and a dedicated and committed team."
Shares in Britvic fizzed 5.5% higher to 792p on the back of the revised profit expectations.
The British Retail Consortium has launched its latest payment survey showing card use continuing to rise steadily from 54% of transactions in 2016 to 61% in 2019. This trend has accelerated under coronavirus, which lead to more customers shopping online or paying by card in store.
At the same time, the cost to retailers of accepting payments reached £1.1bn in 2019, of which £950m was from card payments. While card payments account for four in every five pounds spent in retail, they also incur the largest charges with shops charged an average of 18.4p per credit card transaction (up 15% from 2016), and 5.9p for every debit card transaction (up 6% from 2016).
Businesses have also received notices in the past year of new fees that will now be charged to accept payments online.
At a time when retailers were facing increasing costs due to coronavirus and Brexit, the increasing scheme fees placed further pressures on retailers, the BRC said. Ultimately these costs, equivalent to £40 per household, would be reflected in consumer prices, the body added.
The British Retail Consortium, British Independent Retailers Association, Association of Convenience Stores, Federation of Small Business and UKHospitality have come together to call for decisive action to tackle increasing scheme fees, protecting Britain's businesses and consumers from excessive card costs that add to the price of goods and services.
Andrew Cregan, head of finance policy at the BRC, said: "With card payments accounting for almost 80% of retail sales, it is vital that the government takes action to tackle excessive card costs. Without action we will see businesses put under further pressure and it will be consumers who are forced to pay the price."
The FTSE 100 started the day by nudging up 0.1% to 5,891.38pts.
Early grocery risers included Vimto maker Nichols, up 3.7% to 1,125p, and Fevertree, up 1.5% to 2,182p, as investors bet on strong showings for the drinks suppliers after Britvic reported a better summer than expected.
Losers so far this morning included SSP Group, down 2.4% to 176.1p, Compass Group, down 2.2% to 1,175p, and Applegreen, down 1.8% to 299.5p, as investors worried about the effects of the new coronavirus lockdown in Wales and tightening restrictions elsewhere.
Yesterday in the City
The FTSE ended the day down 0.6% to 5,884.65pts as the market worried about Boris Johnson's Brexit strategy.
Danone managed to keep its head above water and closed the day 0.3% higher at €53.44 after revealing a big strategic overhaul.
Other risers on a quiet day for company news included Greggs, up 2.7% to 1,318p, Cranswick, up 2.1% to 3,470p, and AG Barr, up 477.5p.
Among those stocks in the red were Greencore, down 2.9% to 93.3p, Imperial Brands, down 2.1% to 1,288p, and Reckitt Benckiser ahead of its results this morning, down 2% to 7,204p.