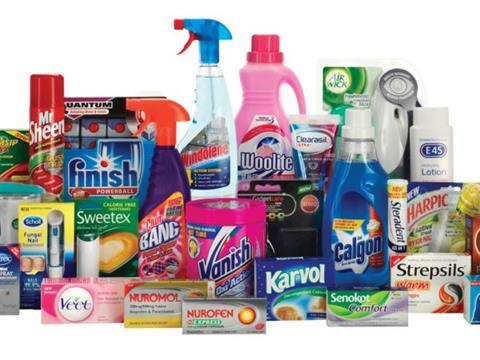 Top Story
Reckitt Benckiser (RB) has cut its full year growth expectations after issues in China and the US led to a "disappointing" third quarter.
The consumer giant posted like for like growth of 1.6% in the three months to the end of the September, with volumes down 1% and price up by approximately 3%.
Its like for like performance in its health division was down 0.3% despite lapping a period of supply disruption in the corresponding period in 2018.
The business posted an underlying decline of around 4%, which RB said reflects "improving but continued share loss and cautious retailer purchasing ahead of the flu season".
Infant nutrition delivered like for like growth of 7.2% in the quarter bringing the year to date like for like performance to +3.9%. However, Reckitt said the most recent market growth readings are below medium-term expectations of 3-5% due to growth moderating in China as the birth rate has declined in 2017 and 2018.
LFL growth in its Hygiene Home business was a more solid 4.5% in the period, with sustainable underlying growth in-line with market of around +3%.
As a result of the weaker performance, RB's full year 2019 net revenue growth target has been reduced to flat to 2%. The new target reflects "the reduction in retailer inventory levels of seasonal products in Q3 and the inherent uncertainties of the season and associated stocking".
Full year 2019 adjusted operating margins expected to see a modest decline as Reckitt said it will continue to invest behind brand equity initiatives to "build a more resilient business and increasing front-line capabilities".
CEO Laxman Narasimhan commented: "RB's performance in Q3 was disappointing. We delivered another quarter of consistent growth in Hygiene Home. Our Health business, despite good market growth and stable consumer offtake, delivered a weak net revenue performance. This was primarily due to issues in the US and China. In the US, we saw more cautious retailer seasonal purchasing patterns. In China, IFCN continues to face challenging market conditions.
"This performance is a reflection of an extended period of significant change and disruption in the company. I am prioritising execution and operational performance as a matter of urgency. I have made it clear within the organisation that any activities that detract focus and attention from improving our operational performance, be paused."
"The issues I have seen facing the business are clear and addressable. I am confident we can restore RB to the levels of performance that it is capable of achieving, and build a purpose-driven, responsible company. Our focus will be on: restoring performance credibility, bringing simplification and focus, driving commercial execution, unleashing our people and delivering a strong financial model."
Reckitt shares have dropped 5.1% to 5,575p so far this morning on the news.
Meanwhile, the group has announced the appointment of Ahold Delhaize's Jeff Carr as Chief Financial Officer to succeed Adrian Hennah, who will be retiring.
Carr will join the Company and the board on or before 9 April 2020. He joins from Ahold Delhaize where he serves as CFO having been at the retailer since 2011. Carr began his career at Unilever as a graduate trainee and has held senior roles at Grand Metropolitan, Associated British Foods, EasyJet and First Group and in senior finance roles in RB between 1994-2004.
Adrian Hennah will be stepping down as CFO when Carr, remaining with the Company until his retirement date of 21 October 2020 to ensure a seamless transition.
Narasimhan commented: "Jeff brings extensive experience across consumer and retail companies and is also an alumnus of RB. Jeff has a record of transformational strategic and operational leadership, consistent performance delivery, strong capital allocation discipline and with building strong teams; all of which lead to long term shareholder value creation."
Morning update
Food products manufacturer Devro (DVO) has issued a trading update for the period from 1 July to 30 September.
The manufacturer of collagen products for the food industry said sales momentum improved during the third quarter with 1% volume growth in collagen casings compared to a 1% in the first half.
During the period the group saw good trading in North America, where it benefited from continued growth in snacking categories, and also in China, due to continued strong growth albeit at margins below the average for the group.
However, these positive performances were offset by a further deterioration in market conditions in Continental Europe and weaker than expected sales in Japan.
Devro said it continues to expect a modest acceleration of volume growth in the fourth quarter with full year volume growth expected at 1%. Cost saving initiatives are "progressing well" and it remains confident of achieving guidance of £7m in the financial year.
Additionally, the group has undertaken a review of its global manufacturing footprint with the aim to pursue further efficiency improvements.
As a result of this review the company is proposing to close its Bellshill site in Scotland and, consequently, to increase the portfolio of products manufactured in its Moodiesburn site in Lanarkshire and relocate some of the Bellshill's manufacturing assets within the wider group.
Following consultation, Bellshill is expected to close during 2020 with the loss of 90 employees. An exceptional cost of £15m (£10m of cash) will be incurred.
The group is also analysing its ongoing supply strategy, which is expected to result in non-cash exceptional impairment charges in 2019, primarily relating to partial write-downs of the China and US plants.
Private label household goods manufacturer McBride (MCB) has issued a trading statement ahead of its AGM later this morning.
It has stated that first quarter Household revenues at constant currency were 1.8% higher versus the prior year. The group's South, East and Asian geographies performed particularly well whilst the UK slowed and France and North saw declines consistent with the second half of last year. Expectations for full year Household revenues remain unchanged and are expected to be broadly flat versus the prior year.
Reflecting the decision to exit UK Aerosol manufacture in the fourth quarter of the previous financial year, continuing revenues at constant currency were down 1.4% in the first quarter versus the prior year.
During the first quarter, raw material and packaging costs, together with logistics costs, remained largely stable. In the absence of significant raw material cost changes, McBride said it expects full year earnings to be in line with expectations, with earnings weighted to the second half of the year.
The Group's interim results will be announced on 20 February 2020.
Ahold Delhaize (AD) has announces today the appointment of Arla's Natalie Knight as executive vice president finance, effective 1 March 2020 after the departure of its CFO to Reckitt Benckiser.
Knight will be nominated to be appointed as Chief Financial Officer at its AGM in April 2020, officially succeeding Jeff Carr, who will leave Ahold Delhaize when his current term expires in April 2020.
She joins Ahold Delhaize from Arla Foods, the Danish global dairy company, where she most recently has served as Chief Financial Officer. Prior to joining Arla Foods, Natalie worked 17 years at Adidas, a global sportswear manufacturer.
Frans Muller, CEO of Ahold Delhaize, said: "Natalie has worked in both the US and Europe, across a variety of industries, including branded consumer goods and food products. With her broad experience across several Finance areas, her commercial mindset, and her demonstrated leadership in cost reduction and business transformation efforts, she is the right leader to help accelerate Ahold Delhaize's Leading Together strategy."
On the markets this morning, the FTSE 100 has opened the day down 0.2% to 7,150.6pts.
Fallers so far include Devro (DVO), down 1.7% to 165.9p after this morning's announcement, Greggs (GRG), down 1.3% to 1,851.9p and Imperial Brands (IMB), down 0.9% to 1,850p.
Early risers include Just Eat (JE), bouncing back 1% to 595.2p, SSP Group (SSPG), up 0.9% to 668p and Premier Foods (PFD), down 0.8% to 32p.
Yesterday in the City
The FTSE 100 ended the day up 0.2% 7,163.6 on another day of wrangling over the terms of the UK's exit from the EU as we approach the 31 October deadline.
Online takeaway giant Just Eat (JE) slumped 5.7% back to 589.4p yesterday, despite posting a 25% third quarter hike in revenues to reach £247.5m. Shares fell on slowing growth in the quarter as UK online orders grew by 16% in the period.
Other fallers yesterday included Carr's Group (CARR), down 3.5% to 139p, McColl's (MCLS), down 2.7% to 44.6p, Cranswick (CWK), odnw 1.9% to 3,342p and B&M European Value Retail (BME), down 1.4% to 376.8p.
FTSE 100 fallers included Reckitt Benckiser (RB) ahead of its quarterly results this morning, falling 2.2% to 5,872p. Ocado (OCDO) fell 1.8% to 1,305.5p and Unilever (ULVR) was down 1.5% to 4,558p.
McBride was up 1.6% to 68.5p ahead of its third quarter trading update this morning.
Other risers included FeverTree (FEVR), up 2.1% to 2,169p, Naked Wines (WINE), up 2.1% to 262p, Pets at Home (PETS), up 2.3% to 228p, Domino's Pizza Group, up 2.4% to 280.5p, DS Smith (SMDS), up 2.6% to 347.5p and Hotel Chocolate (HOTC), up 3.1% to 417.5p.