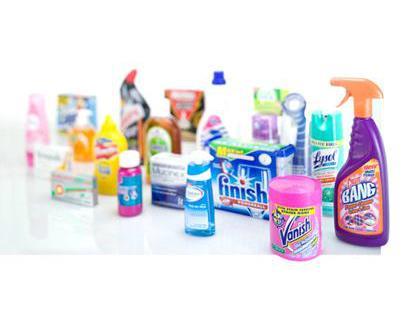 Top story
Reckitt Benckiser (RB) has reported flat like-for-like revenues in the first quarter but favourable currency rates boosted reported sales by 15%.
Total sales were up 15% to £2.64bn driven by the weakness of the pound.
Reckitt maintained it was on track to deliver net revenue growth of 3% in the full year despite flat like-for-like sales in the first quarter, which continued to be impacted by its South Korea consumer health scandal.
Health and hygiene were up 1% like-for-like and 3% respectively, led by good performance of Durex and Mucinex.
However, home was down 4% and portfolio, including food, was down 6% as it was negatively impacted by South Korea.
Reckitt has announced it is seeking to sell its food division, which is based around the French's mustard brand and Frank's Hot Sauce. The division, which represents 4% of sales, was up 3% on a like-for-like basis "demonstrating the strength of our brands and commitment of our people".
Developed markets were down 2% like-for-like, despite "positive momentum" in the UK. Developing markets were up 4% as India and China delivered strong growth.
CEO Rakesh Kapoor said: "Our Q1 results are in line with expectations as macro conditions remain challenging. Against this backdrop our underlying business remains strong. We delivered continued outperformance in consumer health and good growth in developing markets, offset by previously flagged headwinds, which will persist during the first half.
"I expect our growth trajectory to improve as we progress through the year and we remain on track to achieve our full year net revenue target of +3% like-for-like growth."
Reckitt added that its acquisition of baby milk producer Mead Johnson is "progressing well" and is expected to close by the end of the third quarter.
Morning update
Last night French dairy giant Danone (BN) upgraded its 2017 earnings guidance to double-digit recurring earnings per share growth at constant exchange rates.
The update came despite a quiet start to the year, with like-for-like sales rising 0.7% and by 3% on a reported basis in line with expectations.
Overall first quarter sales stood at €5.46bn, reflecting a -2.6% decline in volume and a 3.3% rise in price. Reported sales were boosted by a 2.8% exchange rate benefit, reflecting the positive impact of changes in the Russian ruble, Brazilian real and the US dollar.
The fresh dairy products division reported sales down 2.3% like-for-like, including a 5.3% decline in volume and a 3% rise in value.
Waters was up 1.7% like-for-like, consisting of a 1.3% decrease in volume and a 3% price rise. Early life nutrition was up 4.1%, driving by a 4% rise in prices.
Danone said in the year to come economic conditions will remain particularly volatile and uncertain overall, with persistently fragile or even deflationary consumer trends in Europe, and specific contextual difficulties in a few major markets, including the CIS, China and Brazil.
It pledged to give priority this year to improving margins and strengthen its growth model via disciplined resource allocations that promote strategic growth opportunities over short-term tactical allocations.
CEO Emmanuel Faber commented: "Q1 has been an important time for all teams at Danone. As anticipated, sales are showing a slow start to the year.
"In a continued volatile environment, we have made progress on our key priorities across our categories. In particular, to address headwinds and sub-optimal execution in the Fresh Dairy category in Europe, which sequentially impacted our performance, we continue to adapt our plans. In addition, in a matter of only a few weeks, we simplified our global organization, and localized further our decision-making."
"At the same time we are entering into a new chapter with the acquisition of WhiteWave. With leading positions in some of the fastest-growing, health-focused global categories, this combination will drive our Alimentation Revolution, our business performance, and will accelerate our 2020 profitable growth journey.
"I am therefore fully confident that we will drive strong value creation from the WhiteWave acquisition, and deliver the attractive financial benefits we outlined last July. Reflecting this in the short term, we are now upgrading our Danone FY 2017 guidance to double-digit recurring EPS growth at constant exchange rate."
"2017 is a year of construction that will strengthen Danone as an even more resilient company, best prepared to seize tomorrow's opportunities, with the right portfolio of products and brands to serve our consumers meaningfully in a balanced array of geographies. And with fully committed teams".
Elsewhere this morning, Hotel Chocolat (HOTC) has announced the appointment of Greg Hodder as non-executive director with effect from 1 May 2017.
Hodder was previously been chief executive of Charles Tyrwhitt and prior to that was chief executive of Direct Wines. He is currently a non-executive Director of Majestic Wine (WINE) .
Hodder said: "I have always been a great fan of Hotel Chocolat and I can see that the business has some fantastic opportunities for continued profitable growth. I am delighted to be joining the board."
On the markets this morning, Reckitt is down 1.5% to 7,167p and Danone is down 2.2% to €62.34.
The FTSE 100 has kicked off the day flat at 7,119.6pts.
Early risers include Marks & Spencer (MKS), up 2.5% to 362.5p, C&C Group (CCR), up 3.3% to €3.78, Real Good Food (RGD), up 2.2% to 34.7p and Majestic Wine (WINE), up 1.5% to 353.5p.
Fallers include Hilton Food Group (HFG), down 4.7% to 685p, SSP Group (SSPG), down 2.8% to 427.7p and Applegreen (APGN), down 2.6% to 380p.
Yesterday in the City
The FTSE 100 stabalised yesterday after heavy falls since the shock announcement of a June general election, edging 0.1% higher to end the day at 7,118.5pts.
Unilever was one of the market's better performers after beating markets expectations by posting a first quarter revenue rise of 2.9% against consensus closer to 2%. The shares were around 1.2% higher by lunchtime but slipped back to end the day up 0.3% at 3950p.
It was a decent day for the fmcg sector generally, with Nestle up 0.5% to CHF75.60 after first quarter sales increased by 0.4% on a reported basis to CHF 21bn, with organic growth of 2.3%.
Pernod Ricard was up 1.1% to €114.50 after reporting third quarter organic growth of 3%, to take its year-to-date organic growth to 4% in the first nine months of the year.
Back in the UK, some recent victims of the strengthening pound started to make a recovery, including British American Tobacco (BATS), up 0.7% to 1,504p, Greencore (GNC), up 0.7% to 246.2p and Compass Group (CPG), up 0,7% to 246.2p. Also on the rise was Conviviality (CVR), up 2.1% to 299p.
Fallers included WH Smith (SMWH), down 1.4% to 1,779p, Marks & Spencer (MKS), down 1.3% to 353.7p and Cranswick (CWK), dow 1.2% to 2,589p.
Also falling were Stock Spirits Group (STCK), down 2.9% to 168p and PayPoint (PAY), down 3.6% to 1,021p.