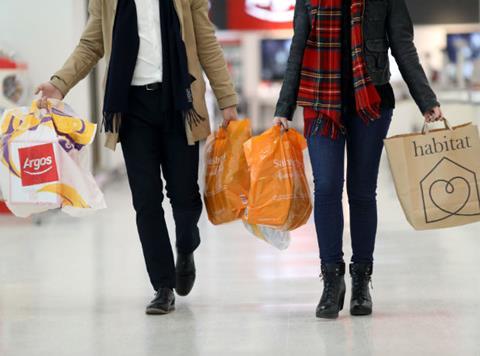 Top story
Sainsbury's has lifted its profit guidance for the year despite a fall in sales over the key Christmas trading period.
Grocery sales increased 0.1% over the six weeks to 8 January (0.8% when excluding Boxing Day) compared to the previous year, and by 6.8% against its pre-pandemic performance.
However, a 10.6% sales slump for the general merchandise division, which includes Argos, dragged down the supermarket chain's overall retail sales growth for the period by 2.9% - although it was still 2.4% ahead of Christmas 2019.
Sainsbury's said the fall in GM reflected an exceptional performance in 2020, limited availability in key product areas and a reduction in promotional activity, which led to a 38% increase in full-price clothing sales versus two years ago.
Online demand also plummeted this year as consumers returned to the shops in greater numbers, with sales down 15.1% versus last year when the country was in lockdown. Online sales remained 95% higher than two year ago.
Overall, grocery sales slowed by 1.1% in the third quarter, with general merchandise down 16% and clothing 2.7% behind year on year, with total retail sales, excluding fuel, down 5.3%.
Despite the slow down, Sainsbury's upgraded its profits guidance for the year and now expects to earn pre-tax profits of at least £720m, up from previous forecasts of £660m.
Sainsbury's said investment in the customer proposition and higher operating cost inflation was offset by structural cost savings and stronger-than-expected grocery volumes, driven in part by increased in-home consumption.
Argos also continued to benefit from stronger margins supported by "transformational" operating cost reductions and the bank's profit expectations are running ahead of consensus, the group added.
The supermarket highlighted volume share gains in the third quarter that it claimed were ahead of the market, driven by "bold" investments in value, new products and service.
CEO Simon Roberts said he was "really pleased" with how Sainsbury's delivered for customers over Christmas.
"More people ate at home and our significant investment in value, innovation and service led to market share growth."
He added: "The backdrop was challenging and our teams worked hard throughout the year to make sure we had all of the products everyone wanted. Our suppliers did a great job in challenging conditions throughout the quarter and I thank them for all their support for our business.
"We were bold in our plan for product, value, innovation and service and delivered volume growth ahead of the market. We delivered our best value food this Christmas, launched our lowest ever priced Christmas dinner heading into the key Christmas shopping week and we had our biggest ever New Year.
"Customers also treated themselves and new Taste the Difference products in party food, desserts, wines and spirits were really popular and we had record sales of champagne and sparkling wines. Offering great value will be more important than ever this year and we have just launched our bold new Sainsbury's Quality Aldi Price Match campaign, which targets 150 fresh products that customers buy most often.
"We also delivered a strong digital performance, responding to a surge in demand for online deliveries over Christmas and last-minute online gift shopping at Argos."
Shares in the supermarket jumped 2.7% to 286.8p this morning as markets reacted to news of a profits upgrade.
Morning update
Just Eat Takeaway has missed it full-year growth target to increase orders by 45% as the end of Covid restrictions dampened demand for takeaways.
Orders jumped 33% to 1.1 billion in 2021, with profitability rapidly improving, the takeaway delivery app said in a trading update.
However, full-year order growth, excluding Grubhub, came in at more than 40% year on year, which fell short of the targeted 45% mark.
Gross transaction value (GTV) for the year increased 31% to €28.2bn as a result of the rise in orders. However, the figure just scraped into the company's forecast range of €28bn to €30bn for the year.
In the final quarter of the year, the business processed 274 million orders, up 14% on a year earlier, with a GTV of €7.3bn, a rise of 17% versus the same period of 2020.
The UK & Ireland was the fastest-growing region for the business in both the fourth quarter and the year as a whole.
Just Eat Takeaway said adjusted EBITDA margin improved "substantially" in the fourth quarter, but it did not disclose profit figures in the trading statement.
CEO Jitse Groen said: "Following the merger of Just Eat and Takeaway.com nearly two years ago, we made significant investments to grow our leadership positions and the company is now six times bigger in terms of orders.
"On the back of this success, we have markedly improved our adjusted EBITDA throughout the second half of 2021, and we will make further improvements this year.
"Meanwhile, we expect our market positions to strengthen further, driven by our superior network effects."
Shares in Just Eat Takeaway slumped 2.1% lower to 3,530.5p as markets opened this morning.
Vimto maker Nichols has continued its recovery but the ongoing pandemic is still holding back the out-of-home market.
In a trading update for 2021, Nichols said revenues were expected to increase 22% to £144.3m, which would be broadly in line with 2019 levels.
Adjusted pre-tax profits for the year are forecast to meet expectations of between £21m and £22m.
Vimto continued to deliver a strong performance, with a 5.6% rise in brand value, Nichols said, quoting figures from Nielsen.
Internationally, the group made further progress, wtih strong double-digit revenue growth year compared with 2020.
The out-of-home market continued to recover from the impact of the pandemic, with growth of 77% year on year. However, compared with pre-pandemic figures, Nichols remained significantly down (-31%).
Nichols also flagged that the value of its out-of-home division would likely have its value written down as the group undertook a full review of the effects of the pandemic.
"Given the ongoing impact of the coronavirus pandemic on the OoH drinks market, and current profitability within this route to market, the board is currently revisiting the estimates it uses to support the OoH balance sheet carrying value as part of preparing the group's audited annual results," the statement to the London Stock Exchange said.
"It is expected that the goodwill, or part of it, reported on the balance sheet will be impaired."
Further details will be given when Nichols reports preliminary results on 2 March.
The FTSE 100 started on the front foot this morning, rising 0.6% to 7,538.97pts.
Risers this morning included Devro, up 4.1% to 204p, Naked Wines, up 3.5% to 595p, Pets at Home Group, up 1.7% to 440.8p, and AG Barr, up 1.6% to 518p.
Fallers included Greggs, down 0.9% to 2,874p, Deliveroo, down 0.6% to 188p, and Finsbury Food Group, down 0.5% to 98.5p.
Yesterday in the City
The FTSE 100 climbed 0.6% to 7,491.37pts yesterday.
Risers included Delivery Hero, which increased 5% to €86 after announcing it expected to break even in the second half of 2022, Glanbia, up 3.8% to €12.99, and B&M European Value Retail, up 1.8% to 611.6p.
Losers included Hellofresh, down 3% to €57.70, Nichols, down 2.7% to 1,465p, and Pets at Home Group, down 2.7% to 433.4p.