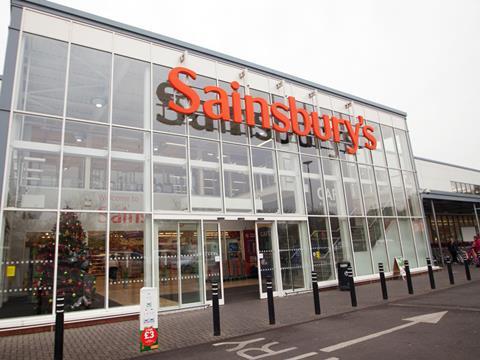 Top story
Sainsbury's (SBRY) grew underlying profits by 20% in the 28 weeks to 22 September 2018 and recorded improved second quarter sales driven by the warm summer.
Underlying profits in the period grew from £251m to £302m helped by synergies from its Argos acquisition being delivered ahead of schedule.
During the half Sainsbury's delivered Argos EBITDA synergies of £63m and since the half year it has realised its entire £150m EBITDA synergy target nine months ahead of schedule.
However, profit after tax fell 13% to £144m as Sainsbury's took financial hits from the restructuring its store management teams, Argos integration, Sainsbury's Bank transition and the proposed combination with Asda.
Group sales rose from £14.6bn to £15.1bn in the period – a rise of 3.5%.
Food and general merchandise sales benefited from the hot summer; grocery sales grew 1.2% and general merchandise sales grew 1.5%, with total food transactions up 0.6%.
Like-for-like sales in the period (excluding fuel) were up 0.6%, improving from 0.2% in the first quarter to 1% in the second.
Total grocery sales improved from 0.5% to 2% in the second quarter. Online groceries grew by nearly 7% in the half year, with convenience up by more than 4%.
General merchandise sales, including Argos, grew 1.5% and outperformed the market, but margins remain under pressure due to strong sales of lower margin consumer technology products
In the first half of 2018/19, Sainsbury's opened no new supermarkets and closed two supermarkets, while opening three new convenience stores in the first half and closing one.
Sainsbury's CEO Mike Coupe commented: "The market remains very competitive and we are transforming our business to meet rapidly changing customer needs. We have fundamentally changed how our 135,000 Sainsbury's store managers and colleagues work and I would like to thank them for their ongoing hard work through this period.
"We have delivered a solid first half performance and profit has increased because we have delivered significant Argos synergies ahead of schedule. Sales of food and general merchandise were boosted by the hot summer, but general merchandise margins remain under pressure.
"Our strategy of offering customers a distinctive range of high quality and great value food has driven like-for-like sales growth at Sainsbury's. Where we have invested to lower prices, volumes and transactions have increased.
"Our proposed combination with Asda will create a dynamic new player in UK retail, with the ability to further lower prices and to reduce the cost of living for millions of UK households. The Competition and Markets Authority is conducting its in-depth Phase Two review into the proposed combination and we continue to engage constructively with the CMA and Panel."
Sainsbury's said it remains on track to hit market consensus of underlying profit of £634m for the full year despite an uncertain consumer outlook and a highly competitive and "very promotional" market.
In 2018/19, Sainsbury's expects cost inflation of around 3%, but said it is on track to deliver at least £500m of cost savings over the next three years with £200m of these savings to be achieved in 2018/19.
Morning update
Sucralose producer Tate & Lyle (TATE) has posted a small increase in adjusted profit before tax despite falling sales in the first half of the year.
In the six months to 30 September it recorded a 2% increase in adjusted profit before tax, with a 3% increase in Food & Beverage Solutions profit and a 1% increase in Sucralose profits.
However, statutory profit before tax fell 30% to £113m as earnings were hit by one off items of £47m.
Sales were down 1% to £1.38bn, but up 2% on an adjusted basis.
Its core food & beverage solutions united saw 3% volume growth in North America and a 6% sales boost from new products.
CEO Nick Hampton said: "We performed in line with our expectations in the first half delivering growth in adjusted profit before tax and strong cash flow despite cost inflation from materials and transport in North America, and lower profits in Commodities. Food & Beverage Solutions performed well with strong volume growth in North America, Asia Pacific and Latin America. In Primary Products, Sweeteners and Starches delivered solid underlying performance.
"The three programmes we announced in May 2018 to sharpen the focus on our customers, accelerate portfolio development and simplify the business are progressing well. With our clear direction, strong financial position and a strengthened leadership team driving greater pace and agility across the organisation, we remain well-placed to realise the growth potential of our business.
The outlook for the year ending 31 March 2019 remains unchanged."
European Coke bottle Coca-Cola HBC (CCH) has delivered a "quarter of solid growth" in the third quarter of the year, with FX-neutral revenue growth of 4.5%.
Volumes increased 4.2% in the quarter, with strong delivery in both developing markets and emerging markets.
Developing markets volumes increased by 11.3%, with strong performance in Poland, while emerging markets growth of 4.1% saw "good" contributions from Nigeria and Russia.
Established markets volumes were broadly stable, given the tough prior-year comparative of 2.2%.
FX-neutral revenue per case improved by 0.3% in the quarter, a slowdown on recent trends, reflecting the timing of pricing actions and negative channel mix.
Net sales revenue growth was 4.5% on a currency-neutral basis and 2.6% on a reported basis compared to the prior-year quarter.
CEO Zoran Bogdanovic, commented: "We are pleased with how our actions are positioning the business to successfully capture growth opportunities in our markets. Our product portfolio is evolving to meet changing consumer preferences, and by partnering with customers we are strengthening our route to market.
"We had a quarter of solid growth led by continued good progress in volumes against strong comparatives. As expected, the slowdown in price/mix growth primarily reflected the timing of planned pricing activity, and we expect an acceleration in the final quarter. October trading has been strong, and we look to the full year confident that 2018 will be another year of good growth in both revenue and margins."
Just Eat (JE) has appointed former M&S finance chief Helen Weir as an independent non-executive director of the company from 1 December 2018.
She will also join the audit committee and will work closely with the current chair Andrew Griffith in anticipation of her succeeding him as chair of the committee after next year's AGM..
She was previously CFO at Marks & Spencer (2015-2018), group finance director at John Lewis Partnership (2012-2014) and has held senior executive positions at Lloyds Banking Group and Kingfisher. She has previously served as a non-executive director at SAB Miller plc and Royal Mail Holdings
Just Eat Chairman Mike Evans said: "I am delighted to welcome Helen to the Board of Just Eat. Her significant experience with UK-listed consumer-facing businesses, combined with her finance and audit track record, will add considerable value to our Board. I look forward to her contribution as Just Eat continues to grow."
On the markets this morning, the FTSE 100 is up another 0.3% to 7,139.7pts.
Sainsbury's is up 1.4% to 323.6p after its better than expected profits performance, Coca-Cola HBC is up 3.3% to 2,334 after its strong third quarter and Tate & Lyle is up 2.7% to 704.4p after its first half results.
Other risers include FeverTree (FEVR), up 3.2% to 2,932.8p, Premier Foods (PFD), up 2.4% to 40.5p and WH Smith (SMWH), up 2.2% to 2,058p.
Fallers so far include Marks & Spencer (MKS), down a further 1% to 297.8p, British American Tobacco (BATS), down 0.9% to 3,396p and PZ Cussons (PZC), down 0.6% to 222.1p.
Yesterday in the City
The FTSE 100 continued its recovery yesterday rising 1.1% to 7,117.2pts.
Marks & Spencer slipped 0.5% to 300.9p after announcing a further slide in first half sales, though profits came in ahead of expectations.
It was a better day for a number of other consumer stocks, with Associated British Foods jumping 4.3% to 2,565p after Tuesday's stronger than expected first half results.
Also on the up were British American Tobacco (BATS), up 2.5% to 3,426p, Ocado Group (OCDO), up 2.3% to 859p, Sainsbury's (SBRY), up 2% ahead of today's half year results to 319.1p, WH Smith (SMWH), up 1.9% to 2,1014p and Tesco (TSCO), up 1.7% to 215.7p.
Dairy Crest (DCG) rose 0.4% to 450p after posting a jump in first half profits yesterday and Kerry Group (KYGA) rose 2.9% to €93.80 after it announced a 3.5% jump in sales volumes for the nine months ended 30 September.
Other risers included Hotel Chocolat (HOTC), up 2.8% to 291p, McColl's (MCLS), up 2.1% to 135.8p and Nichols (NICL), up 2% to 1,382.5p.
The day's few fallers included Greene King (GNK), down 2.3% to 489.3p, Greggs (GRG), down 1.6% to 1,187p, Greencore (GNC), down 1% to 187p and Compass Group (CPG), down 0.9% to 1,519.5p.