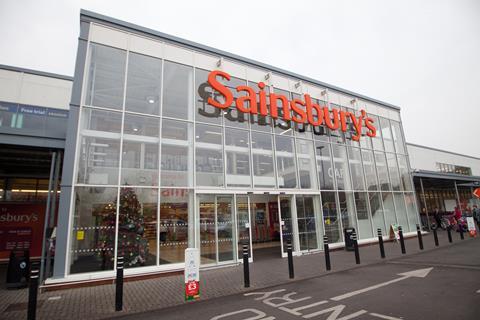 Top story
Sainsbury's (SBRY) has fallen to a loss in its first half as the supermarket suffered from higher marketing costs, comparisons with good trading a year ago and the impact of cost savings.
Group sales in the 28 weeks to 21 September 2019 fell 0.2% to £16.9bn, with retail sales down 0.6% and like-for-like figures 1% lower.
Underlying profits dipped by £41m as expected – or 15 % – to £238m but pre-tax profits sank from £107m a year ago to £9m and the group fell into the red overall, with a £38m loss in the period, compared with a profit of £123m last year. A £203m largely non-cash one-off cost following a review of the store estate dragged down profitability in the period.
However, Sainsbury's hailed "positive momentum" in grocery market share and sales performance for the half, which it said was driven by a strong customer response to lower prices on more than 1,000 high-volume lines and new value brands. Sainsbury's has launched 123 new value products so far as it phased out the Basics range, with 200 due by the end of the financial year.
It added that Argos – where it converted 176 of the stores to the digital format in the half – grew ahead of the market, despite sales falling by 2.5%.
Sainsbury's shares, which have lost more than 30% in value over the past year, opened 1.6% higher this morning to 208.8p
The results come as Sainsbury's attempts to rebuild confidence in its strategy after a failed takeover attempt of Asda earlier this year.
Chief executive Mike Coupe said: "We have created positive momentum across the business through strategic investments in our customer offer.
"We have lowered prices on every day food and groceries, launched a range of value brands and are more competitive on price than we have ever been. We are investing in hundreds of Sainsbury's and Argos stores, introducing new products and services and continually improving service and availability. As a result, customer satisfaction has increased significantly year on year.
"We have set out our plan to create one multi brand, multi-channel business. This will make the combined Sainsbury's and Argos offer much more accessible for customers and gives us the opportunity to make our business more efficient. We offer great quality at affordable prices with convenient ways to shop. I would like to thank colleagues for all their hard work at this busy time of year. We are very much looking forward to delighting our customers throughout the upcoming festive period."
Sales momentum gathered across the half as like-for-like sales growth improved from a fall of 1.6% in the first quarter to just -0.2% in the second three months of the period.
The total retail sales figure was positive in the second quarter, with growth of 0.1% as grocery and clothing sales rose 0.6% and 3.3% respectively. But a 2% decline at Argos held back growth.
Morning update
Tate & Lyle (TATE) has reported an "encouraging" start to the year, with profits jumping 45% in the first half.
The FTSE 250-listed ingredients business reported pre-tax profits for the six months to 30 September 2019 of £164m compared to £113m a year ago, with the increase mainly attributed to lower exceptional costs.
Last year, the business booked £47m in one-off exceptional charges, dropping to £11m this year, mainly related to actions to simplify the business and the portfolio.
Adjusted pre-tax profits, excluding exceptional costs, rose 3% to £181m.
Revenues increased 7% to £1.48bn, 2% higher at constant currency, driven by "top-line" momentum in the company's Food & Beverage Solutions business.
The unit generated £90m in profits, up 11% year-on-year, on sales, at constant currency, 4% higher to £478m.
Tate & Lyle Sucralose unit saw profits dip 1% to £29m, "broadly in line" with the previous year. Sales dropped 5% to £76m.
Profits at the Primary Products division, including sweeteners and starches, dropped 5% to £86m due to challenging market conditions, while the unit's revenues were 1% higher at £922m.
CEO Nick Hampton said: "We made encouraging progress in the first half. Our priorities to sharpen the focus on our customers, accelerate portfolio development and simplify the business are driving momentum across the organisation and supporting performance.
"Overall, the business is in a strong financial position and delivering clear strategic progress. Despite market challenges, our outlook for the year ending 31 March 2020 is unchanged."
For the full year, Tate & Lyle expects earnings per share growth to be broadly flat to low-single digit, at constant currency.
The FTSE 100 opened 0.45 higher at 7,423.75pts.
Sainsbury's shares were trading 1.6% higher at 208.70p each while Tate & Lyle shares jumped 8.7% to 722.40p as investors reated to the positive interim performance.
Other risers included Marks & Spencer (MKS), up 3.3% to 187.95p, Tesco (TSCO) up 0.8% at 239.30p and Associated British Foods (ABF) up 1.6% at 2,460p.
In a mostly green index, Imperial Brands (IMB) was down 1.1% to 1,770.60p and Britvic (BVIC) opened 0.2% lower at 962.50p.
Yesterday in the City
The FTSE 100 ended the day 0.1% higher at 7,396.65pts.
Unilever (ULVR) closed 1.8% higher at 4,688p, while Kerry Group (KYGA) shares closed 3% higher at €113.90.
Imperial Brands (IMB) surged 2.7% to 1,785.60p, Bakkavor (BAKK) closed 2% higher at 124.40p and Nichols ( NICL) up 1.8% at 1,575p.
Closing in the red, Ocado (OCDO) ended the day 2% lower at 1,332.50p, Marks & Spencer (MKS) closed down 0.9% at 180.65p after reporting falling interim profits and Fevertree (FEVR) closed down 1.2% at 1,767p.