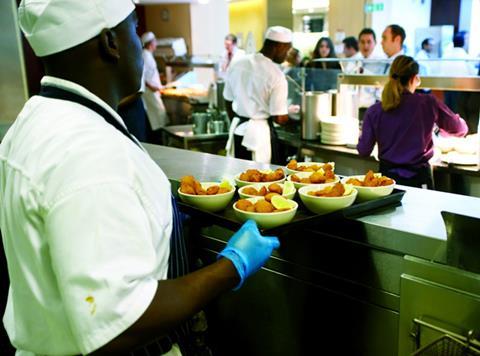 Top story
FTSE 100 catering giant Compass Group (CPG) has announced a 4% rise in organic revenues and a 5.6% increase in underlying profits as a strong performance in North America underpinned growth.
Revenue for the group in the year to 30 September grew by 4% on an organic basis to £22.9bn, with new business wins accounting for 8.7% of that total.
Like-for-like revenues edged up 1% reflecting "sensible price increases partially offset by weak volumes in our commodity related business".
Headline revenues were significantly boosted by the weakening pound, with statutory revenues growing by 15.1% to £22.6bn thanks to 11.3% from currency translation.
The standout performer was Compass' North American, which accounts for 58.3% of its sales. The region saw organic revenue growth of 7.1% due to good new business and a client retention rate of 96%.
Like for like revenues in Norther America were positive across the business reflecting modest pricing and flat volumes.
In Europe organic revenue growth was 1.6% with growth improving as the year progressed. The performance was driven by good levels of new business in the UK and Turkey, partly offset by weaker trading on the Continent, particularly in France and Germany.
Organic revenue in its rest of world region declined by 2.5%
Overall underlying operating profit increased by 5.6% on a constant currency basis to £1.7bn, with operating profit margin up 20 basis points to 7.4%.
Statutory operating profit was up 18.2% to £1.67bn of which 11.3% was the benefit of currency translation.
Efficiencies combined with modest pricing increases enabled Compass to offset inflation pressures and reinvest to support growth opportunities
As a result of continued strong cash flow generation, and limited M&A this year, Compass paid a special dividend of £1 billion in July and declared an annual dividend of 33.5 pence per share (up 5.7%).
Chief executive Richard Cousins said: "Food is our focus and our core competence. The food service market is estimated to be more than £200 billion; with only around 50% of the market currently outsourced, it represents a significant structural growth opportunity.
"We believe the benefits of outsourcing become further apparent as economic conditions and regulatory changes put further pressure on organisations' budgets. As one of the largest providers in all of our sectors, we are well placed to benefit from these trends.
"Our expectations for FY2018 are positive, with growth and margin improvement weighted to the second half. The pipeline of new contracts is encouraging and our focus on organic growth, efficiencies and cash gives us confidence in achieving another year of progress."
Compass shares have slumped 3.8% to 1,530.9p in early trading.
Morning update
The FTSE 100 has opened flat at 7,388.1pts this morning.
Compass Group is the FTSE's biggest faller this morning despite rising sales and profits.
Other fallers include Nichols (NICL), down 2.4% to 1,610p, C&C Group (CCR), down 1.3% to €2.83 and Ocado (OCDO), down 1.1% to 245.7p.
Early risers include Imperial Brands (IMB), up 2.7% to 3,110p, Hotel Chocolat (HOTC), up 2.3% to 355p, Total Produce (TOT), up 1.8% to 215.4p and Devro (DVO), up 1.4% to 236.5p.
Yesterday in the City
After a poor start to the day the FTSE 100 clawed back lost ground through the day yesterday to end trading up 0.1% at 7,389.5pts.
Tesco and Booker gained ground once more ahead of the shareholder votes on the proposed £3.7bn merger. Booker (BOK) rose 2% to 213p while Tesco (TSCO) was up 1.3% to 187p.
As Booker and Tesco rose, some supermarket rivals eased back with Ocado (OCDO) down 1.4% back to 248.3p and Sainsbury's (SBRY) down 1.2% to 224.8p.
Elsewhere, there were strong rises for B&M European Value Retail (BME), up 2.2% to 398.8p, Dairy Crest (DCG), up 1.4% to 576.5p and Unilever (ULVR), up 1.2% to 4199.5p.
Other risers included Conviviality (CVR), up 3.6% to 413p, Crawshaw (CRAW), up 8.1% to 11.75p and Mitchells & Butlers (MAB), up 2.1% to 265p.
Fallers included Nichols (NICL), down 4% to 1,650p, McColl's (MCLS), down 3.5% to 280p, Hotel Chocolat (HOTC), down 2.8% to 347p and Premier Foods (PFD), back 1.8% to 42p.