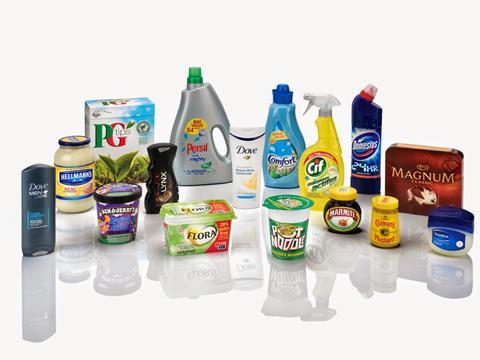 Top story
Unilever has boosted third-quarter sales thanks to shoppers continuing to stock up on Domestos and Cif to battle the coronavirus in thier homes.
Underlying sales growth accelerated 4.4% to €12.9bn (£11.6bn) in the three months to the end of September.
CEO Alan Jope said the strong performance, with volume-led growth, showed the resilience pof the fmcg giant's portfolio.
Unilever's emerging markets performed strongest in the quarter - up 5.3% - as countries such as India, China and Brazil returned to growth following lockdowns.
Developed markets rose 3.1%, led by the ongoing strength in North America where in-home consumption of foods and refreshment was the driver of growth.
However, despite higher volumes, Europe's underlying sales declined 0.8% as a result of price wars and increased promotions, along with a decline in out-of-home ice cream in countries reliant on summer tourism such as Italy and Spain, which both logged double-digit falls.
In the UK, renewed Covid restrictions led to heightened demand for home hygiene products, as well as retail foods, leading to mid-single digit growth in the country.
Online channels continued to grow, and the e-commerce business increased 76% in the quarter.
The group home care division recorded the strongest growth in the quarter, up 6.7% thanks to the demand for household cleaners.
Beauty and personal care increased 3.8% in the period as hand sanitiser remained popular, although slighlty below levels earlier in the year, and the decline of skin care and deodorants slowed as people spent more time outside their homes.
In food and refreshment, underlying sales rose 3.7% thanks to double-digit hikes in retail foods and mid-single digit growth in tea. Sales growth of Ben & Jerry's and Magnum more than offset the decline in out-of-home ice cream. However, the foodservice channel registered another decline of 20% as many hospitality venues continue to be hit by the outbreak.
Jope said: "We have delivered a strong performance this quarter. Volume-led growth shows the resilience of our portfolio and our agility in responding to rapidly changing dynamics across consumer segments, geographies and channels."
He added: "The environment we are operating in will remain unpredictable in the near term, so we will continue to maintain the speed and agility of our response. Our focus remains volume-led competitive growth, delivering absolute profit and free cashflow."
Turnover overall fell 2.4% in the quarter as currency fluctuations around the world worked against the group.
Underlying sales growth in the first nine months of the year now stands at 1.4%, down 1.8% including currency movements.
Shares in the consumer goods group nudged 0.1% higher to 4,707p this morning.
Morning update
Devro has appointed Chantal Cayuela to the board as an independent non-executive director with effect from 1 January 2021.
Cayuela will also become a member of the audit committee, the executive remuneration committee and the nomination committee.
She currently leads the R&D and innovation team for Kellogg's European business, where she has been a vice president since 2018. Her career includes a period of more than 16 years working in a variety of roles at Danone. She subsequently spent seven years leading the group Bel's research, innovation and development.
The collagen product manufacturer also announced non-executive director Dr Paul Withers will retire from the board on 31 December 2020. Lesley Jackson will become the company's senior independent director.
Chairman Steve Good said: "I am delighted to welcome Chantal to Devro's board of directors. She brings extensive experience of successful product innovation in international food manufacturing businesses and will add valuable skills and insights to support the development and execution of the company's growth strategy.
"On behalf of the board, I would also like to thank Paul for his invaluable service as a non-executive director since 2011 and, particularly in the last year as the company's senior independent director, for his flexibility and contribution to the initiative to refresh the composition of the board, completed with Chantal's appointment. I wish him well for the future."
The FTSE 100 continued its decline this morning, falling a further 0.6% to 5,741.63pts.
Losers so far this morning in food and drink include McColl's Retail Group, down 4.2% to 20.1p, AG Barr, down 1.3% to 469p, and B&M European Value Retail, down 1.1% to 493.2p.
Among the early risers are Nichols, up 4.8% to 1,090p, SSP Group, up 1% to 183.2p and C&C Group, up 1% to 181.4p.
Yesterday in the City
The FTSE 100 suffered a difficult day and closed down by 1.9% to 5,776.50pts. The value of sterling jumped as hopes of a Brexit deal improved, hurting many of the blue-chip index's international constituents.
Nestle also ended the day down, despite beating market expectations with its third-quarter results. The global supplier third-quarter organic growth of 4.9%, driven by strong demand for petfood as well as at-home coffee consumption and dairy. However, shares closed down 0.8% to CHF 106.54.
Other losers yesterday included Compass Group, down 4.7% to 1,145p, Just Eat, down 3.7% to 9,390p, and Nichols, down 3.3% to 1,040p.
Shares in alcoholic drinks producer C&C Group jumped 1.4% to 179.6p despite falling to a first-half operating loss amid a 55% plunge in revenues as the lockdown and shuttering of pubs hit trading. The group did, however, trade profitably in July and August.
In wider grocery and fmcg, it was a good day for Hotel Chocolat, rising 2.8% to 370p, M&S, up 2.7% to 95.1p, and McBride, up 2.75 to 62p.