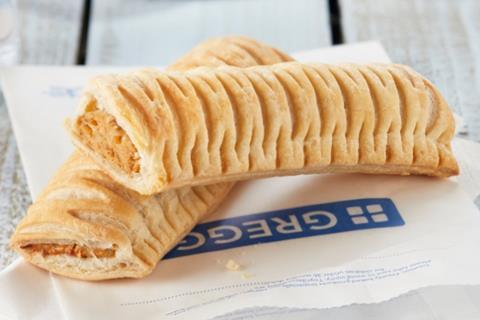 Top story
Greggs (GRG) has upgraded its full year profit expectations due to booming sales in early 2019 driven by the success of its newly released vegan sausage roll.
The bakery chain has posted a trading update for the first weeks 2019, stating that total sales are up 14.1% for the seven weeks to 16 February.
Greggs said it has made an "exceptionally strong start" to 2019, with total sales up 14.1% compared to growth of 6.2% in the same period last year.
Like-for-like sales in company-managed shops increased by 9.6% compared to growth of 2.9% in the same period in 2017.
It said these exceptional sales were boosted by publicity surrounding launch of Greggs' vegan-friendly sausage roll.
Customer transaction numbers have increased, with additional sales mainly comprising savoury products such as the vegan-friendly sausage roll and our other iconic sausage rolls and bakes.
The rate of growth has eased slightly in February but the strength of trading is likely to have a material impact on the first half result for 2019, particularly as comparative sales growth for 2018 was weak due to the extreme weather.
Overall the board now anticipates that 2019 full year underlying profit before tax (excluding exceptional charges) is likely to be ahead of its previous expectations.
Greggs will publish its 2018 preliminary results of 7 March 2019.
Greggs shares have jumped 8.6% this morning to a new all-time share price high of 1,740p.
Morning update
Danone (BN) grew full year like for like sales by 2.9% to €24.7bn in 2018, though reported sales edged downwards due to negative currency impacts.
Like for like growth was driven by a 3.6% jump in pricing as the group continued to premiumise its portfolio while volumes fell back 0.7%.
Excluding the impact of a boycott in Morocco, like for like sales were up 3.6% and volumes rose 0.6% in the full-year.
Fourth quarter like for like sales were up 3.4% and by 3.2% excluding the Morocco boycott.
Total sales fell 0.7% against 2017 as a negative currency impact of 6.6% driven by the appreciation of the euro against the Argentinian peso, the US dollar and other emerging currencies hit revenues.
The acquisition of White Wave boosted growth by 4%, while disposals lost 0.8%.
Recurring operating margin reached 14.45% in the year, up 20 bps on a reported basis.
On a like for like basis, recurring operating margin increased by +51 bps, and +58 bps excluding the impact of the Morocco boycott.
Danone said this strong improvement was achieved despite an inflationary cost environment, in particular for packaging and US transportation costs.
The improved margin growing efficiencies, achieved mainly through more than $180 million cumulative synergies from the integration of WhiteWave, and around €300 million of savings from its Protein efficiency programme.
However, headline pre-tax profits fell from €3.3bn in 2017 to €2.4bn last year largely due to a non-cash charge of €662m recorded in the first half of the year related to the impairment of the Centrale brand and an impairment of Centrale Danone as a consequence of the consumer boycott started in April 2018 in Morocco.
CEO Emmanuel Faber commented: "Our company is becoming more agile every day. We keep adjusting our ways of working and delivering efficiency.
And we adapt to the ever changing world around us, as exemplified by the impressive acceleration of our innovation rate, supplying a quarter of our total sales in 2018 from only 16% two years ago, and our 40% growth in e-commerce last year.
"We are actually further delayering our organization, as another step to move away from the pyramidal model that built the giant food companies of the past. With this, we are becoming the most localized of our peers, prepared to capture the underlying value of the biodiversity of local food cultures and agricultures in tune with the new eating and drinking paradigms."
Danone expects 2019 organic sales growth of 3% and recurring operating margin to be above 15%.
Elsewhere, Irish food supplier Kerry Group (KYGA) grew revenues by 3.1% last year to €6.6bn boosted by strong volume growth and acqusitions.
Volumes grew by 3.5% in 2018 while pricing decreased by 0.5% against a backdrop of lower raw material costs in the year.
Its Taste & Nutrition business delivered 4.1% volume growth as pricing decreased by 0.5%, while its Consumer Foods business saw volumes increase by 1.1% and pricing decreased by 0.4%.
Kerry said this volume growth was "well ahead of the market" and came despite the food and beverage industry and end-to-end supply chain Wexperiencing unprecedented disruption, as consumers are demanding more than ever before and are challenging traditional business models".
"While UK and Irish consumer foods markets encountered challenges impacting consumer sentiment, with market growth rates reducing across the year, Kerry's Consumer Foods division delivered a solid underlying performance," Kerry stated.
Against this "challenging backdrop" its 'everyday fresh' range delivered solid growth, led by the Richmond range, while the Denny range benefitted from increased marketing support in Ireland. Its traditional spreads category continued to be challenged, however Kerry's softer butter offerings delivered growth particularly with private label brands in the UK, and the Dairygold brand in Ireland/
'Convenience meal solutions' had a "difficult year", impacted by reduced promotional activity as well as the extended period of warm weather. 'Food to go' performed well with strong growth in Cheestrings across the year and the successful relaunch of its Fridge Raiders brand.
Overall trading margin was maintained at 12.2%, reflecting a 20 basis points improvement in Taste & Nutrition and positive underlying margin improvement in Consumer Foods. However, headline profits in its foods division was offset by adverse sterling exchange rates resulting in a 60 basis points margin reduction.
Constant currency adjusted earnings per share increased by 8.6% to 353.4 cent, but basic earnings per share decreased by 8.3% to 305.9 cent primarily due to the one-off favourable impact of US tax reform in the prior year.
CEO Edmond Scanlon said: "We are pleased with our performance in 2018, with volume growth well ahead of our markets, underlying margin expansion in line with expectations and adjusted earnings per share growth of 8.6% in constant currency.
"This performance continues to highlight the uniqueness of Kerry's business model in supporting customers, as consumers continue to look for innovation and drive further marketplace fragmentation.
"We have also made good progress across our strategic growth priorities, including further developing our industry leading portfolio of taste and nutrition foundational technologies, completing a number of strategic acquisitions and investments aligned to growth priorities as planned."
In 2018 the group expects to deliver adjusted earnings per share growth of 6% to 10% on a constant currency basis.
The FTSE 100 is down another 0.4% to 7,193.3pts so far this morning.
Danone shares are flat at €65.89 after the release of its full year results, while Kerry Group is up 1.8% to €92.60.
Risers so far today include Devro (DVO), up 2.3% to 170.8p, McColl's (MCLS), up another 2% to 57.5p and FeverTree (FEVR), up 1.3% to 2,833p.
Fallers so far include Reckitt Benckiser (RB), down 1.2% to 6,221p following its strong rise yesterday, Hilton Food Group (HFG), up 1.1% to 908p, Ocado (OCDO), up 1% to 917p and B&M European Value Retail (BME), up 1% to 333.2p.
Yesterday in the City
The FTSE 100 started the week on the back foot yesterday, ending the day down 0.2% to 7,219.5pts.
After a torrid time for McColl's (MCLS) shares, the convenience retailer finally had reasons for cheer yesterday as it jumped 11.5% back to 56.4p after announcing a return to like for like growth in the first quarter of its 2019 financial year.
Reckitt Benckiser (RB) also jumped 4.6% yesterday to 6.296p as strong fourth quarter sales figures boosted full year growth.
Other risers included Associated British Foods (ABF), up 2.3% to 2,318p, Ocado (OCDO), up 2.2% to 926p, Dairy Crest (DCG), up 2.1% to 486.4p.
Stock Spirits Group (STCK) was also on the up, rising 3.1% to 231p, as was PayPoint (PAY), up 2.7% to 906p and Hotel Chocolat (HOTC), up 2.7% to 310p.
FTSE 100 fallers yesterday included British American Tobacco (BATS), down 1.4% to 2,818p and Compass Group (CPG), down 0.8% to 1730.5p.
Other fallers included DS Smith (SMDS), down 2% to 346.5p, Nichols Beverages (NICL), down 1.5% to 1,472.5p, Kerry Group (KYGA) ahead of its annual results this morning and Marston's (MARS), down 0.9% to 93.8p.