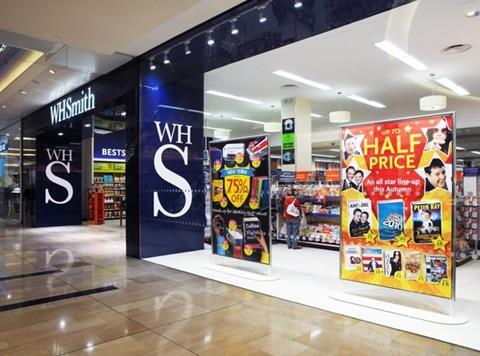 Top story
WH Smith (SMWH) has reported its travel business continues to perform 'strongly' across all its channels.
The company said in a pre-close trading update that its hospital channel was now the second largest in its UK travel business.
Gross margin was in line with its plan and its new store opening programme was on track both in the UK and overseas.
Its international business continued to grow strongly. It had 428 stores open outside the UK.
The group said it had three InMotion stores outside North America: in Perth, Australia; Alicante, Spain; and Leeds Bradford in the UK.
The company said it saw good scope to grow InMotion both in the US and internationally and it saw further opportunities to grow its news, books and convenience format in the international travel retail market, where it had a small market share.
The group's high street business continued to perform in line with expectations. Cost savings and margin improvements had been delivered in line with its plan.
It continued to focus on stationery, developing new ranges and allocating extra space to the category in high-street stores. It had 202 Post Offices open in its high-street outlets
WH Smith said it expected its full-year results to the end of August to be in line with expectation.
Its full-year results will be announced on 17 October.
WH Smith shares were up 0.3% to 1,999p in early trading.
Morning update
Food inflation eased slightly to 1.6% in August from 1.7% in July, the latest British Retail Consortium-Nielsen Shop Price Index shows.
Fresh food inflation accelerated in August to 1.4% from 1.2% in July and ambient food inflation slowed to 1.8% from 2.4%.
Inflationary pressures are receding for some food categories, the data showed. Supermarket promotional activity slowed the rate of price increases for non-alcoholic drinks, sugar and confectionary, and bread and cereals.
Prices of some fresh goods declined in response to market developments. Meat prices, for example, fell for a fourth consecutive month in August, as declines in global meat prices late last year fed through to shops.
Non-food prices fell 1.5% in August compared with July's decrease of 1.2%.
Mike Watkins, head of retailer and business insight at Nielsen, said: "August is often a difficult month for retailers made more challenging this year by unseasonable weather early in the month, and we have seen the return of vouchering by many supermarkets and some non-food retailers bringing forward end of season discounts to help drive sales.
"Consumers remain uncertain about when and where to spend but the good news is that any inflationary cost pressures that may be building in the food supply chain, have not yet reached shop prices."
On the markets this morning, the FTSE 100 fell 0.4% in early trading to 7,064.4pts.
Early risers include Greggs (GRG), up 1.1% to 1,988p, Morrisons (MRW), up 0.8% to 183.7p, Nichols (NICL), up 0.6% to 1,730p and Marks and Spencer Group (MKS), up 0.5% to 190.5p.
Fallers so far today include Hilton Food Group (HFG), off 4.9% at 923p, PayPoint (PAY), down 3.5% to 882p, Greencore Group (GNC), down 2% to 203.9p, Imperial Brands (IMB), off 1.9% at 2021.5p and Cranswick (CWK), down 1.6% to 2,670p.
Yesterday in the City
The FTSE 100 closed down 0.08% yesterday at 7,089.6pts.
Philip Morris International (NYSE: PM) and Altria Group (NYSE: MO) announced they were in talks with about a potential all-stock merger of equals.
Both companies cautioned there could be no assurance that if an agreement was reached, a deal would be completed.
Any deal would be subject to the approval of both companies' boards and shareholders as well as regulators, as well as other conditions.
Philip Morris said it was leading a transformation in the tobacco industry to create a smoke-free future and ultimately replace cigarettes with smoke-free products.
It said it was building a future on a new category of smoke-free products that, while not risk-free, were a much better choice than continuing to smoke.
FTSE 100 fallers included British American Tobacco (BATS), down 4.4% to 2,832p, Naked Wines (WINE), down 3.9% to 249.5p, PureCircle, (PURE), down 2.4% to 243p, Nichols (NICL), down 2.1% to 1,720p and Just Eat (JE) fell 2.1% to 756p,
Stocks on the up included Premier Foods (PFD), up 3.5% to 35.2p, Ocado Group (OCDO), up 3% to 1,236p, B&M European Value Retail (BME), up 2.9% to 365.1p and Reckitt Benckiser Group (RB) closed up 2.4% at 6,254p.