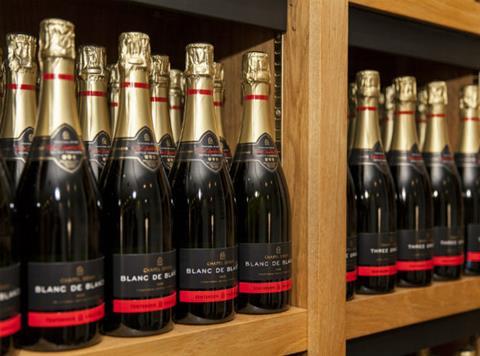 Top story
English wine maker Chapel Down shrugged off widespread closures in the off-trade to grow sales volumes 38% last year, but group results were hit by the weaker performance of its demerged beer and cider arm Curious Drinks.
Despite the group's wine business losing a third of its trade in the licensed trade and its own retail shop sales due to COVID-19 lockdowns, its English wine sales volume grew by 38% in the year to 31 December 2020 and sparkling wine sales were up over 50%.
Wine and Spirits revenues on a continuing basis were up 32% to £13.3m, with gross profit on a continuing basis up 31% at £5.1m.
Direct to consumer volumes were up 467%, offsetting reduced volumes in the hospitality trade, growing from just 4% of our trade in 2019 to 18%.
Another "excellent" harvest in both quality and quantity in 2020 has enabled it to increase stocks by 12% to £12m.
However, its Curious Drinks was been significantly impacted by the closure of pubs, bars, restaurants and hotels and other hospitality venues and events due to the UK Government imposed lockdowns.
Beer and Cider sales were down 52% at £2.3m with gross profit was down by two thirds at £0.45m from £1.4m as margins were significantly impacted by stock returns and the shift to lower margin bottle sales.
On 9 February 2021 it announced that we intended to dispose of the Curious Drinks to a new company, established at the direction of Risk Capital Partners, which was completed on 23 April.
This meant that combined business made a loss before tax of £7.9m compared to a loss of £4.3m in the previous year, due to Curious Drinks recording a pre-tax loss of £8.8m including an exceptional charge of £6.7m to write down its assets to nil.
Chairman Martin Glenn commented: "The extraordinary events of 2020 presented huge challenges to every business. With nearly one third of our wines and spirits and 90% of our Beer and Cider businesses effectively closed, we have had to pivot our business at astonishing pace and make some tough decisions in order to continue to grow our core wine business and the Chapel Down brand. Sadly, that meant having to take the decision to dispose of our beer business to ensure we could focus our energy and resources on our growing wine and spirits business.
"English wine is on a high. Building our wine business and brand has taken time and considerable investment over the years. The results are now encouraging. Our wine quality has never been better and enjoys high critical acclaim both at home and abroad. Consumer interest and desire is growing and the English wine category is being increasingly well supported by trade customers. Chapel Down is the best known and leading brand. After twenty years of building, we believe we are in a very good position to further accelerate growth.
"We will continue to invest over the coming years to secure more high quality fruit, excellence in our winery operations, improving our commercial and online infrastructure, hiring and training the best talent and creating smarter and more effective marketing to ensure that we build the Chapel Down brand and experience to consolidate our leadership position in this exciting growth market."
Meanwhile, Chapel Down has launched of a fundraising of up to £6.9m at a price of 59.5 pence per new ordinary share.
The Fundraising will consist of a placing of 2,395,792 new shares to raise gross proceeds of £1.4m million from directors of the company and IPGL Limited, the family office of Michael Spencer, 29.4% shareholder in the company.
Also it will launched an equity crowdfunding campaign with Seedrs of up to 9.1m new shares to raise up to £5.5m.
The Crowdfunding Campaign will open from today - a maximum of £6.9m may be raised under the fundraising.
Frazer Thompson, CEO, commented: "After 20 years of building our pioneering brand, the English wine industry is now really starting to grow and develop, which is very exciting. As the market leader, we want to ensure that Chapel Down is best placed to benefit from the increasing consumer interest at home and abroad. Our resources and energy will be focused on changing the way the world thinks about English wines forever by creating new winery facilities, bringing in more high-quality fruit and investing in our brand and e-commerce and systems capabilities.
"Our broad congregation of investors is a crucial part of our success. However large or small, our investors tell our story and sell our products with passion and enthusiasm and buy our wines to share with friends and family. This Crowdfunding is a campaign to recruit many more to join us on our journey."
Morning update
This week's issue of The Grocer looks at the story behind Ferrero's acquisition of Burton's Biscuits, how Quorn is readying a global push following owner Monde Nissin's IPO, and lastest results from Upfield and Euro Food Brands.
Check out thegrocer.co.uk/finance later today for full details.
On the markets this morning, the FTSE 100 has edged down another 0.1% to 7,057.7pts.
Risers so far today include Premier Foods, up 3.6% to 110.4p, AG Barr, up 2.8% to 549p and Glanbia, up 2% to €14.08.
Fallers include FeverTree, down 3.3% to 2,523p, Total Produce, down 2.6% to 214.4p and Nichols, down 1.7% to 1,582p.
Yesterday in the City
The FTSE 100 ended the day down 0.6% at 7,064.4pts as travel and leisure groups were hit by the government changing travel advices to Portugal.
Travel retailer WH Smith dropped 4.7% to 1,716p as a result.
Other fallers included B&M European Value Retail following its outlook forecasting lower sales and profits this year, falling 3.9% to 539.2p. PZ Cussons was down 3.6% to 244.5p, AG Barr down 2.7% to 534p, Pets at Home fell 2.5% to 432.2p, DS Smith dropped 1.8% to 424.3p, Compass Group fell 1.8% to 1,592.5p and Marks & Spencer closed down 1.7% at 159.9p.
The day's risers included Deliveroo, up 3.6% to 257p, Premier Foods, up 2.1% to 106.6p, McBride, up 2% to 90.6p, Nichols, up 1.9% to 1,610p, Carr's Group, up 1.2% to 152.8p and Greggs, up 1% to 2,567p.