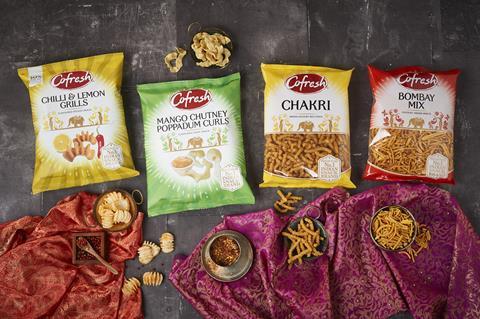 Indian snacks producer Cofresh experienced "good growth" in all markets last year, with double-digit increases in both sales and profits.
Accounts filed at Companies House for Cofresh's parent company, Lakshmi & Son's, showed a 16% jump in revenues to £34.5m in 2018.
Pre-tax profits increased by a "healthy" 23% to £3.2m as improvement in new facilities helped boost productivity and, in turn, sales.
"This leaves the company in a stronger position that it was at the end of 2017 and the directors are optimistic that the company can consolidate its market gains and continue to grow in the coming year," the accounts stated.
Meanwhile, administrative expenses rose 32% year on year to £7.3m, primarily due to an increase in workforce to meet rising "worldwide demand", the company said.
Lakshmi & Son's has been manufacturing Indian snacks since 1974 under the Cofresh brand. It launched healthy snacks brand Eat Real in 2015 to tap demand for free-from and plant-based snacks.
At the end of May, the Leicester-based business acquired a second production facility in Nuneaton for an investment of about £20m.
The company said the site would enable it to split its snacks production and increase annual turnover to more than £100m by 2024.