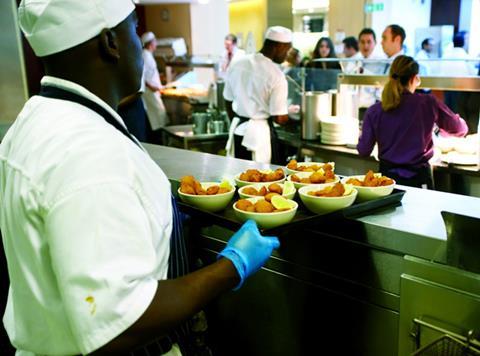 Catering giant Compass Group's performance improved towards the end of its financial year, but organic revenues remain down 36% in its fourth quarter.
Updating the market following the close of its financial year on 30 September, Compass Group said its organic revenue decline improved from a 44% drop in the third quarter to a 36% plunge in its fourth quarter.
North American revenues improved from a 45% to a 38% drop, while Europe was more improved from a 53% fall to 39% in the fourth quarter.
Total annual organic revenues will be down 19% for the full year period.
Compass Group said performance is improving as clients in education and business & industry began to return to schools and offices in its main markets.
The reopening of units and initial increase in volumes, combined with positive contract renegotiations and a relentless focus on efficiencies are expected to improve the group's fourth quarter operating margin to breakeven, before any contract impairments.
The group said it was "pleased with our progress" in the quarter and that the business is now at breakeven at a trading level.
"We continue to proactively manage the business, reducing our costs, rebuilding our margins and investing to strengthen our competitive advantages," it stated. "However, the pace at which our revenues and margins will recover remains unclear, especially given the possible increase in lockdown measures in the Northern Hemisphere through the winter months."
"Despite the current challenges, when looking further ahead, we remain excited about the significant structural market opportunity globally, and the return to organic revenue growth, margin improvement and returns to shareholders over time."
It will provide a further update on trading at its full year results on 24 November 2020.