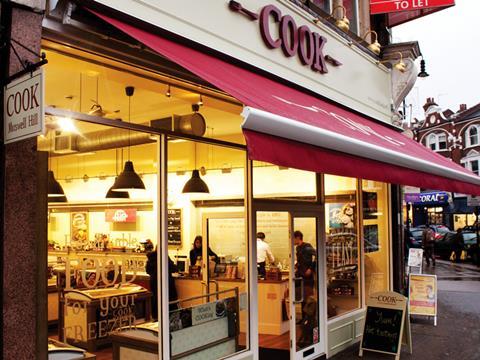 Frozen ready meal specialist Cook Trading has generated record sales and profits as its expansion into click & collect and home delivery continues to pay dividends.

Cook, which sells hand-made meals in more than 80 shops and in branded freezers in 1,000 independent retailers, increased revenues 15% to £50m (before £10.7m of trade and customer discounts) beating profit targets with underlying earnings up 30% to £4.1m in the year to 31 March 2015.

Like-for-like sales were strong in the concessions arm, but the new shop-in-a-shop format, with 14 freezers in retailers in towns that wouldn't otherwise support a Cook store, required "fine tuning"after expected growth was not achieved, co-founder Edward Perry said.

The launch of click & collect was more successful, playing a big role in the strong Christmas performance and the 50% hike in online sales.

Like-for-likes in owned stores grew 2.7%, which was "decent enough but not quite where we wanted to be," he added in the business review of the accounts.

"We had a superb Christmas but otherwise sales were slightly below our expectations" he added. "There's no doubt the grocery market generally was tough but in hindsight we made a big mistake by delisting too many lines, expecting customers to switch to other, similar products. They didn't. Lesson learned."

Perry said the 'entertaining' business, with four-portion meals, party food and puddings, was increasingly robust but meals for one and two remained challenging.

Cook, founded in 1997 with a vow to not supply the major supermarkets, shared 5% of profits with its 600 staff and become one of the first retailers to adopt the living wage in July 2015.