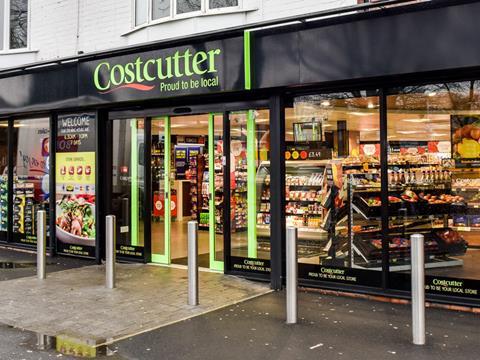 Sales at Costcutter fell 8.9% in for the year to 31 December, though the retailer also managed to improve its EBITDA by £10.5m.
According to the latest figures, released by Costcutter owner Bibby Line Group, the retailer's sales fell from £776m to £707m. While further detailed financials are not yet available - Costcutter CEO Darcy Willson-Rymer said it had delivered an improvement in EBITDA from a loss of £17.5m to £6.3m. He added he expected a similar improvement during the current financial year and, barring further investment, this would result in a return to profitability.
"While our financial performance last year was significantly improved, our return to profitability was delayed by the delivery challenges that we faced during the first half of the year and the continued investments we made to support our retailers throughout 2015," he said.
"While we are not satisfied with the results for 2015, we are encouraged by our performance through the second half of the year and are pleased to see this continuing to improve in the first quarter of 2016. As we are celebrating our 30th anniversary this year, we are confident that our long-term growth plan is helping our retailers to thrive. We are on track to return to normal levels of profitability with this steady improvement allowing us to improve and invest in our retail offer, which is essential if we are all going to succeed in today's challenging retail climate."
Willson-Rymer said the delivery challenges started after Christmas 2014, and were caused by a number of different issues that combined to create a bigger problem. To deal with these issues, he said he put together a dedicated team for six months, headed up by retail director Daniel Quest.
Highlights for the year included a 30% sales uplift for Costcutter's Independent own-label products. Willson-Rymer said the range now accounted for 8% of the group's total sales. "We have made good progress from a standing start three years ago, it's been a good journey," he said.
During 2015, Costcutter attracted more than 600 new stores into the group which, according to Willson-Rymer, "gave us the opportunity to improve the overall quality of our stores by ending our relationship with retailers who have continually resisted meeting our basic store standards. This will create a stronger store estate which will benefit all of our retailers, suppliers and the long-term success of the group."
He said that the retailer's joint venture, which it agreed Palmer & Harvey in 2013, was now on track after suffering from major teething problems in its first year and that it was now delivering better engagement with suppliers.
He also confirmed that Costcutter and Bibby Line Group remained keen to be a driver of consolidation in the convenience sector, echoing the comments of Bibby Line Group MD Sir Michael Bibby from a year ago.
"When we agreed the deal with P&H three-and-a-half years ago, I believed that consolidation was the right thing to bring value back to the sector," he said. "I still think that is the case and we are continuing to scan the landscape and we want to be play a part in that."
Overall sales at Bibby Line Group fell 15% to £1.45bn during the same period, while pre-tax profits also fell 33% to £29.5m.