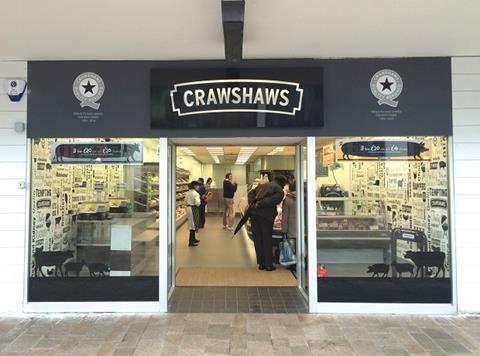 Top story
Listed butchery chain Crawshaw Group insists it is making "good progress" following its tie-up with 2 Sisters, despite a 4.5% drop in like-for-like sales in the first 20 weeks of its financial year.
Ahead of its AGM this afternoon Crawshaws has updated the market on trading in the 20 weeks to 18 June 2017.
Group sales were up 5.1% in the period, but like-for-like sales were down 4.5%.
It said the trading performance of the business "continues to be stable following the improvement in like-for-like sales from the initiatives introduced throughout the estate".
Following 2 Sisters Food Group taking a 29.9% stake in the business in April, Crawshaws said it is making "good progress on the transitional plans and operational synergies that will deliver the expected customer and financial benefits".
It has opened an additional standalone fresh meat factory shop in Crystal Peaks which, along with the two new factory shops opened in 2017 and plans to open a further four shops in the rest of the financial year.
CEO Noel Collett commented: "We are pleased with the progress we've made and the continued level of stability achieved in the core business against the current backdrop of industry-wide cost pressures and a challenging consumer environment. Our new fresh meat factory shops continue to perform well and we are further encouraged by our most recent opening at Crystal Peaks, Sheffield.
"Our strategic focus for the rest of this year will be to open 4 more fresh meat factory shops and to ensure that we are maximising the customer and financial benefits of the new supply partnership across the estate."
Interim results for the six months ended 30 July 2017 will be announced on 27 September.
Crawshaw Group shares are down 64% year-on-year after a plunging due to a profits warning in September 2016. However, the shares have rebounded by over 25% in the past three months driven the 2 Sisters investment.
Morning update
As the market closed yesterday evening, Nestle announced a CHF20bn (£16.3bn) share buyback scheme as part of a new strategy after pressure from an activist shareholder to be more aggressive in its approach to investor returns.
The program is scheduled to start on 4 July 2017. The volume of monthly share buybacks will depend on market conditions but is likely to be backloaded in 2019 and 2020 to allow the pursuit of "value-creating acquisition opportunities".
The announcement comes days after activist investor Third Point bought up a £3.5bn stake in the company and wrote a letter calling Nestlé "ripe for improvement" and "stuck in its old ways".
Palm oil producer DekelOil Public Limited (DKL), operator of the Ayenouan palm oil project in Côte d'Ivoire, has announced a maiden final dividend of 0.17 pence per ordinary share for the year ending 31 December 2016. This is in line with the Company's proposed dividend of £500,000 announced on 17 January 2017.
On the markets this morning, the FTSE 100 has opened 0.5% lower at 7,397pts.
The supermarkets are performing well again, with Sainsbury (SBRY) up 0.8% to 256.2p, Tesco (TSCO), up 0.5% to 169.9p and Morrisons up 0.1% to 241.5p Marks & Spencer (MKS) has recovered somewhat from yesterday, rising back up 0.8% to 339.4p.
Other major movers include Science in Sport (SIS), up 7.6% to 85p, Applegreen (APGN), up 1.6% to 470p, Nichols (NICL), up 1.3% to 1,907, Majestic Wine (WINE), up 1.2% to 318.8p and WH Smith (SMWH), up 1.1% to 1,726p.
Fallers include Real Good Food (RGD), down 7.1% to 33.9p, Total Produce (TOT), down 6% to 174.8p, Hotel Chocolat (HOTC), down 4.3% to 358p and Finsbury Food Group (FIF), down 3% to 113p.
Nestle is up 1.2% to CHF85.30 following its share buyback announcement.
Yesterday in the City
Tesco (TSCO) emerged as the winner from yesterday's grocery market share data, with both Kantar and Nielsen finding its sales rose by over 3% in the last 12 weeks.
The UK's biggest supermarket ended the day as one the few big consumer companies up, with its shares rising 1.3% to 169p yesterday. Tesco-bound Booker Group (BOK) rise 0.9% to 185.5p
The positive market share data – with supermarkets posting the sector's highest growth rates since 2012 according to Kantar Woldpanel and 2013 according to Nieslen – saw supermarkets outperform other consumer-facing stocks.
Morrisons (MRW) rose 0.2% to 241.2p and Sainsbury's (SBRY) fell 0.4% to 254.1p.
The FTSE 100 was down 0.2% to 7,434.3pts yesterday, but some grocery/fmcg stocks had a tougher day.
Marks & Spencer (MKS) dropped 2% to 336.6p on worries over a weaker than expected trading update from department store rival Debenhams yesterday.
Catering giant Compass Group dropped 4.6% to 1,663p after restructuring its shareholdings to consolidate 26 existing ordinary shares into 25 new ordinary shares.
Elsewhere, TATE & Lyle (TATE) dropped 1.6% to 702.5p, Britvic (BVIC) fell 1.6% to 695p and Ocado (OCDO), fell 1.5% to 297.3p.
Other fallers included Glanbia (GLB), down 7.9% to €17.12, Produce Investments (PIL), down 7.3% to 178.5p, Conviviality (CVR), down 4.6% to 309.3p, and Finsbury Food Group (FIF), down 2.1% to 116.5p.
The day's other risers included Premier Foods (PFD), up 2% to 38.75p and Stock Spirits Group (STCK), up 1.8% to 170.5p.
In Siwtzerland, Nestle edged back 1.6% to CHF84.30 after its strong gains on Monday.