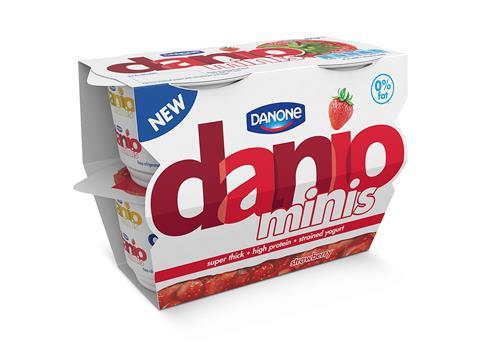 French dairy group Danone has reported "solid and profitable" growth in its first half, with sales up 4.6% in the six months and 4.5% in the second quarter, despite continued volatility in European dairy markets.
The company said the profitable growth was the result of favourable trends in currencies and commodities, as well as a significant increase in investments.
Sales for the half to 30 June reached €11.39bn and trading operating income climbed to €1.38bn. However, this came as the fresh dairy products division reported falling like-for-like sales (down 1.1%) in the second quarter as volumes decline 3.1% and prices rose 2%. Danone, which makes Actimel and Activia yoghurt, Evian water and baby formula, has been streamlining its portfolio since mid-2014, which it said had helped increase the fresh dairy products division's gross margin "significantly".
"In Europe, where margins rose significantly, we are executing an overhaul of our fresh dairy products business and finalising the conditions necessary for a return to growth" CEO Emmanuel Faber added.
The waters division once again reported strong growth in the second quarter, with sales up 10.2% on a like-for-like basis.
Danone's baby formula subsidiary also pushed up like-for-like figures in the three-month period by 11.1%, with volumes rising 7.3% and value by 3.8%. In the Chinese market, where demand is booming, the division continued to benefit from an explosion in online sales, generating double-digit growth for European sales.
Despite the boom, Dumex brand products remained well below early-2013 levels observed in early 2013, hit hard by a food scare and the shift in consumer preferences from supermarkets to online and specialised distribution. Danone revised its long-term sales projections for Dumex in China down, leading to an impairment of €398m. It meant net income was down 29% in the first half to €475m, compared with €666m 12 months ago.
The French group has agreed to merge Dumex in China with Yashili and to increase its shareholding in parent group Mengniu as a result.
Andrew Wood at Bernstein said the decision to take a write-down and merge the brand with Mengniu and Yashili removed a "problem business" from the headline numbers. "It largely draws to a close the problems experienced with this brand since the recall almost two years ago – and follows a long-standing Danone approach of solving problem businesses by simply shedding them," he added. "However, the net result is that Danone will look healthier following this transaction."
Danone confirmed the group was on-track to deliver organic sales growth of 4-5% in 2015.
Robert Waldschmidt, a consumer goods analyst at Liberum, said Danone remained the firm's "top pick" in food. "CEO Emmanuel Faber has set out a clear strategy to deliver sustainable top and bottom line growth and 2015 targets that are achievable and beatable," he added. Liberum forecasts organic sales growth of 5% in 2015.