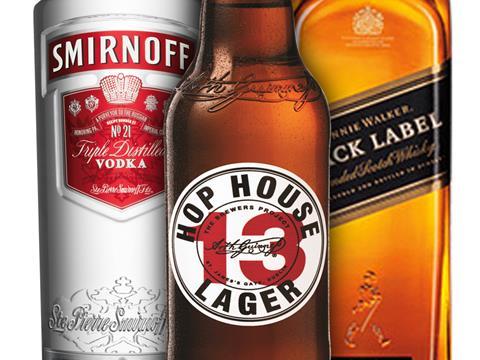 Spirits giant Diageo's GB sales surged over the past 12 months, boosted by Brits' love of gin and craft beer.
Net UK revenue for the Gordon's, Guinness and Tanqueray owner were up 8% for the year ending 30 June 2018, its preliminary results revealed today, with UK boss Charles Ireland hailing particularly strong performances for the company's gin and beer portfolios.
The Guinness brand had delivered net sales of 8%, said Ireland, driven by "strong performances in Guinness Draught and Hop House 13 lager". Meanwhile in gin, "Tanqueray's popularity continues to grow, gaining share in the category and delivering strong double-digit net sales growth".
As The Grocer's Britain's Biggest Alcohol Brands 2018 report revealed earlier this month, supermarket sales of Tanqueray increased by 50.7% (£17m) to £50.4m over the 52 weeks to 21 April, while Hop House 13 delivered a whopping 244.4% (£16.5m) increase from £6.7m to £23.2m [Nielsen 52 w/e 24 April 2018].
In whisky, net sales were up 6%, driven by Johnnie Walker and Scotch malts. "I was particularly delighted to see the launch of the Johnnie Walker 'My Edition' online pilot," said Ireland. The initiative was "a whisky personalisation experience that enables consumers to discover the wide range of flavours found in Johnnie Walker whiskies".
Ireland also hailed "a host of new campaigns and innovative marketing to reach more consumers", including the first TV push for Gordon's Pink Gin and Cîroc's takeover of the window display at Selfridges' Oxford Street store.
The news comes as global reported net sales for Diageo grew by a modest 0.9% to £12.2bn, with organic sales growth of 5%, which it said was driven by organic volume growth of 2.5% and 2.5% of positive price/mix. Operating profits were up 3.7% to £3.7bn, with organic operating profits up 7.6%.