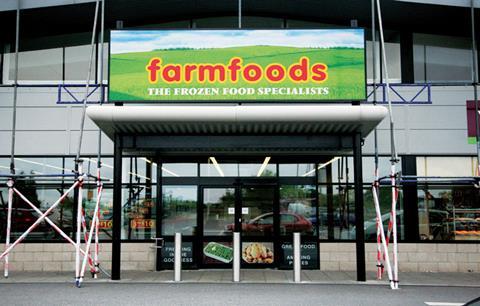 Pre-tax profits at frozen foods supermarket Farmfoods more have halved in 2016 as the retailer lost £25m of sales amid fierce sector competition.
Newly filed accounts for the year to 31 December 2016 show Farmfoods' pre-tax profits fell by 54% to £9.2m from over £20m in the previous financial year.
The fall in profitability was exacerbated by £2.1m gain on asset disposals in the previous financial year, but gross profit was still down by 46% during the year.
The profits drop accompanied a 3.6% fall in turnover as sales (net-VAT) declined from £694.4m to £669.2m during the period.
The 300-plus store retailer noted that "trading conditions have been and are expected to remain competitive".
Average staff numbers during the year were cut from 4,320 to 4,099 employees, but total staff costs rose from £67.5m to £68m.
The 3.6% sales drop was an improvement since the 14.4% plunge in sales in 2015 as the intense competition in UK grocery hit trading.
However, the pressure on sales is likely to have increased since year end as, according to market share data from Kantar Worlpanel, Farmfoods sales were down by as much as 14.2% in the three months to April 2017 having ben down just 3% in the three months to December 2016.
The frozen discounter, which retains a 0.6% share of the total UK grocery market, has clawed back its sale decline to just 1.4% in the most recent three month market share data, which represents its best sales figures since November 2016.
Farmfoods had grown its sales by 17.8% during 2014 as the thriving discount market helped it double-digit growth.