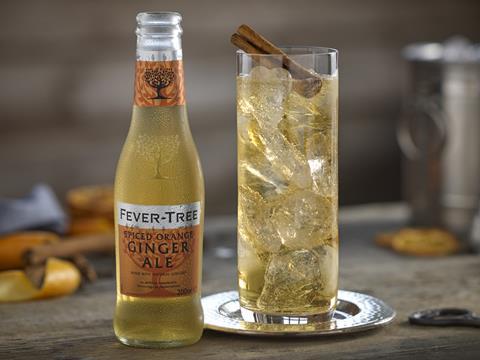 Fever-Tree (FEVR) expects its full year results to be "comfortably ahead of expectations" after posting first half revenue growth of 45%.
In the first six months of 2018 group revenues at the upmarket mixer brand were up 45% to £104.2m, driven by 73% growth in the UK.
The Off-Trade accounted for 50% of UK sales and the company said it has continued to see strong performance driven by underlying rate of sale growth across major retailers
Fever-Tree said there is also "clear evidence" of consumers being attracted to the category for the first time, driving further category growth.
The UK mixer category continues to see rapid transformation and remains the fastest growing category in the carbonated soft drinks sector, with growth of 31% at retail in the 12 months to June 2018 and Fever-Tree increasing to a 40% value share of the market.
In the UK on-trade channel, continued strong revenue growth was achieved, driven by underlying rate of sale growth as well as an expanding distribution footprint.
International growth was slower, 15% growth in the US to sales of £15.1m, growth of 15%, which represents growth of 23% on a constant currency basis when taking into account the weakening of the US dollar.
The group transitioned to wholly-owned operations in the US on 1 June 2018 with the Fever-Tree US team now directly managing marketing, sales and distribution efforts
It has also signed with Southern Glazer's Wine and Spirits, the largest North American wine and spirits distribution company, to be the group's exclusive distribution partner in the on-trade channel across 29 US states effective from 1 August 2018
In continental Europe, revenue growth of 17% to £25.8m represented growth of 15% on a constant currency basis.
Overall gross profit margin was in line with expectations at 53.2%, with the group delivering an adjusted EBITDA up 35% to £34.0m representing a margin of 32.6%.
Tim Warrillow, CEO of Fever-Tree said: "The first half of 2018 has been one of major progress for Fever-Tree. The Group delivered a strong performance, most notably in the UK, as we continue to drive and lead the evolution of the wider mixer category. Furthermore, our relationships with key customers and spirits partners mean we are increasingly well positioned as the growing move to premiumisation and long mixed drinks continues to develop across the globe.
"We have successfully launched our wholly owned US operations with a talented team recruited and now in place. The exclusive distribution agreement with SGWS, the largest North American wine and spirits distribution company, is a significant endorsement and provides a strong platform for Fever-Tree US in 2019 and beyond.
"Given the strong performance in the first half of the year, the Board anticipates that the outcome for the full year will be comfortably ahead of its expectations."