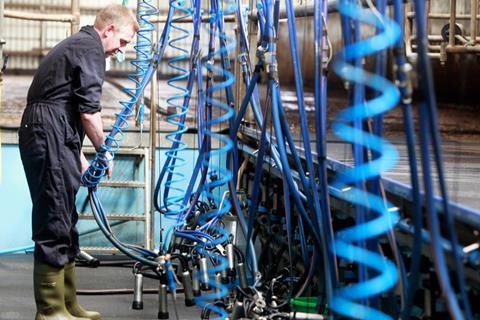 First Milk has reported a "solid" year on the back of "strong partnerships" with its customers, according to its latest accounts published this week.
Group turnover at the dairy co-op rose by 4% to £282.8m for the year ending 31 March 2020, with operating profit also up 4% to £7.5m.
First Milk said it had grown sales through its ongoing partnerships with Ornua, Nestlé and Yeo Valley. It also pointed to its export business which has "significantly grown" with more opportunities expected to arise thanks to increasing demand from Africa, Asia and the Middle East.
Its financial recovery in recent years also contributed to a further drop in net debt, down 20% to £33.1m.
First Milk's CEO Shelagh Hancock said she was "delighted" by the supplier's "positive progress" over the last financial year.
"[The period] saw us deliver business growth and development, further strengthening our financial position, whilst continuing to return value to our farmer members," said Hancock.
"Despite the uncertainties around the ongoing COVID-19 pandemic and with Brexit looming, First Milk is well-placed for the future, as a business that has strong collaborative partnerships and the scale to be relevant in the marketplace, whilst remaining agile and adaptable."
Hancock added that while a "weakened" dairy market over the course of 2019 had seen a 1.25ppl drop in its milk price, though First Milk had managed to give its members "a degree of stability" by cutting prices "less and later" than the wider market.
First Milk's report also said it had completed a £6m investment project at its Haverfordwest Creamery which it hoped would boost capacity and operating efficiency at the site. Similar work has also been taking place at its Lake District Creamery.
In March, the co-op unveiled its First4Milk pledge which required its farmers to commit to grazing cows outside for a minimum of 120 days a year. Meanwhile, at the end of 2019, First Milk announced the closure of its Campbeltown Creamery in Scotland.