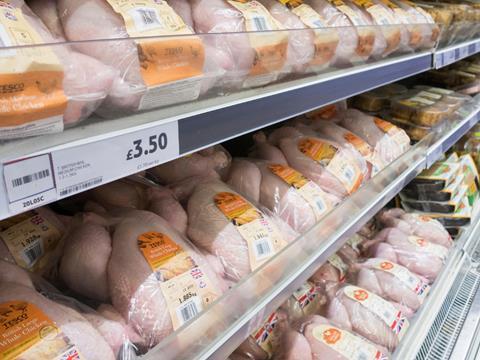 2 Sisters owner Boparan has once more posted widening losses in its first quarter as it continues to tackle its "substantial turnaround challenge".
Like for like sales in the 13 weeks to 27 October were up 0.2% to £708.3m, which represented a total sales fall of 16.6% after the divestment of a number of businesses.
Like for like operating profit fell from £5.5m to just £0.9m representing an operating profit margin of just 0.1%.
Profit post exceptional items, but before interest and tax was down 75% to £2.1m while statutory loss after exceptional items, tax and interest rose to £10.8m from £6.6m in the same period last year.
Boparan said its core poultry performance stabilising, despite significant feed inflation.
Like-for-like sales in its protein division were up 0.4% in the quarter to £470.8m, while the like-for-like operating loss widened to £3.1m from a profit of £0.6m last year in the face of "substantial commodity headwinds".
Its chilled division saw a like-for-like sales increase of 4.5% to £158.5m and like-for-like operating profit rose by £0.8m to £2.6m, while branded like-for-like sales fell by 8.1% to £79m and like-for-like operating profit reduced to £1.4m due to weaker sales of Fox's biscuits.
2 Sisters Food Group CEO Ronald Kers commented: "We have made it clear that the size of the turnaround challenge is substantial, and to achieve success on this scale will take time. We have diagnosed the fundamental operational issues and the management team know what levers to pull to drive change through the organisation.
"Positive momentum is building and we are implementing improvements, both with 'low hanging fruit' and longer term strategic objectives.
"We are in stabilisation phase with our poultry business, and it is critical we make further operational efficiencies and improve margin as the financial year progresses to address ongoing input cost inflation. We will also make targeted investments that deliver real, tangible financial returns, for example in our Polish poultry and meals businesses.
"There is an enormous amount of work still to do and it will take time before we see green shoots of growth. However, we are focusing on our core with a new team, laying strong foundations for a more consistent performing and profitable business and have a plan of action which is realistic and can be executed."