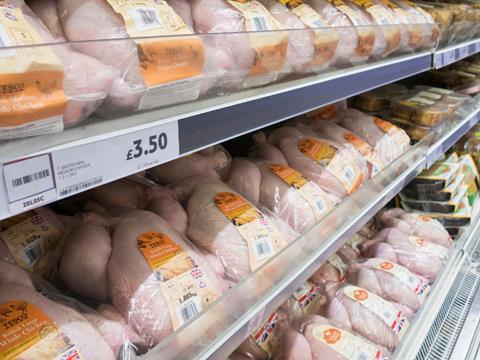 Second-quarter profits have plunged at 2 Sisters Food Group owner Boparan Holdings, as the closure of its scandal-hit West Bromwich factory weighed on results.
Total sales during the 13 weeks to 27 January were up 2% to £849.7m, with like-for-like sales up 1.5% during the quarter.
However, there was a 71% plunge in operating profit from £19.4m back to £5.7m as operating margin dropped to just 0.7% from 2.3% in the corresponding period last year. Profit after exceptional items, before interest and tax fell to £2.4m from £12.3m.
Like-for-like sales at its protein division in Q2 were up 3.1% to £569.6m. However, like-for-like operating profit was down by £13.5m over the period, with the business recording an operating loss of £9.0m in the quarter compared with a £4.5m profit last year.
The group said year-on-year volume growth had been more than offset by the impact of the temporary factory closure, and the "inevitable" time delay in securing price increases.
It added a consultation was underway regarding the potential closure of three UK poultry sites as it seeks to consolidate operations around "modern specialist" sites.
The group expects an improved performance in the second half of the year. It stated: "We are taking action across the business to address underperforming areas. Our change programme demonstrates the positive strategic moves we are making.
"This is being supplemented by our effects to drive through price increases across the business. We are already seeing improvements coming through in chilled and we can see clear evidence of further Branded recovery due in the second half of our financial year."
Its chilled business saw like-for-like sales reduce to £171.6m from £175.7m, but operating profit rose by £1.3m to £7.1m as it benefitted from phased price increases and the benefits of restructuring.
In branded goods, sales were broadly flat at £108.5m, but like-for-like operating profit reduced to £7.6m from £9.4m as commodity inflation affected frozen goods and price recovery will not full feed through in biscuits until the second half.
Ranjit Singh, president of Boparan Holdings said: "During the second quarter we have delivered a solid top line revenue performance, but our near term profitability has been impacted by the major challenges we have faced during the period.
"We are focused on the basics, and the investments we are making provide a clear springboard to drive through meaningful and lasting change across the business.
"Despite the recent challenges in our UK poultry operations, our change programme is building on firm foundations, with strong core businesses; over 22,000 hard-working and dedicated employees and strong, long standing customer relationships. We will be working with renewed vigour with our customers and through our people to deliver what has always been at the heart of our business - delivering great quality food at competitive prices for our customers."
COO Martyn Fletcher added: "In everything we do there is a relentless focus on delivering great quality, service and value to our customers.
"We have a clear and comprehensive improvement plan in place and are making good progress so far. There is more to do, but already we are seeing the impact of lots of small, but important changes we're making at our production sites and across the company."