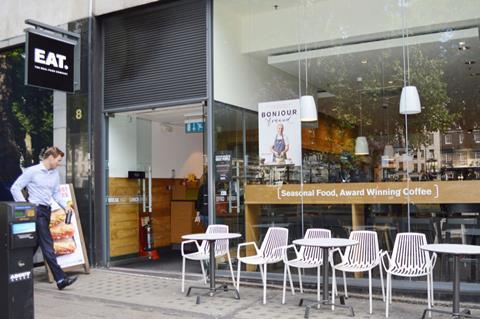 Food-to-go retailer Eat has swallowed a £17.3m loss for the past year, after sales slumped 4.3% amid pressure on the UK high street.
The drop in sales to £94.9m in the year to 28 June 2018, comes amid a reported sales process by PE owners Horizon Capital to auction off the business.
Sky News reported in February that the brand's owners had hired corporate finance firm Spayne Lindsay to oversee its search for a buyer.
Like-for-like sales dipped 1.8% amid "difficult trading conditions in late 2017 and early 2018", resulting in a turnaround strategy during the year, which saw it focus on opening in high footfall locations and transport hubs.
Despite the sales slowdown, profitability improved as losses decreased to £17.3m from £18.9m in the previous year.
Eat will continue to expand internationally in 2019, with new openings planned in Barcelona, Malaga, Alicante and Bahrain Airports.
The sandwich-maker has now seen 11 consecutive months of like-for-like sales growth and is on track to grow EBITDA by nearly 50%, it said.
It also hailed the "successful" pilot of its SmartEat format of stores which have hot self-service options to improve speed of service and delivery, with like-for-like sales in these stores up around 10% since they upgraded.
"Against a difficult backdrop on the UK high street we have delivered a good performance that lays the groundwork for future growth," commented Andrew Walker, CEO at Eat.
"The strength of Eat has always been its innovative menu offering customers a huge choice for breakfast and lunch at reasonable prices.
"Our new SmartEat stores are dramatically improving speed of service and delivery, so we are looking forward to upgrading the rest of our stores to the new format.
"The improved store portfolio and capital structure together with upgraded stores and food offering are already delivering results, with 11 consecutive months of like for like growth."