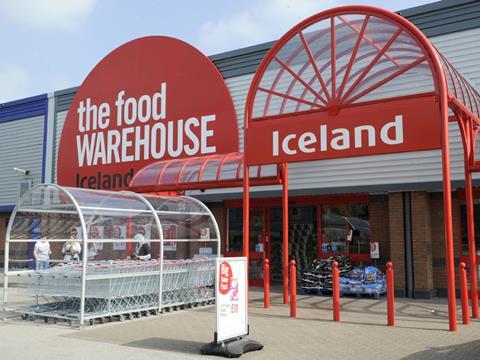 Sales at Iceland rose 8% for the year ending 30 March 2018 driven by the expansion of its Food Warehouse concept and improved organic growth in the fourth quarter.
Holding company Iceland Topco Limited increased like-for-like sales 2.3% for the year, adding up to a total 8% overall sales increase to £3bn.
Like-for-like sales growth for the UK supermarket over the year was driven by a strong first quarter, up 6.4% on the previous year. Sales growth waned to 2.2% and 0.3% in the following quarters, but finished the year with an improved fourth quarter.
Sales increased 1.8% for the period, which the company said was benefitted by an early Easter.
Iceland added that it suffered poor performance around the Christmas period as a results of problems within the company supply chain with inadequate supplies of best-selling lines.
The company said that it is continuing to grow in the current year but that "like-for-like sales to date are negative" because of a strong comparative quarter, and a slow period across the UK grocery market.
It said that both the first and second quarters are expected to see lower growth "than previous years" but that it sees the third quarter as an opportunity for recovery.
Icleands Food Warehouse arm expanded to 59 stores to 23 openings during the year, alongside 51 store refits across the group.
Earnings before tax and interest (EBITDA) dropped 1.8% to £157.1m, which the company said reflected investment into central costs and marketing over the year.
It said net capex investment increased from £65.2m in 2017 to £81.3m for 2018.
"This year we have continued to take a long term view and to invest for the future: expanding our store footprint, enhancing the appeal of our existing stores through a major programme of refurbishments, growing our award-winning Online business, continuing to roll out new and exciting food lines that are unique to Iceland, and developing our supply chain to support the growth of our retail estate," commented Iceland Group MD Tarsem Dhaliwal.
"To these well-established initiatives we added in the final quarter of the year a revived focus on sustainability, with the launch of our world-leading initiative to eliminate plastic packaging from our own label range by 2023."