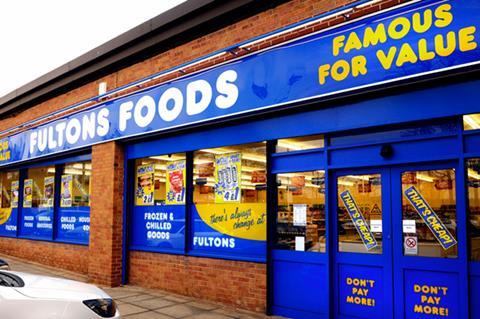 Fultons Foods has breached its banking covenants amid intense discounter competition and mounting costs, newly filed accounts have revealed.

The Yorkshire-based frozen food retailer, which has about 100 stores and supplies Poundland, saw sales drop 5.7% to £53.4m in the year to February 2019.

Aggressive competitor activity and cost pressures, including the impact of the national living wage, pushed EBITDA down £0.2m to £1.5m. Declining sales were offset by improving efficiencies, according to the accounts, leaving operating profit down fractionally from £594,000 to £586,000.

The results reveal that, subsequent to the year end, the group breached covenants relating to a bank loan. The breaches had not been waived by the bank at the point the accounts were signed on 13 March this year.

As a result, all banking facilities were repayable on demand and the group might be unable meet the obligation.

"However, based upon the latest forecasts, the bank has given a formal indication to the directors that they do not currently intend to withdraw facilities," the accounts said.

"Furthermore, that bank's exposure has reduced as per the agreement and the company and group is able to operate within its facilities whilst continuing to pay down the remaining loan."

The group had not defaulted on any loan repayments.

The accounts also reveal that a total of 77 Poundland branches are to be supplied with Fultons' frozen and chilled ranges.

Frozen and chilled 'shops in shops' were launched as trial in handful of Poundland stores last autumn.

The move introduced about 350 new "everyday" lines such as chicken wings, cod fillets and ready meals, in an aisle of chest freezers and upright fridges.

The rollout would provide a "significant increase in volume", Fultons' accounts said.

Fultons had 98 of its own stores at the end of the accounting period, down from an average of 107 during 2018, after a number of closures, openings and relocations.