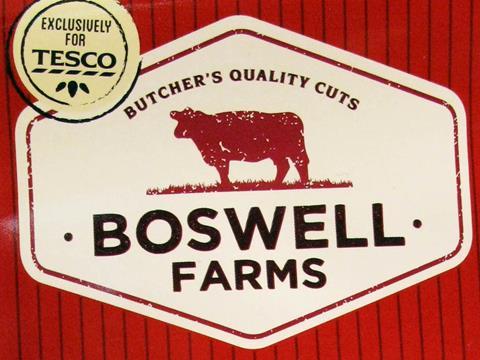 Hilton Food Group's (HFG) profits have jumped 11% thanks to the ongoing recovery at Tesco, with the boss of the red meat supplier backing the supermarket's new farm-based range.
Hilton, which as the predominant red meat packer for Tesco is supplying the new Boswell Farms range, increased pre-tax profits in the 53 weeks to 3 January 11% to £28m on the back of increased business with the supermarket.
The move by Tesco to replace the Everyday Value range with products packaged under a number of fictional 'farm' brands has faced criticism for potential misleading consumers, as well as praise from analysts who see it as a sign the retailer is back on the front foot.
Hilton CEO Robert Watson said: "It's all part of a process of Tesco repositioning its business across the market and meeting the various challenges. We can all understand across the industry how they want to position themselves, how they want to appeal to their complete consumer base, and this is another alignment which they think is right for the future. And, naturally, we fully support that."
Profits at Hilton were comfortably ahead of City expectations thanks to the benefit of an extra 53rd week, lower than expected start-up costs for new production facilities, a strong Christmas and incentive payments from retailers for hitting volume targets.
The group shifted an extra 13,000 tonnes of meat in the year to 244,140 – a rise of 5.5% – partly thanks to new business with main UK customer Tesco following significant investment to expand and modernise its site in Huntingdon, Cambridgeshire.
"We increased our share of business with Tesco due to a new arrangement after making a big investment which has delivered for both of us, as expected, with a strong performance over Christmas," Watson said.
"We are really pleased of the amount of work that has gone in to our category and we are seeing positive results from that. The range that Tesco has on shelf now has never been better and we are very confident that will deliver very solid growth going forward."
Overall Hilton group revenues fell by 0.4% to £1.09bn despite the volume gains because of the strength of sterling and currency headwinds of 7.4% (62% of total sales in the year came from outside the UK) and continued pressure on consumer spending in Denmark.
Hilton also flagged "encouraging progress" from the Australian joint venture with Woolworths, with a new dedicated retail packed meat facility near Melbourne starting production in September 2015 and a store roll out plan covering Victoria and South Australia now completed.
"Hilton's medium-term growth outlook remains encouraging following the successful completion of the UK capacity expansion and site redevelopment project in Huntingdon and the start of production with our Australian joint venture partner at Melbourne," Watson added.
"Notwithstanding competitive market conditions, overseas currency fluctuations and pressure on consumer expenditure Hilton is therefore confident of growing its business with continued focus on new product development and range extension."
Hilton ended the financial year with net cash of £12.7m, compared to a net debt of £7.7m a year ago, as a result of significant cash generation and reducing capital expenditure from £43.3m in 2014/15 – with major reinvestment programmes in the UK and Sweden – to £13.7m.
Shares in Hilton, which employs 2,833 staff in six European countries, jumped 4% today to 515.7p on back of the results.
Investment firms Peel Hunt and Numis upgraded their recommendations from 'add' to 'buy' following recent weakness in the shares, which are down more than 7% since the start of 2016.
Charles Pick at Numis added: "With the extra Tesco business set to enjoy its first full year at 'full bore', start-up costs set to decline and the jv's new Melbourne plant performing well, the omens are highly favourable for 2016."