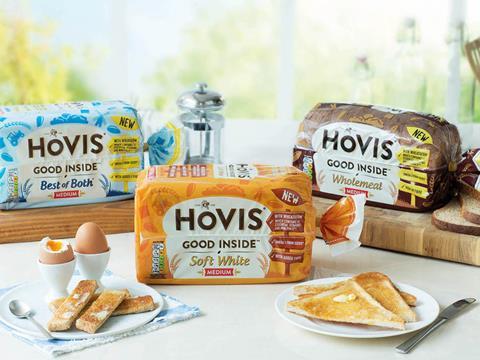 Hovis plunged to a £19m loss in its second year of trading since being spun out of Premier Foods as it battled to hold on to market share in a declining bakery category.

Accounts filed at Companies House reveal Hovis reported pre-tax losses of £19m in the year to 31 December 2015 as bakery revenues plunged 12.2% to £343.3m.

Overall revenues had been £565.3m in 2014, but Hovis transferred its milling business to Rank Hovis Milling at the beginning of the financial year, meaning comparative bakery division revenues were £391m in 2014.
Its bakery business made pre-tax profits of £75.8m in the trading period ending 31 December 2014, although this was largely due to a £84.9m write-off of negative goodwill on its transfer from Premier to a joint venture between Premier and Gores Group.

Nevertheless, the core bakery business was previously profitable, recording EBITDA of £10.7m in 2014 before slipping back to negative EBITDA of £2.1m in 2015.

Both years of trading saw significant exceptional costs incurred, with £6.6m of one-off costs - comprising £3.5m related to supply chain resizing and £3.1m in administrative and IT costs related to the separation from Premier - being incurred in 2015.

In the prior year exceptional costs were £14.5m, driven by a strategic review that saw the closing of operations in Leicester and changes to operations in Swansea and Chandlers Ford.

Hovis has suffered from falling sales in recent times in a category that continues to see core wrapped bread contract and prices reduce.

The Grocer's Britain's Biggest Brands report found its retail sales fell 17.7% in the year to 27 February 2016, driven by an 8.3% sales volume fall and a 13.9% fall in average price.

In the accounts Hovis stated: "The market for bread and bakery products remains highly competitive, with sales margins under pressure due to the continuing broader changes in the dynamics of the supermarket grocery sector.

"Despite savings in the supply chain the retailer deflation reduced gross profit above the impact of the volume loss."

The tough trading conditions for Hovis led Premier Foods - which owns 49% of the business - to write down its investment in the bakery business from £8m to zero in March.
"In a very challenging industry and retail environment we are continuing to invest in our brand, product quality, infrastructure and people and this year we are seeing the benefits start to filter through via our share growth," commented Nish Kankiwala, executive chairman of Hovis.
At the time of the Premier Foods writedown, Hovis highlighted that it had launched a number of product innovations such as Seed Sensations, Good Inside and Chia Bread.
"The company continues to develop a leaner, more efficient operating model alongside focusing on new product and business development; however, market conditions remain poor," it told The Grocer at the time.

US investment firm Gores paid £30m for a 51% stake in Hovis in 2014 and signed up to a joint £45m investment plan to reinvigorate the brand.