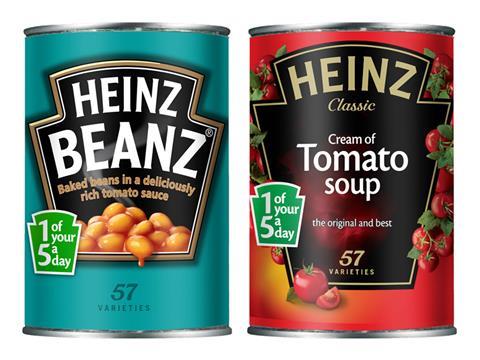 Shoppers are turning their backs on Heinz's iconic beans and soups, hitting the brand's UK sales and profits, newly filed accounts reveal.

Sales for HJ Heinz Foods UK Ltd, the operating arm of Kraft Heinz in the UK, show sales dropped 6.4% in the 52 weeks to 3 January 2016 with falling beans and soup sales major culprits.

UK sales dropped from £904.8m in the 52 weeks to 28 December 2014 to £846.7m last year despite the extra week of trading.

Part of the sales decline is explained by Heinz losing its Aunt Bessie's brand frozen potato contract in late 2014 and subsequent closure of its Norfolk factory in April 2015.

However, Heinz said sales corrected for this were still down 2% in the year "driven by category decline in soup and beans" as well as loss of market share in infant feeding and frozen meals and the loss of foodservice customers.

The accounts show beans volumes were hit by a reduced promotional programme and falling prices, while soup sales were down 6% following a mild winter and strong competitor activity. Falling sales hit earnings during the year, with pre-tax profits falling back 2.5% to £155.2m, though operating margin was up to 18.2% from 17.6%.

The drop in sales of its flagship canned brands is backed up by The Grocer's category report on canned goods this week, which found Heinz Beanz was down 2% in value sales in a category down 2.6% in the year to 21 May 2016. Similarly, Heinz soups were down 12.3% in value sales as the overall category declined by 9.5%.

Heinz states in the accounts: "The UK marketplace continues to remain an extremely competitive and changing landscape… Reductions in wages and [the] continuation of recessionary habits, alongside the expansion of discounters, continue to require changes in strategy."

A key plank of this changed strategy is to expand its product range away from the core category products. Heinz said it had seen "strong growth" in side beans categories such as bean meals, flavoured beans and reduced salt and sugar, while its newly launched dry soup "performed well", increasing market share to 14.5% in the fourth quarter.

In contrast Heinz reported strong sales in sauces and condiments, which were up 2% in the year. The flagship Heinz Tomato Ketchup brand was up 6% while Heinz also highlighted the performance of Barbecue Sauce, Lea & Perrins and HP Sauce on the back of big marketing and in-store campaigns.

The wider Kraft Heinz company also reported a full-year sales drop of 5% to $7.1bn, though this was largely driven by a negative 6.1 percentage point hit from currencies.

Nevertheless, one City source was not surprised to see UK revenues fall given the cost-conscious model of Kraft buyers 3G Capital/Berkshire Hathaway. "Their business strategy is wholly focused on inflating margin, which is not so good for top-line."

Kraft Foods had little presence in the UK before last year's merger with Heinz, meaning the UK hasn't been at the forefront of the cost-focused integration process.

Nevertheless, the UK business has undergone substantial change, with UK MD Jan Kruise leaving in March, having only taken the role in October 2014. Matt Hill, who was promoted to zone president Kraft Heinz Europe in June 2013, took over Kruise's role alongside his existing responsibilities.

Kraft Heinz declined to comment.