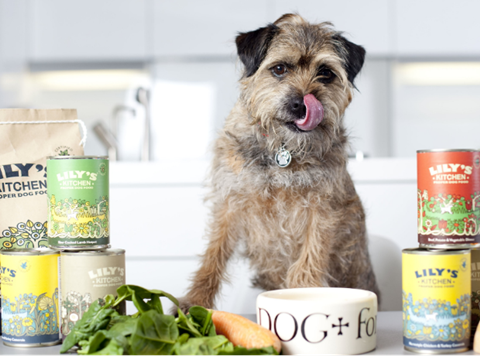 Premium petfood brand Lily's Kitchen is plotting a huge exports push to double its international sales this year and break into the Asian and Middle East pet care markets.

The brand, established in 2009 and now the UK's biggest producer of premium, natural petfood, already boasts around a quarter of its total sales from international markets including France, Germany and Italy.

Now recently installed CEO and former Tyrrell's boss David Milner is spearheading a drive to establish a premium petfood offering in new territories such as Singapore, South Korea, Japan and the Middle East.

The supplier has forged a number of new distribution relationships in these markets and has already begun to roll out sales to a number of them se markets.

"No one else is doing humanisation of petfood as well as we are and we know there is huge opportunity to push harder internationally," Milner told The Grocer. "We're taking a concept to som parts of the world where premiumisation is just starting - there's a huge opportunity here and we've got off to a cracking start."

Lily's will retain its existing brand across the globe and will continue to sell its goods in English-language packaging, with British names such as lamb hotpot and Sunday lunch.

"As with Tyrrell's, part of the allure with Lily's Kitchen is that we are a quintessentially Britsh brand," Milner said. "Being a UK business gives you a head start internationally, because people love British premium brandsand the quirkiness, humour and look that are all part of the package."

The brand will look to tailor its flavours for certain international markets, with a focus on fish products in Asia and a new salmon offering in development.

He said Lily's international prospects have also been boosted by winning a Royal Warrant from HRH The Prince of Wales last month, which particularly boosts their credentials in the Middle East, Asia and the US.

Lily's Kitchen is aiming for total retail sales of around £80m this year and last month grew total sales by 49% and export sales by 93% year-on-year.It achieved total sales of £26.2m and international sales of £4.3m for the year to 31 March 2018. Sales are expected to have moved closer towards £30m in the recently closed 2018/19 financial year.

Milner also stressed there is significant headroom for UK growth, both in securing additional retail listings and moving into the growing pet meat treats market, particularly given its lack of presence in Asda and Co-op and only recently securing listings in Tesco.

The brand also has potential to grow it share of the fast growing pet treat market and is set to launch a new range of meat-based snacks in September to add to its current biscuits range.

As well as eyeing growth through key retail channels, Lily's Kitchen has a fast-growing direct to consumer offer, which it plans to augment with a subscription offering in the near future.

"The D2C businesses is one of our main focusses so we've brought in a top person from Hotel Chocolate to run it," Milner explained. "Once you've worked out what food you want to feed your dog you will tend to stick with that brand as long as you're looked after correctly, so this is a perfect business for subscription."

Founder Henrietta Morrison has taken on the role of executive chair and global brand director, while Milner has been charged with executive responsibility to accelerate global growth.

Milner, who had worked with the brand in a non-exec role for four years, is an existing investor in the business and participated in a £5m fundraising round that closed before Christmas with other unnamed investors.
Morrison sold a minority stake to private equity investment firm Catterton in 2015.