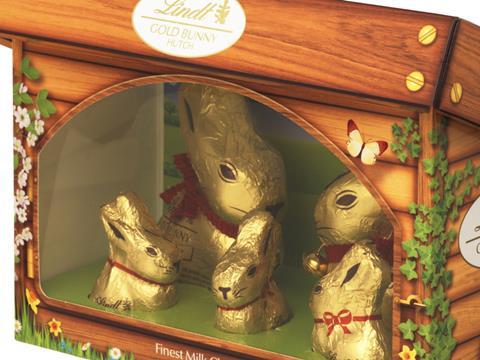 Lindt is aiming to run the world's biggest network of premium chocolate shops by 2020 after growing demand for its products led to record results in 2015.
The Swiss chocolate maker revealed plans to invest in its retail offering in the next four years to expand the more than 300-strong global portfolio by between 20 and 30 new shops a year.
The group opened 50 stores in 2015 – 16 alone in Brazil – with the retail sales rising 20% to CHF 378.5m (£268.1m) as a result. The network of stores, which includes eight in the UK, with a ninth in Manchester set to open, now accounts for more than 10% of overall group sales.
"This great success shows that global retail is enjoying rapid and profitable growth, as well as making a significant contribution to the group's financial performance," CEO Ernst Tanner said.
"Our goal is to be the world's leading retailer of premium chocolate by 2020.
"Thanks to the popularity and familiarity of our brand, as well as the quality of our service, we are now being offered most attractive locations for opening new Lindt shops. Furthermore, a number of products are exclusive to our own shops, so they attract loyal consumers who cannot buy them elsewhere."
Lindt & Sprüngli, which marked its 170th anniversary last year and is best known in the UK for its gold foil-wrapped chocolate rabbits, revealed its retail plans as it reported a jump in revenues and profits last year.
Group sales jumped 7.9% to CHF 3.68bn (£2.69bn), bolstered by the acquisition of US confectionery firm Russell Stover, with organic growth of 7.1%. Net incomes increased by 11.2% to CHF 381m (£269.9m) and operating profits were up 9.4% on 2014 to CHF 518.8m (£367.5m).
Lindt said it achieved the results in the face of a challenging trading environment, with a strong Swiss franc, record raw material prices and recession in oil-exporting countries. A "very hot" summer followed by an "extremely mild start" to the winter also held back chocolate consumption and led to led to sluggish demand in the overall chocolate market.
"Despite all this, the Lindt & Sprüngli Group performed well in all markets, and managed to increase its market shares," Tanner added.
Lindt also stuck to its guidance of mid-to long-term organic growth target of 6-8 % a year and an increase in earnings before interest and tax of 20-40 basis points.