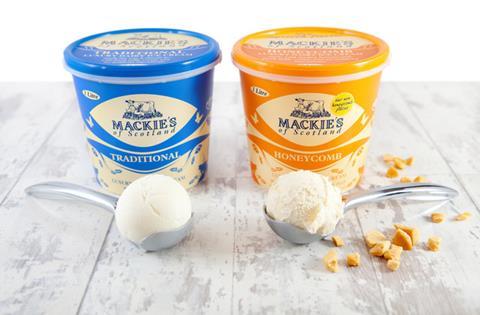 Luxury ice cream brand Mackie's of Scotland is continuing to invest in growth after increasing sales and profits.
Revenues rose 4% to £11.6m in the year to 31 May 2015, against a backdrop of UK flat sales volumes in the ice cream market in 2014, as Mackie's boosted its listings with supermarkets and sales to Taiwan, Malaysia, Singapore and Korea increased more than four-fold from £60,000 to £263,000.
The business, which dates back to 1912 and celebrates 30 years as an ice cream manufacturer in 2016, diversified during the year with the launch of a chocolate bar range in autumn 2014. Sales of the four-strong range, which is available in Scottish Sainsbury's and Tesco stores, have more than doubled since the introduction and in the current financial year to date stand at more than £100,000.
Underlying operating profits in 2014/15 jumped 10% to £907,000, with the reversal of a bad debt provision of £400,000 taking total operating profits to £1.3m, compared with £823,000 in the previous year. Pre-tax profits were £1.9m thanks to almost £600,000 of profit from a land sale, up from £882,000 in 2013/14.
"The company growth in ice cream sales is the result of increased listings and the introduction of new flavours in the UK," FD Gerry Stephens said. "Opportunities for ice cream in the export market have also been fruitful, with 500% increase through new sales in Taiwan, a growth in sales to Costco Korea and expansion plans in the pipeline for India."
Mackie's has a 20% share of the Scottish ice cream market and is listed in all the major supermarkets across the UK. It is continuing a £6m investment programme this year with the development of a new chocolate factory, new ice cream machinery and packaging and the renovation of the NPD kitchen.
"We have big ambition for the year ahead, our continued investment in company growth and our chocolate range is going from strength to strength with a new 35g bar and new product development in the pipeline," MD Mac Mackie added.
The latest accounts said there had been a good start to the new year with strong sales in the key summer months and new national listings boosting volumes.
"Competition among the retailers is still fierce, with the major competitors delivering their own solution to combat the discounters, but the company has a diverse range of customers and is working in all sectors to retain existing sales and introduce new products to increase turnover and margin," the business added.
Mackie's paid its 66 staff 10% of their salaries as part of the staff bonus scheme which is linked to target profits.
The company also invested £2m in 2015 in a fourth wind turbine for its Aberdeenshire farm – with renewables being an important part of its strategy. This was in addition to the installation of almost 7,000 solar panels, making it the largest solar panel farm in Scotland. Mackie's generates enough power to produce all its ice cream, crisps and chocolate and sells the surplus back to the grid.