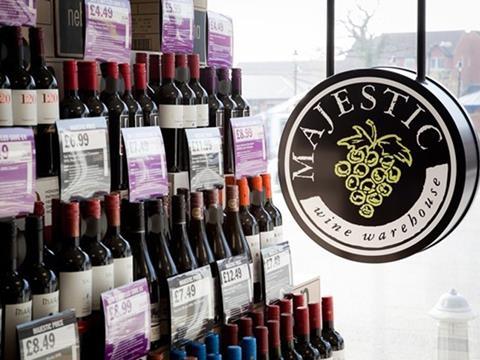 Majestic Wine has reported a bumper Christmas for its retail stores, with like-for-like sales jumping 7.5% – its best ever festive performance.
The figure beat tough comparatives from the previous Christmas – when sales jumped 7.3% – and helped its shares rise 3.8% so far this morning to 336.4p.
Total group sales were also up 15.3% over the 10 weeks to 2 January, with underlying growth at 12.4%. Majestic said it delivered 30% of total annual sales during the Christmas trading period.
However, margins slipped 1 percentage point as the group invested in price and accelerated the acquisition of new customers.
Naked Wines sales increased 30% in the period, Lay and Wheeler was up 62% and the commercial division declined 0.8%.
CEO Rowan Gormley said: "Delivering strong like for likes in a tough market is a tribute to the hard work that our people put in – right across the business. It is also particularly pleasing that both Naked Wines and Majestic Commercial traded in line with expectations and Lay & Wheeler has maintained its strong growth.
"Our transformation plan is working and we remain on track to achieve our £500m sales goal. We said that we would be better prepared for Christmas than ever – and the numbers show that we did what we said we would do.
"At this stage we are not predicting a change to long-term margin expectations, but we need to retain flexibility to compete in a competitive market.
"Our business is about people and I must say a massive thank you to our teams across the world for their dedication over the peak trading period - they have made me very proud."
Broker Liberum said the results represented "a very strong update" from Majestic. Analyst Wayne Brown added: "The shares have relatively underperformed the wider sector by 27.4% the last six months, reflecting the markets rather pessimistic view on full-year outturn. Today's update should now help quell these concerns."
Peel Hunt was more cautious as it highlighted the "encouraging" growth in stores came at the expense of "depressed" margins. Analyst Jonan Pritchard said that Christmas arrived "very late", with a "massive" £4m going through the tills on 23 December, leading to management having to run some incremental promos to stimulate sales earlier in the month.
"Whilst Christmas trading is clearly important and the tough like-for-like comp has been hurdled, full-year numbers are not yet in the bag and the late Easter/dry January craze don't help."