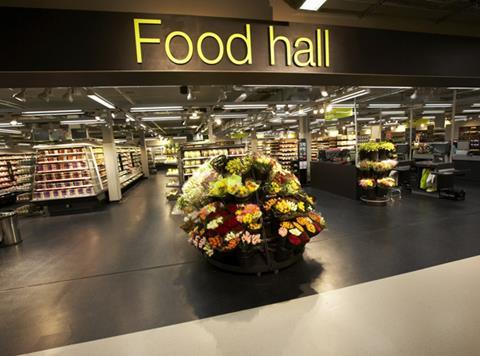 Marks & Spencer (MKS) dipped its toes in the UK supermarket price war during its first quarter in a bid to stay competitive in a challenging sector.
CEO Mark Bolland said in a call with analysts that the cost of everyday products such as jam, tea and butter had gone down slightly but the overall product mix in shoppers' baskets had levelled out any losses.
The high street bellwether sales reported this morning that sales in the food division in the 12 weeks to 27 June were up 3.2%, which represented 0.3% growth on a like-for-like basis – slightly below consensus expectations of 0.5%. Bolland called it a strong performance and said M&S had "outperformed a "highly competitive" market.
M&S is on track to open 90 Simply Food stores this year, and said it continued to see good performance from outlets opened to date. It also launched 700 new lines in the quarter, including the new Taste of the British Isles range.
Bolland told analysts that the group inflation/deflation in food prices were flat in the quarter. "We're interested in price and particularly in products. We have adjusted some pricing and invested in product innovation using savings from supply chain efficiency."
He added M&S had invested in price on the 10% of like-for-like products the stores sold in common with the supermarkets. "We want to stay price competitive no question about it. On base products we share with supermarkets we have price corrected slightly but the mix of what people bought was slightly up to level it out."
General merchandise was hit by a "challenging and promotional quarter" – with a 0.4% fall in like-for-like sales – though M&S said it was on track to deliver improved gross margins in the division.
After climbing in morning, shares in the group finished the day 2.2% down at 535p.
M&S also announced it would start a share repurchase programme of ordinary shares of 25p, up to a maximum consideration of £90m.
At its AGM earlier today, all resolutions were overwhelmingly passed, but just more than 6% of shareholders voted against the re-election of Bolland to the board.