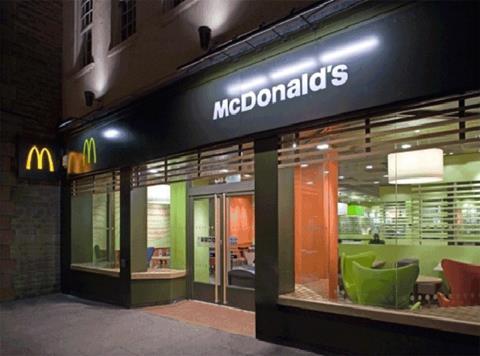 McDonald's shares rallied after it beat global sales expectations for the third quarter of 2018 following menu price increases.
Shares at the fast-food giant jumped 6% to $177.6 after it announced the rise in global sales in a results update this afternoon.
Global comparable sales increased 4.2% for the three months ended 30 September.
Total revenue decreased 7% to $5.37bn as a result of the company's refranchising initiative, but this remained ahead of analyst predictions of $5.32bn.
Strong sales in the UK, Australia and France drove a 5.4% sales increase in McDonalds 'International Lead' region.
This performance helped to boost below-average growth in US, where sales grew 2.4% on the back of product mix changes and menu price increases.
Sales in its 'high growth' region increased 4.6%, led by "strong performances" in Italy and the Netehrlands.
"In addition to achieving 13 consecutive quarters of positive global comparable sales, we have made substantial progress modernising restaurants around the world, enhancing hospitality and elevating the experience for the millions of customers we serve every day, said McDonald's President and Chief Executive Officer Steve Easterbrook.
"We remain confident that our strategy will drive long-term, profitable growth."
McDonalds is also nearing the end of a £650m investment in its UK stores, the company's UK & Ireland CEO Paul Pomroy commented.
"We have enjoyed strong Q3 performance and I'm proud that, together with our franchisees, we can report reaching the significant milestone of 50 consecutive quarters of sales and guest count growth," he said.
"This past quarter we have started to roll-out paper straws across our restaurants and have continued to grow McDelivery, which is now available in nearly 700 of our restaurants since we trialled the service in June last year.
"We have also stayed focused on what we know our customers expect from us - fresh, great tasting food made with quality ingredients, at an affordable price. Our Saver Menu continues to perform well, as does our McCafé offer."