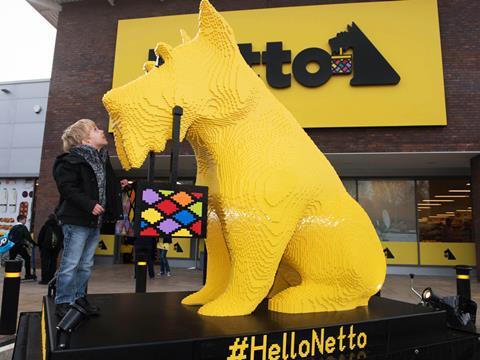 Annual pre-tax losses reached almost £40m at Netto before Sainsbury's and Dansk pulled the plug on the low-cost supermarket joint venture earlier this year.

Newly filed accounts reveal Netto Ltd's loss before taxation rose from £7.2m in 2014 to £39.9m in the year to 31 December 2015 on sales that rose from £2m to £23m in its first full year of operation.

Netto made a gross loss of £7m during the period, but the scale of the annual loss was primarily driven by an additional £22.3m of post-balance sheet property costs and a further £10.6m in administrative expenses taken in the 2015 financial year.
These property costs reflected assets being written down to their realisable value and a provision being made for all operating lease commitments.
Other remaining costs relating to the closure of the business will be incurred in Netto's 2016 accounts.
The accounts show that Sainsbury's and Dansk put in a combined £29m in 2015 to cover losses and take their combined investment to £44.5m up to the end of the financial year. Documents posted at Companies House since year end show called-up share capital had risen to £84.5m by the end of August 2016 - meaning Sainsbury's and Dansk have put in £42.25m each to the venture to date.

Sainsbury's announced to the stock market in July it was closing down the joint venture, which was billed as its answer to the growing might of the German discounters when it was launched in June 2014.

CEO Mike Coupe said at the time: "To be successful over the long-term, Netto would need to grow at pace and scale, requiring significant investment and the rapid expansion of the store estate in a challenging property market."

The supermarket said it would take a £20m write-down to zero on the value of the JV and earmarked an additional £10m for wind down costs. Sainsbury's told The Grocer that the £20m writedown reflected "the invested capital by Sainsbury's net of the Sainsbury's share of retained losses from the JV since inception".

It added the £10m of writedown costs were also reflected in the called-up share capital as of August 2016. "We have not disclosed the timings of the wind down but this is under way - the 16 Netto stores all closed earlier this summer," Sainsbury's said.